CARLIKE CL-SJ-26 Super Gloss Crystal Mclaren Orange Vinyl
Series: 3000
Brand: CARLIKE

Color: Super Gloss Crystal Mclaren Orange

Model number: CL-SJ-26

Characteristic: Super stretch, incredible restorable

Performance level: Premium+

Film produce technology: High polymeric with double casting

Film thickness: 160micron, 6.4mil (with glue)

Release paper: 160g/m2, silicone coated

Adhesive thickness: 30μm

Air bubble free: Yes

Application: Car wrap

Application temperature: From +80°С to +120°С

Temperature resistance: From -40°С to +120°С

Storing period: 2 years if stored in +10°С to +25°С, relative humidity 50%, in original package, away from direct sunlight, clean and dry place

Package: Full roll width 1.52m, length 17m, weight 13KG

Packing size: 1.55x0.18x0.18m

Remark: the full roll 1.52x17M/5x56FT usually is enough for wrap a full sedan or SUV. If your car is larger, please choose 1.52x23M/5x75FT, we will send 1.52x6M/5x19FT + 1.52x17M/5x56FT.
Quality warranty: 2 Years, during the quality warranty period, the film surface has no obvious fading, no cracking, and no residual glue on the car paint after removable.
Data Sheet
Surface
Opaque
Substrate
material
130Microns
High Polymeric PVC
Pressure
sensitive adhesive
30μm
Solvent-based Removable
Releaser liner
160G double PE coating
High density air channels
Elongation
at break
300%
Tear strength 
37.2 N/10mm
Test Method: ASTM D3759
Glossiness
Gloss 95-110Gu
Matte 5-30Gu
Viscosity
Initial tack:700-800g/25mm
After 24 hours:1800-2000g/25mm
After 3 months: 1500g/25mm
Peel strength
2.5N/25mm
Test Method: ASTM D3330
Temperature resistance
 -40°С to +120°С
Flourescent
ultraviolet test 
Gray Level: 4-5
Test Method: ASTM D4329-13A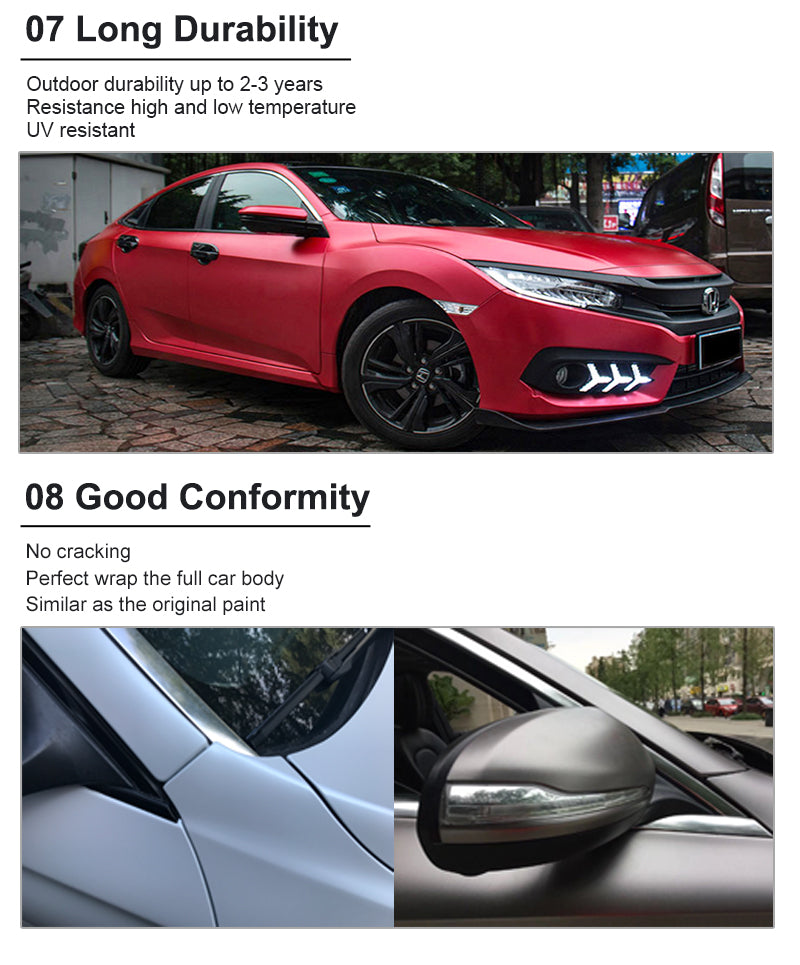 Caution: The product images, colors on the screen are approximate. For the real representation of the product color, please check the color swatch.
Super Gloss Crystal McLaren Orange Vinyl Car Wrapping is an electrifying and attention-grabbing vehicle customization method that has become a symbol of luxury and high-performance. This cutting-edge technique involves applying a specialized vinyl film with a Super Gloss Crystal finish in a stunning McLaren Orange color to the exterior of the car. The result is a visually striking and dynamic appearance that captures the spirit of McLaren's high-performance sports cars and exudes a sense of power, speed, and exhilaration.
McLaren Orange Identity: The choice of McLaren Orange for this vinyl car wrap option pays homage to McLaren's iconic sports cars, renowned for their engineering excellence and speed. This vivid and vibrant color is synonymous with high-performance automobiles and is often used on McLaren's limited-edition and exclusive models. Applying this color through vinyl wrapping brings the allure of a McLaren sports car to a wide range of car models, showcasing the owner's passion for automotive excellence.

High-Gloss Brilliance: The Super Gloss Crystal finish takes the McLaren Orange vinyl car wrapping to new heights of visual brilliance. The glossy shine reflects light in a captivating manner, creating a dazzling play of reflections and highlights. This level of brilliance enhances the car's overall appearance, giving it a mirror-like finish that emphasizes its dynamic and luxurious nature.

Captivating Customization: Super Gloss Crystal McLaren Orange vinyl wrapping provides car owners with the opportunity to customize their vehicles to their exact specifications. Whether opting for a full-body wrap or specific accent detailing, this vinyl car wrap option allows owners to create a bespoke look that perfectly aligns with their vision and showcases their love for the McLaren brand.

Protecting the Original Paint: Beyond its stunning appearance, the Super Gloss Crystal McLaren Orange vinyl wrap also acts as a protective layer for the vehicle's original paintwork. The durable vinyl film shields the car from common environmental elements, including UV rays, road debris, minor scratches, and contaminants. This protective layer preserves the car's factory paint, maintaining its pristine condition and value over time.

Professional Installation and Reversibility: Professional installation of the Super Gloss Crystal McLaren Orange vinyl wrap is essential to achieve a flawless and bubble-free finish. The installation process is relatively quick and efficient, minimizing the vehicle's downtime. Furthermore, should the car owner wish to return to the original paint or change the vehicle's appearance in the future, the vinyl wrap can be removed without causing damage to the underlying paint.

Elevation of Status and Style: Opting for a Super Gloss Crystal McLaren Orange vinyl car wrap elevates the status and style of the vehicle, making it stand out in any automotive setting. This distinctive color choice adds a touch of exclusivity and uniqueness to the car, drawing attention and admiration from onlookers and fellow car enthusiasts.

Resonating with Speed and Performance: The bold and vibrant McLaren Orange color is associated with speed, performance, and adrenaline. Wrapping a car in this eye-catching hue brings a sense of excitement and dynamism to the vehicle's appearance, subtly hinting at the potential for exhilarating driving experiences.
In conclusion, Super Gloss Crystal McLaren Orange Vinyl Car Wrapping offers a thrilling and visually captivating transformation to vehicles. The iconic McLaren Orange color, combined with the high-gloss brilliance of the Super Gloss Crystal finish, delivers a striking and dynamic appearance that resonates with speed, performance, and automotive excellence. With its captivating customization options, protective benefits, and undeniable allure, this vinyl car wrap has become a favored choice among car enthusiasts looking to elevate the aesthetics and personality of their vehicles, embodying the spirit of McLaren's high-performance sports cars.
---
We Also Recommend
---