CARLIKE CL-MK-02 Macaron Sakura Pink Vinyl
Series: 3000
Brand: CARLIKE

Color: Macaron Sakura Pink

Model number: CL-MK-02

Characteristic: Super stretch, incredible restorable

Performance level: Premium+

Film produce technology: High polymeric with double casting

Film thickness: 160micron, 6.4mil (with glue)

Release paper: 160g/m2, silicone coated

Adhesive thickness: 30μm

Air bubble free: Yes

Application: Car wrap

Application temperature: From +80°С to +120°С

Temperature resistance: From -40°С to +120°С

Storing period: 2 years if stored in +10°С to +25°С, relative humidity 50%, in original package, away from direct sunlight, clean and dry place

Package: Full roll width 1.52m, length 17m, weight 13KG

Packing size: 1.55x0.18x0.18m

Remark: the full roll 1.52x17M/5x56FT usually is enough for wrap a full sedan or SUV. If your car is larger, please choose 1.52x23M/5x75FT, we will send 1.52x6M/5x19FT + 1.52x17M/5x56FT.

Quality warranty: 2 Years, during the quality warranty period, the film surface has no obvious fading, no cracking, and no residual glue on the car paint after removable.
Data Sheet
Surface
Opaque
Substrate
material
130Microns
High Polymeric PVC
Pressure
sensitive adhesive
30μm
Solvent-based Removable
Releaser liner
160G double PE coating
High density air channels
Elongation
at break
300%
Tear strength 
37.2 N/10mm
Test Method: ASTM D3759
Glossiness
Gloss 95-110Gu
Matte 5-30Gu
Viscosity
Initial tack:700-800g/25mm
After 24 hours:1800-2000g/25mm
After 3 months: 1500g/25mm
Peel strength
2.5N/25mm
Test Method: ASTM D3330
Temperature resistance
 -40°С to +120°С
Flourescent
ultraviolet test 
Gray Level: 4-5
Test Method: ASTM D4329-13A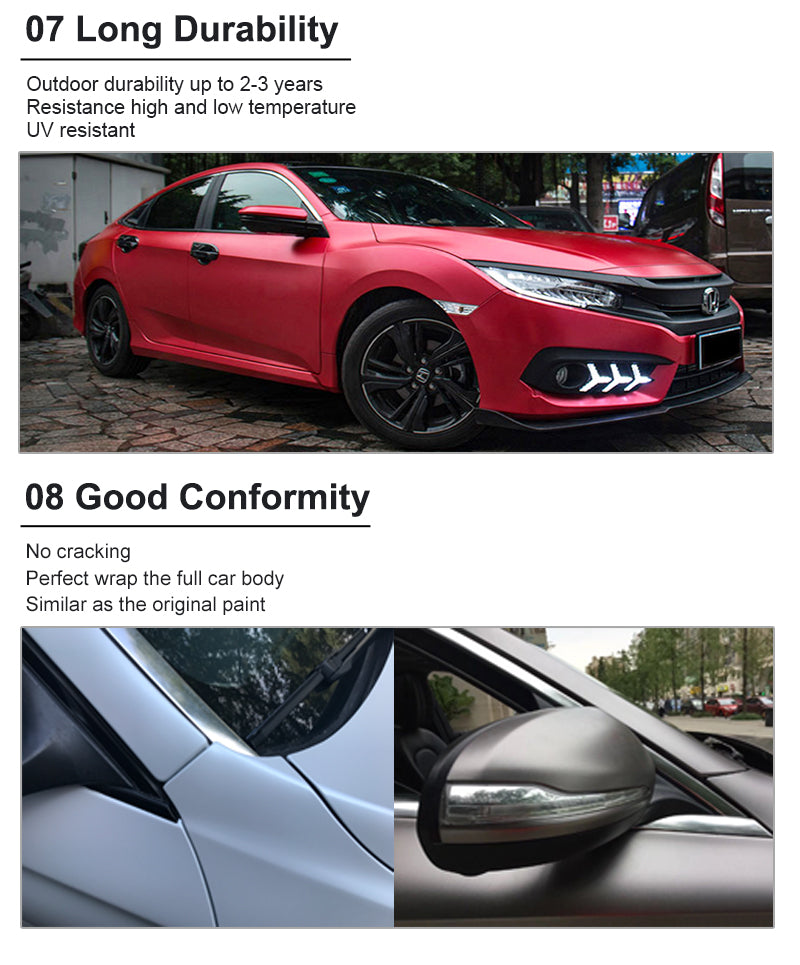 Caution: The product images, colors on the screen are approximate. For the real representation of the product color, please check the color swatch.
Macaron Car Vinyl Wrap Film
Introducing our Macaron Car Vinyl Wrap Film, a premium-quality automotive accessory that combines stunning aesthetics with exceptional performance. This vinyl wrap film features a unique macaron-inspired color palette, adding a touch of sweetness and uniqueness to your vehicle's exterior.
Characteristic: Super Stretch and Incredible Restorability
The Macaron Car Vinyl Wrap Film is characterized by its super stretchability and incredible restorability. This means that the film can be stretched and molded to fit even the most complex curves and contours of your vehicle. The superior stretching capability ensures a seamless and bubble-free installation, resulting in a smooth and flawless finish. Additionally, the film has remarkable restorability, allowing it to bounce back and recover its original shape even after being stretched or manipulated.
Performance Level: Premium+
Our Macaron Car Vinyl Wrap Film is part of our premium+ performance level range, offering exceptional quality and durability. The film is designed to withstand the rigors of daily use and provides excellent resistance against UV rays, fading, scratches, and other environmental factors. Its high-quality construction ensures that the vibrant macaron colors remain vibrant and intact, maintaining the overall aesthetics of your vehicle for an extended period.
Film Production Technology: High Polymeric with Double Casting
The Macaron Car Vinyl Wrap Film is crafted using high polymeric material with double casting technology. This advanced production technique ensures the film's exceptional performance and longevity. The high polymeric material offers enhanced flexibility, allowing the film to conform seamlessly to the shape of your vehicle. The double casting process further enhances the film's durability, providing an extra layer of protection and ensuring resistance against wear and tear.
Versatility and Customization
Our Macaron Car Vinyl Wrap Film offers versatility and customization options. It can be applied to various parts of your vehicle, including body panels, hoods, roofs, mirrors, and accent areas. Whether you opt for a full car wrap or specific sections, the film can be trimmed and tailored to fit your vehicle's unique design. This versatility allows you to create a customized and personalized look that reflects your style and individuality.
Summary
Indulge in the sweetness and uniqueness of our Macaron Car Vinyl Wrap Film. With its super stretchability, incredible restorability, premium+ performance level, and high polymeric construction with double casting technology, this vinyl wrap film delivers both aesthetics and durability. Transform the appearance of your vehicle with the vibrant and captivating macaron colors, creating a standout and personalized look on the road. Choose our Macaron Car Vinyl Wrap Film for its exceptional quality and performance, and let your vehicle become a delightful and eye-catching treat.
---
We Also Recommend
---