CARLIKE CL-EG-31 Electro Metallic Gloss Mamba Green Vinyl
Series: 3000

Brand: CARLIKE

Color: Electro Metallic Gloss Mamba Green

Model number: CL-EG-31
Characteristic: Super stretch, incredible restorable

Performance level: Premium+

Film produce technology: High polymeric with double casting

Film thickness: 160micron, 6.4mil (with glue)

Release paper: 160g/m2, silicone coated

Adhesive thickness: 30μm

Air bubble free: Yes

Application: Car wrap

Application temperature: From +80°С to +120°С

Temperature resistance: From -40°С to +120°С

Storing period: 2 years if stored in +10°С to +25°С, relative humidity 50%, in original package, away from direct sunlight, clean and dry place

Package: Full roll width 1.52m, length 17m, weight 13KG

Packing size: 1.55x0.18x0.18m

Remark: the full roll 1.52x17M/5x56FT usually is enough for wrap a full sedan or SUV. If your car is larger, please choose 1.52x23M/5x75FT, we will send 1.52x6M/5x19FT + 1.52x17M/5x56FT.

Quality warranty: 2 Years, during the quality warranty period, the film surface has no obvious fading, no cracking, and no residual glue on the car paint after removable.
Data Sheet
Surface
Opaque
Substrate
material
130Microns
High Polymeric PVC
Pressure
sensitive adhesive
30μm
Solvent-based Removable
Releaser liner
160G double PE coating
High density air channels
Elongation
at break
300%
Tear strength 
37.2 N/10mm
Test Method: ASTM D3759
Glossiness
Gloss 95-110Gu
Matte 5-30Gu
Viscosity
Initial tack:700-800g/25mm
After 24 hours:1800-2000g/25mm
After 3 months: 1500g/25mm
Peel strength
2.5N/25mm
Test Method: ASTM D3330
Temperature resistance
 -40°С to +120°С
Flourescent
ultraviolet test 
Gray Level: 4-5
Test Method: ASTM D4329-13A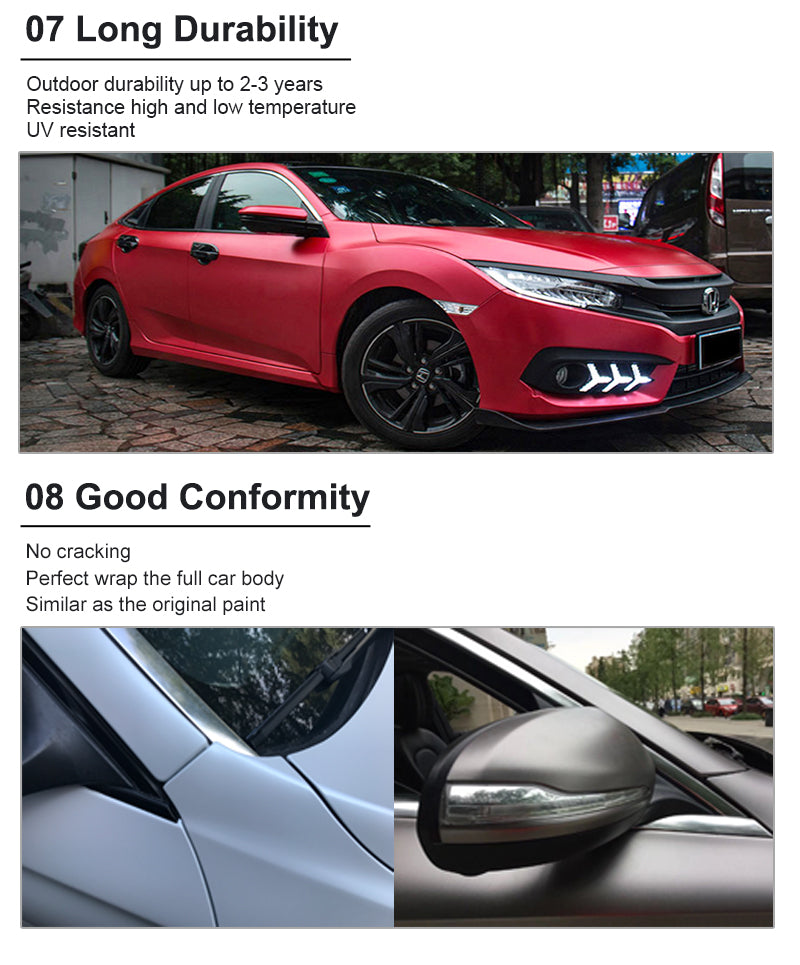 Caution: The product images, colors on the screen are approximate. For the real representation of the product color, please check the color swatch.
Electro Metallic Gloss Mamba Green Vinyl Wrap
Electro Metallic Gloss Mamba Green Vinyl Car Wrap is a type of vehicle customization that involves applying a special vinyl film to the surface of a car's body. This particular car wrap is characterized by its unique color, known as Mamba Green, which has an electro metallic gloss finish. It provides a striking and eye-catching appearance that can transform the look of any vehicle.

The process of applying a vinyl car wrap involves several steps. First, the car's surface needs to be thoroughly cleaned and prepared to ensure the best adhesion of the vinyl film. Any imperfections such as dents or scratches should be addressed beforehand for a smooth and uniform result.

Once the car is prepped, the vinyl film is carefully cut and shaped to fit each specific panel of the vehicle. Skilled installers use precision techniques to wrap around contours, edges, and curves, ensuring a seamless and professional finish. The electro metallic gloss Mamba Green vinyl film is known for its flexibility and conformity, allowing it to adhere well to both flat and curved surfaces.

The benefits of Electro Metallic Gloss Mamba Green Vinyl Car Wrap are manifold. Firstly, it offers a high level of customization, allowing car owners to express their unique style and personality. The vibrant Mamba Green color is an attention-grabber, making the vehicle stand out in a crowd. It can also give a fresh, new look to an old or worn-out car, saving owners the expense of a full paint job.

Furthermore, the vinyl wrap acts as a protective layer for the car's original paintwork. It shields the surface from minor scratches, chips, and sun damage, preserving the resale value of the vehicle. The electro metallic gloss finish adds an extra layer of durability, resisting fading and discoloration caused by exposure to UV rays.

Another advantage of choosing a vinyl car wrap is the ability to remove it without any damage to the original paint. This means that car owners can change the look of their vehicle whenever they desire, without a permanent commitment. The vinyl wrap can be removed by professionals, unveiling the untouched paint underneath.

It is worth noting that the installation of a vinyl car wrap should be done by trained and experienced professionals. Their expertise ensures a flawless application, preventing any bubbles, creases, or uneven areas. Additionally, professional installers can provide warranties on their workmanship, giving car owners peace of mind.

In conclusion, Electro Metallic Gloss Mamba Green Vinyl Car Wrap offers car owners a unique and eye-catching vehicle customization option. Its striking color and gloss finish can transform the appearance of any vehicle, while providing protection for the original paintwork. With its easy removal process, it offers flexibility and allows for future changes in style. When considering a vinyl car wrap, it is important to consult with professionals who can provide high-quality installation services.
---
We Also Recommend
---