CARLIKE CL-ES-01 Electro Metallic Satin Black Vinyl
Series: 3000
Brand: CARLIKE

Color: Electro Metallic Satin Black

Model number: CL-ES-01

Characteristic: Super stretch, incredible restorable

Performance level: Premium+

Film produce technology: High polymeric with double casting

Film thickness: 160micron, 6.4mil (with glue)

Release paper: 160g/m2, silicone coated

Adhesive thickness: 30μm

Air bubble free: Yes

Application: Car wrap

Application temperature: From +80°С to +120°С

Temperature resistance: From -40°С to +120°С

Storing period: 2 years if stored in +10°С to +25°С, relative humidity 50%, in original package, away from direct sunlight, clean and dry place

Package: Full roll width 1.52m, length 17m, weight 13KG

Packing size: 1.55x0.18x0.18m

Remark: the full roll 1.52x17M/5x56FT usually is enough for wrap a full sedan or SUV. If your car is larger, please choose 1.52x23M/5x75FT, we will send 1.52x6M/5x19FT + 1.52x17M/5x56FT.

Quality warranty: 2 Years, during the quality warranty period, the film surface has no obvious fading, no cracking, and no residual glue on the car paint after removable.
Data Sheet
Surface
Opaque
Substrate
material
130Microns
High Polymeric PVC
Pressure
sensitive adhesive
30μm
Solvent-based Removable
Releaser liner
160G double PE coating
High density air channels
Elongation
at break
300%
Tear strength 
37.2 N/10mm
Test Method: ASTM D3759
Glossiness
Gloss 95-110Gu
Matte 5-30Gu
Viscosity
Initial tack:700-800g/25mm
After 24 hours:1800-2000g/25mm
After 3 months: 1500g/25mm
Peel strength
2.5N/25mm
Test Method: ASTM D3330
Temperature resistance
 -40°С to +120°С
Flourescent
ultraviolet test 
Gray Level: 4-5
Test Method: ASTM D4329-13A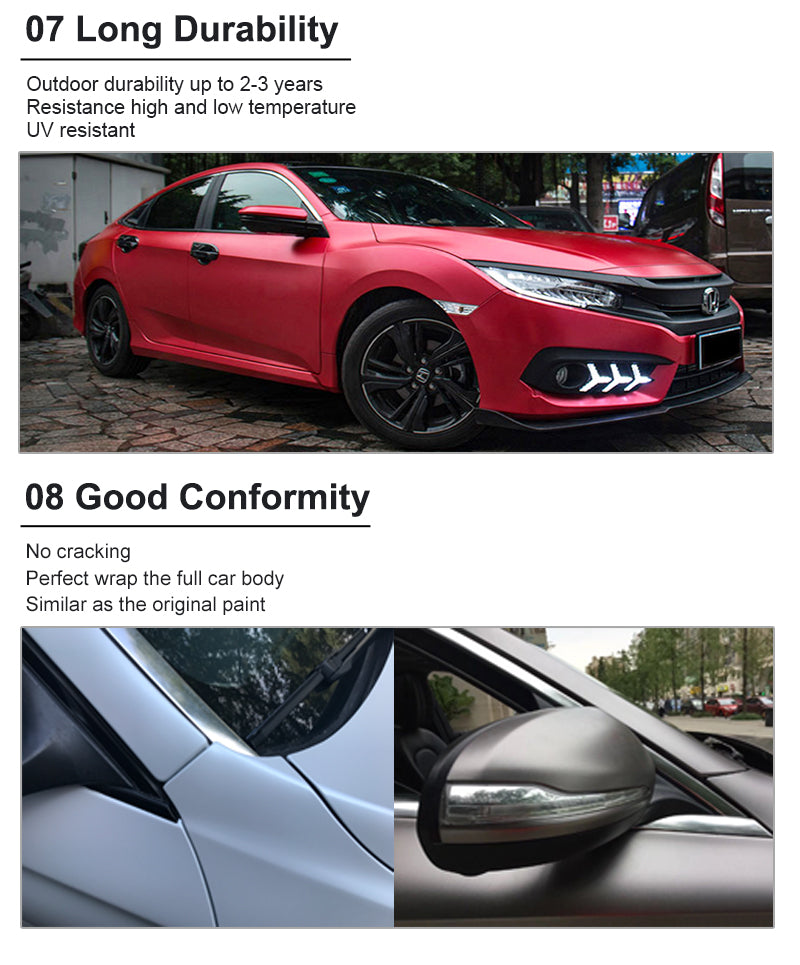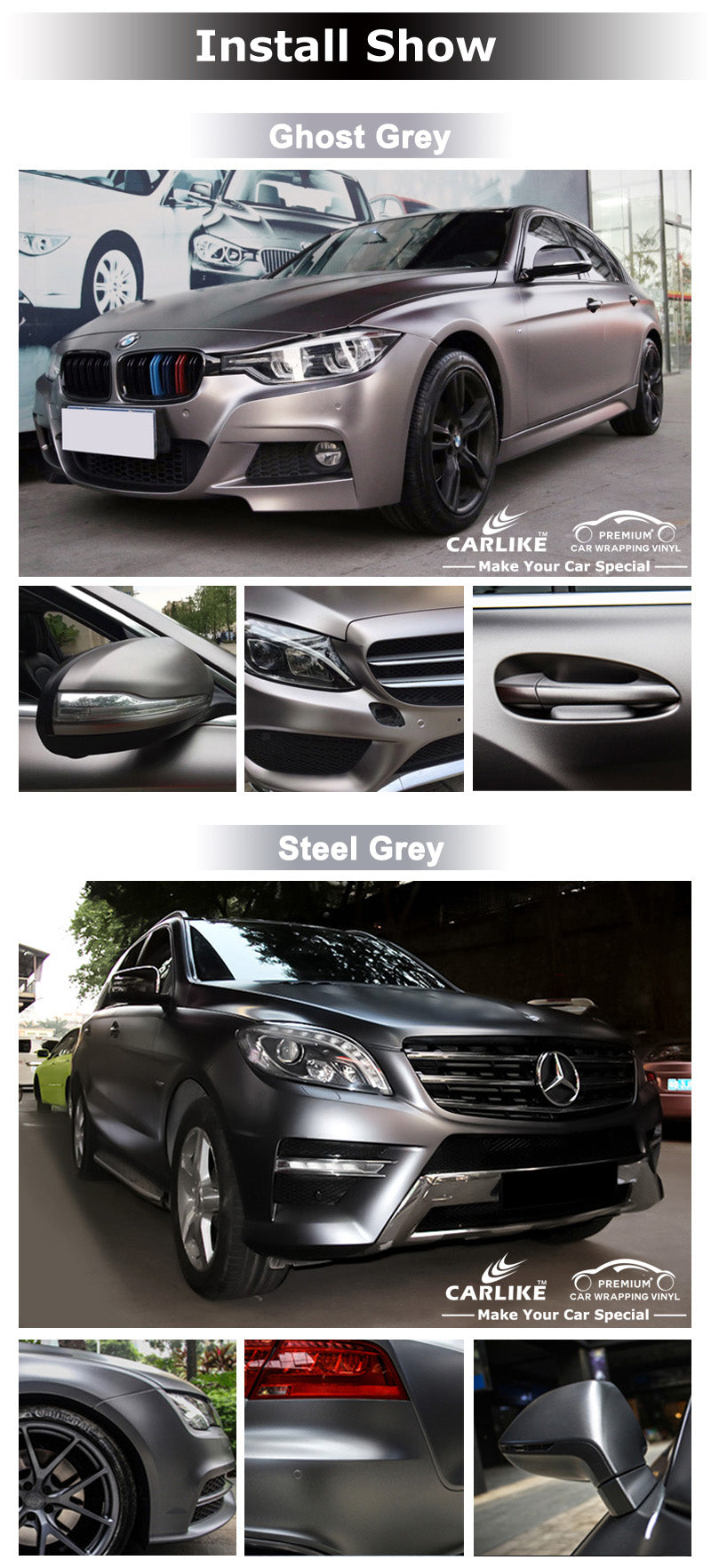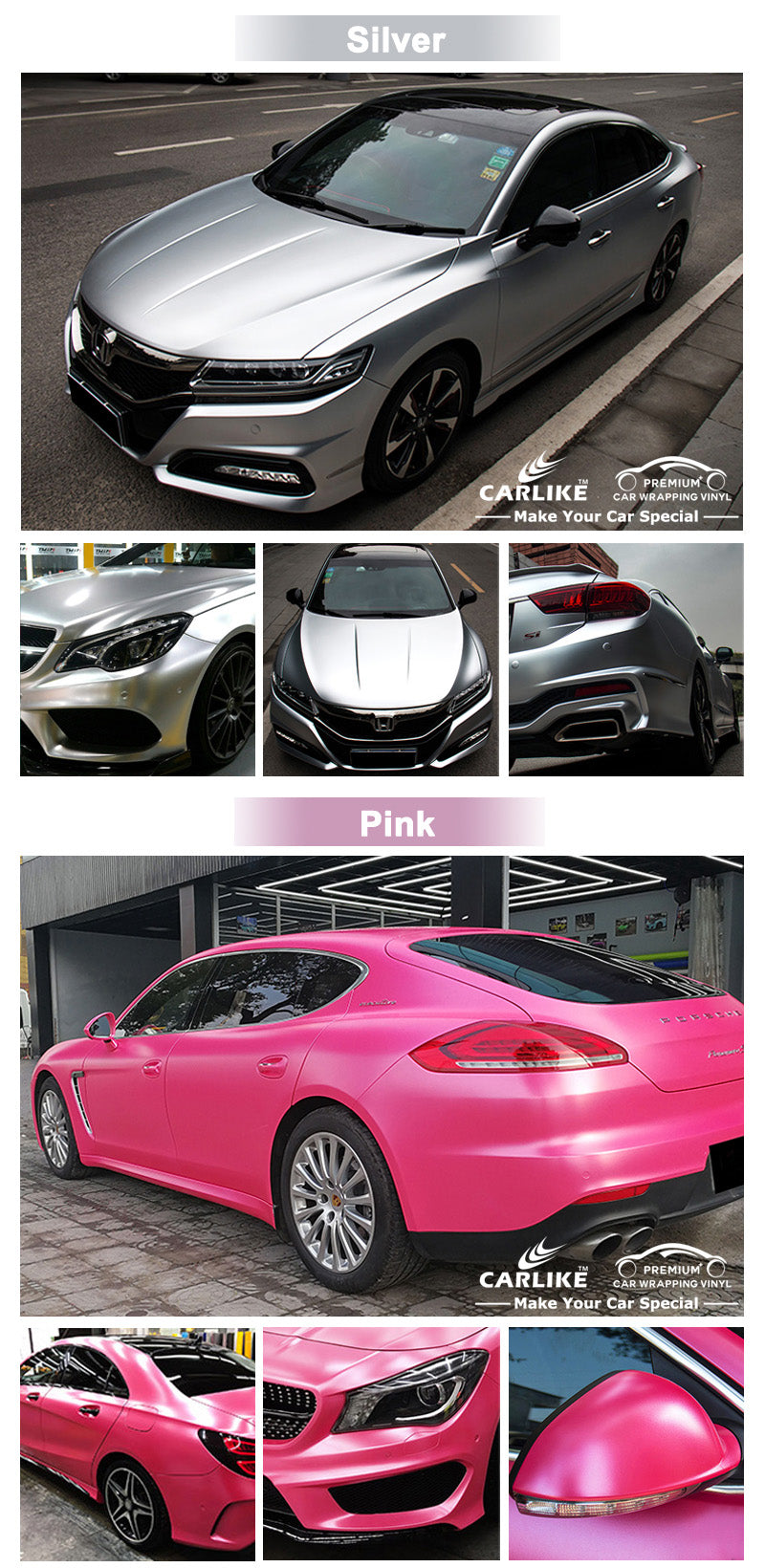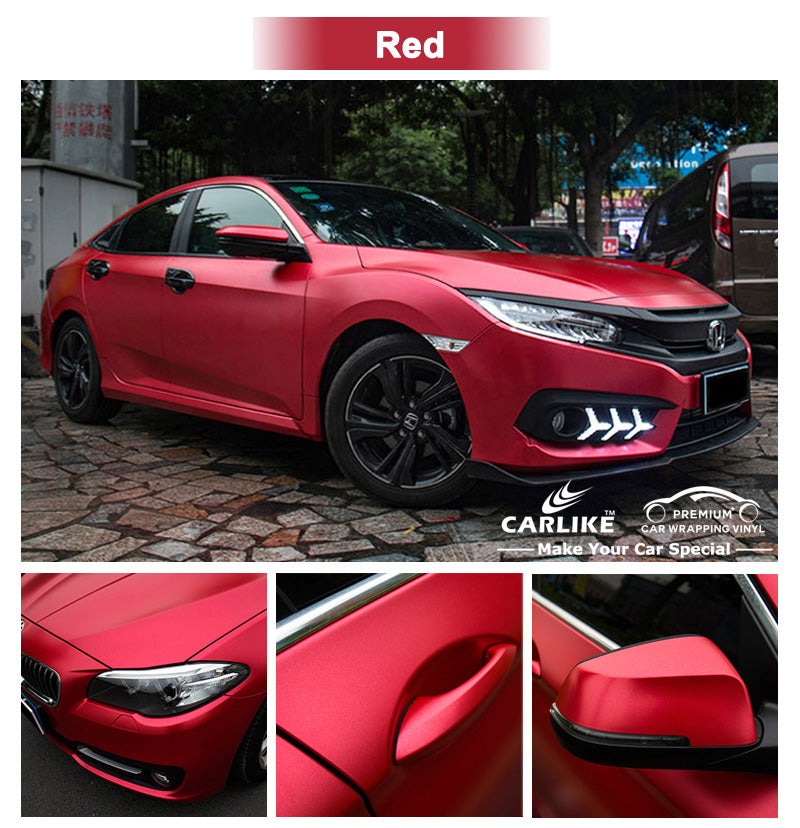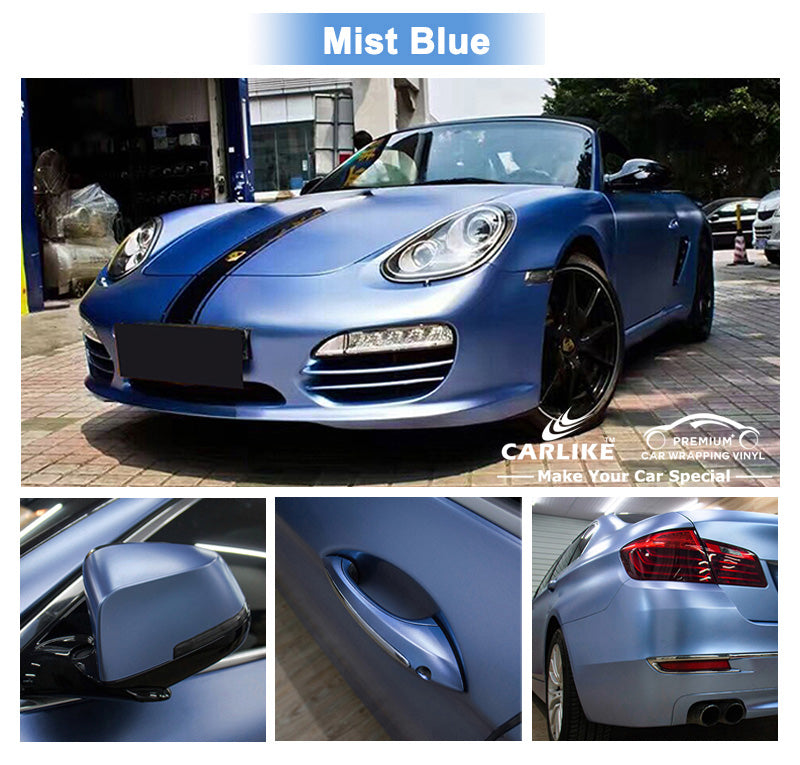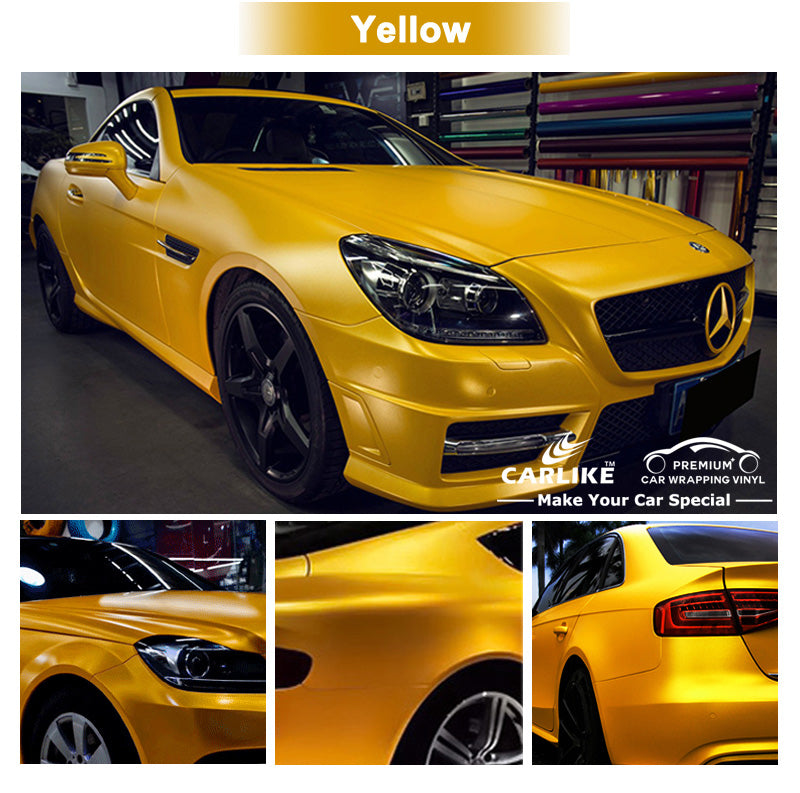 Caution: The product images, colors on the screen are approximate. For the real representation of the product color, please check the color swatch.
Electro Metallic Satin Black Vinyl Wrap
Vinyl wraps have grown increasingly popular in the automotive industry, and one specific type of vinyl wrap that has gained significant attention is the Electro Metallic Satin Black Vinyl Wrap. This type of wrap offers a unique look and feel that differs from traditional gloss or matte finishes, making it an intriguing option for vehicle owners and enthusiasts. To understand why this type of wrap is so highly sought after, we need to delve into what it is, how it is applied, its pros and cons, and more.
What is Electro Metallic Satin Black Vinyl Wrap?
Electro Metallic Satin Black Vinyl Wrap is a high-quality polymeric film that is designed to be used for vehicle wrapping. It comes with a unique, satin metallic finish that provides a textured, slightly shiny effect. The 'electro' part refers to its electric or metallic shimmer, which gives the surface an interesting and dynamic depth. It's not as glossy as a traditional metallic paint, nor as dull as a regular satin or matte finish; it's somewhere in between. This type of vinyl wrap can change its color slightly depending on the angle at which the light hits it, providing a unique aesthetic appeal.
How is it Applied?
Applying a vinyl wrap, including the Electro Metallic Satin Black Vinyl Wrap, is a meticulous process that involves multiple steps:
Cleaning: The vehicle's surface is thoroughly cleaned to remove any dirt, dust, or grease. It's crucial to have a perfectly clean surface as any imperfections could potentially show through the vinyl wrap.

Preparation: Once the surface is clean, it's time to prepare it for the application. This might include removing any removable parts like mirrors, handles, and trims to ensure a seamless wrap job.

Application: The actual application of the vinyl wrap begins. The wrap is placed on the surface and adjusted to fit perfectly. Using a squeegee, the wrap is pressed onto the surface to remove any air bubbles and ensure a smooth finish.

Trimming: Once the wrap is applied, it's trimmed around the edges and tucked in to ensure it fits the vehicle perfectly. After that, the removable parts are reinstalled.

Post-Heating: Finally, the entire surface is post-heated to about 90 degrees Celsius. This is done to ensure the wrap's adhesive reaches its maximum bonding strength and to remove any remaining small wrinkles or bubbles.
Advantages of Electro Metallic Satin Black Vinyl Wrap
Unique Appearance: The primary advantage of an Electro Metallic Satin Black Vinyl Wrap is its unique appearance. It's a stylish and modern look that sets it apart from other vehicles on the road.

Surface Protection: The vinyl wrap acts as a protective layer, safeguarding the vehicle's original paint job from scratches, dents, and UV damage.

Cost-effective: Compared to a full respray, vinyl wrapping is generally more affordable, and it can be replaced more easily if you desire a different look.

Resale Value: Since the original paint job is protected, the resale value of the vehicle can be maintained or potentially increased, as the wrap can be removed when selling the vehicle.
Disadvantages of Electro Metallic Satin Black Vinyl Wrap
Installation: Applying a vinyl wrap requires professional expertise to ensure it's done correctly. Incorrect application can lead to a poor finish and potential damage to the vehicle.

Maintenance: While vinyl wraps can protect your car, they also require their own maintenance. They may be prone to scratches or peeling if not cared for correctly, and they may not hold up as well under extreme weather conditions.

Cost: While a wrap is generally less expensive than a new paint job, it's still a significant investment, especially for higher-end wraps like the Electro Metallic Satin Black Vinyl Wrap.

Limited Lifespan: Unlike a paint job, a vinyl wrap has a limited lifespan, typically around 3 years, after which it might start to fade or peel and will need to be replaced.
In conclusion, Electro Metallic Satin Black Vinyl Wrap provides a unique, dynamic aesthetic for vehicles while also offering protection to the original paintwork. However, proper installation and maintenance are crucial to ensuring the wrap's longevity and optimal appearance.
---
We Also Recommend
---