CARLIKE CL-CS-10P Super Chameleon Ambilight Lemon Honey Vinyl PET Liner
Series: 3000P
Brand: CARLIKE

Color: Super Chameleon Ambilight Lemon Honey PET
Model number: CL-CS-10P

Characteristic: Super stretch, incredible restorable

Performance level: Premium+

Film produce technology: High polymeric with double casting

Film thickness: 160micron, 6.4mil (with glue)

Release paper: 100G PET

Adhesive thickness: 30μm

Air bubble free: Yes

Application: Car wrap

Application temperature: From +80°С to +120°С

Temperature resistance: From -40°С to +120°С

Storing period: 2 years if stored in +10°С to +25°С, relative humidity 50%, in original package, away from direct sunlight, clean and dry place

Package: Full roll width 1.52m, length 17m, weight 13KG

Packing size: 1.55x0.18x0.18m

Remark: the full roll 1.52x17M/5x56FT usually is enough for wrap a full sedan or SUV. If your car is larger, please choose 1.52x23M/5x75FT, we will send 1.52x6M/5x19FT + 1.52x17M/5x56FT.

Quality warranty: 2 Years, during the quality warranty period, the film surface has no obvious fading, no cracking, and no residual glue on the car paint after removable.
Data Sheet
Surface
Opaque
Substrate
material
130Microns
High Polymeric PVC
Pressure
sensitive adhesive
30μm
Solvent-based Removable
Releaser liner
100G PET
High density air channels
Elongation
at break
300%
Tear strength 
37.2 N/10mm
Test Method: ASTM D3759
Glossiness
Gloss 95-110Gu
Matte 5-30Gu
Viscosity
Initial tack:700-800g/25mm
After 24 hours:1800-2000g/25mm
After 3 months: 1500g/25mm
Peel strength
2.5N/25mm
Test Method: ASTM D3330
Temperature resistance
 -40°С to +120°С
Flourescent
ultraviolet test 
Gray Level: 4-5
Test Method: ASTM D4329-13A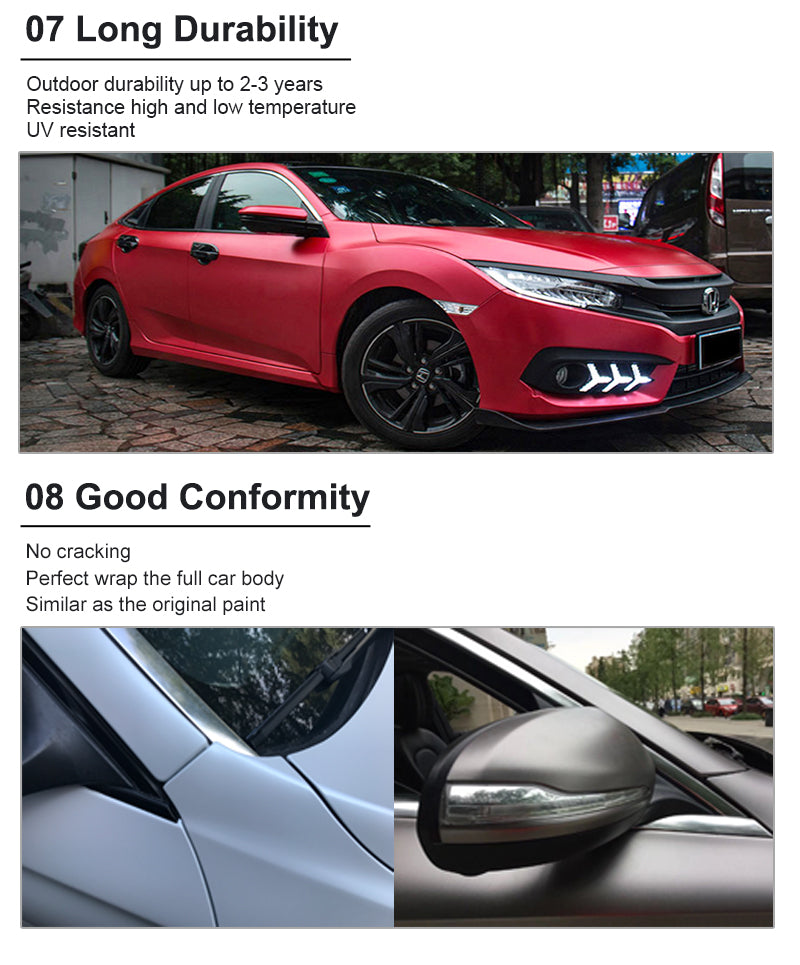 Caution: The product images, colors on the screen are approximate. For the real representation of the product color, please check the color swatch.
Super Chameleon Ambilight Lemon Honey Vinyl for Car Wrapping
Super Chameleon Ambilight Lemon Honey Color Vinyl Car Wrapping is an innovative and visually captivating automotive customization technique that involves the application of a specialized vinyl film to a vehicle's exterior. This unique car wrap combines the features of a color-shifting effect, dynamic lighting, and a refreshing lemon honey color scheme, resulting in a striking and dynamic appearance.
Super Chameleon Color-Shifting Effect: The term "Super Chameleon" indicates an advanced and enhanced version of the traditional color-shifting effect commonly seen in chameleon vinyl wraps. With "Super Chameleon," the color transitions are more pronounced, vivid, and dramatic. As the viewing angle and lighting conditions change, the colors on the vehicle's surface shift and blend, creating a mesmerizing and ever-changing visual experience. This dynamic effect is sure to catch the attention of anyone who comes across the car, making it stand out in any environment.

Ambilight Dynamic Lighting: "Ambilight" in this context refers to the incorporation of dynamic lighting elements into the car wrap design. These lighting elements can be LED strips or other light sources embedded within the vinyl film or strategically placed around the vehicle. The dynamic lighting adds an extra layer of visual interest and sophistication to the car. It can be programmed to create captivating patterns, animations, or even synchronize with the vehicle's movements. This dynamic lighting feature ensures that the car maintains its visual appeal even during the night or in low-light conditions.

Lemon Honey Color Scheme: The "Lemon Honey" aspect of this car wrap style suggests that the color scheme and design draw inspiration from the refreshing and vibrant colors of lemons and honey. The vinyl wrap incorporates various shades of yellow, ranging from bright lemon yellow to warm honey gold, evoking feelings of freshness, energy, and positivity. This cheerful and uplifting color palette not only sets the car apart from others on the road but also brings a sense of joy and enthusiasm to anyone who sees it.

Vinyl Car Wrapping: Car wrapping is a popular technique used to customize the appearance of vehicles without the need for permanent paint jobs. It involves applying a thin, adhesive-backed vinyl film to the exterior surfaces of the car. Vinyl wraps protect the original paintwork from minor scratches, UV rays, and environmental damage, preserving the vehicle's resale value. The vinyl film is available in various finishes, including glossy, matte, and textured, allowing car owners to achieve their desired look.
By combining the stunning features of the Super Chameleon color-shifting effect, Ambilight dynamic lighting, and the refreshing lemon honey color scheme, Super Chameleon Ambilight Lemon Honey Color Vinyl Car Wrapping creates a one-of-a-kind automotive masterpiece. This type of car wrap is not only a form of self-expression for car enthusiasts but also an effective marketing and branding tool for businesses seeking to showcase their products or services in a unique and attention-grabbing manner.
Whether applied to a sports car, luxury vehicle, or commercial fleet, this type of car wrapping can turn an ordinary car into an extraordinary work of art. The ever-changing colors and captivating lighting effects will undoubtedly turn heads and leave a lasting impression on anyone who encounters the vehicle on the road. If you're considering this type of car wrapping, it's essential to work with experienced professionals who can ensure a flawless and stunning result that will make your car truly stand out from the crowd.
---
We Also Recommend
---