CARLIKE CL-AM-06P Ambilight Metallic Gloss Blue Gold Vinyl PET Liner
Series: 3000P
Brand: CARLIKE

Color: Ambilight Metallic Satin Blue Gold PET

Model number: CL-AM-06P

Characteristic: Super stretch, incredible restorable

Performance level: Premium+

Film produce technology: High polymeric with double casting

Film thickness: 160micron, 6.4mil (with glue)

Release paper: 100G PET

Adhesive thickness: 30μm

Air bubble free: Yes

Application: Car wrap

Application temperature: From +80°С to +120°С

Temperature resistance: From -40°С to +120°С

Storing period: 2 years if stored in +10°С to +25°С, relative humidity 50%, in original package, away from direct sunlight, clean and dry place

Package: Full roll width 1.52m, length 17m, weight 13KG

Packing size: 1.55x0.18x0.18m

Remark: the full roll 1.52x17M/5x56FT usually is enough for wrap a full sedan or SUV. If your car is larger, please choose 1.52x23M/5x75FT, we will send 1.52x6M/5x19FT + 1.52x17M/5x56FT.

Quality warranty: 2 Years, during the quality warranty period, the film surface has no obvious fading, no cracking, and no residual glue on the car paint after removable.
Data Sheet
Surface
Opaque
Substrate
material
130Microns
High Polymeric PVC
Pressure
sensitive adhesive
30μm
Solvent-based Removable
Releaser liner
100G PET
High density air channels
Elongation
at break
300%
Tear strength 
37.2 N/10mm
Test Method: ASTM D3759
Glossiness
Gloss 95-110Gu
Matte 5-30Gu
Viscosity
Initial tack:700-800g/25mm
After 24 hours:1800-2000g/25mm
After 3 months: 1500g/25mm
Peel strength
2.5N/25mm
Test Method: ASTM D3330
Temperature resistance
 -40°С to +120°С
Flourescent
ultraviolet test 
Gray Level: 4-5
Test Method: ASTM D4329-13A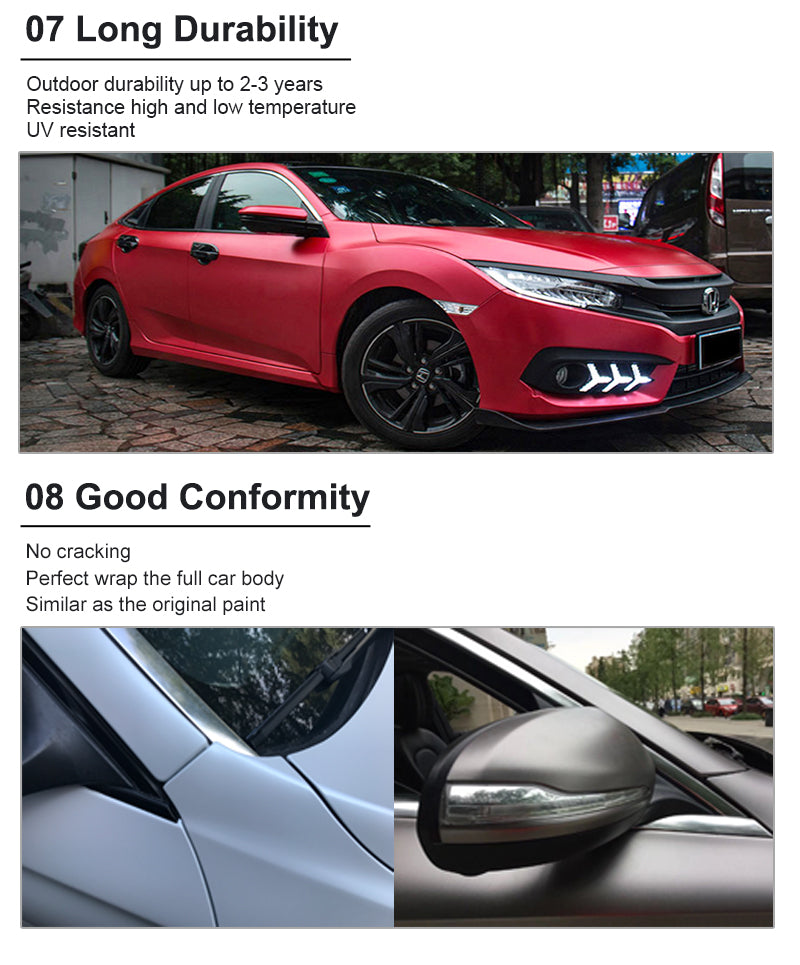 Caution: The product images, colors on the screen are approximate. For the real representation of the product color, please check the color swatch.
Ambilight Metallic Gloss Blue Gold Vinyl For Car Wrapping
Ambilight Metallic Gloss Blue Gold Vinyl is a premium vinyl material specifically designed for car wrapping applications. It offers a visually stunning and dynamic finish that can transform the appearance of any vehicle. This unique vinyl combines the sleekness of metallic gloss blue and the opulence of gold accents, creating a luxurious and eye-catching look.

Car wrapping is a popular method used to change the color or style of a vehicle's exterior without the need for traditional paint jobs. Ambilight Metallic Gloss Blue Gold Vinyl provides an excellent alternative to achieve a high-end and customized look. It allows car enthusiasts, automotive professionals, and businesses to express their individuality and stand out from the crowd.

The vinyl is crafted using top-quality materials to ensure superior durability and performance. It is typically made from a polymeric PVC film, which is known for its excellent conformability and resistance to harsh weather conditions, UV rays, and everyday wear and tear. This ensures that the wrap can withstand the rigors of daily use and maintain its appearance over time.

One crucial feature of Ambilight Metallic Gloss Blue Gold Vinyl is its air release technology. This technology is integrated into the vinyl's adhesive backing, featuring tiny air channels. During the installation process, these channels allow trapped air to escape, reducing the risk of bubbles and ensuring a smooth and seamless finish. This is particularly important when applying the vinyl to curved or complex surfaces, as it helps to achieve professional-looking results.

Moreover, the vinyl is designed with a pressure-sensitive adhesive that ensures strong adhesion to the vehicle's surface. This adhesive is specially formulated to provide a secure bond while allowing for repositioning during the installation process. It allows installers to make adjustments to the vinyl's positioning, ensuring precise alignment and minimizing the risk of errors.

Ambilight Metallic Gloss Blue Gold Vinyl is also known for its ease of maintenance. It is resistant to fading, cracking, and peeling, allowing the wrap to maintain its vibrant and glossy appearance for an extended period. Cleaning the vinyl is typically as simple as washing the vehicle with a mild detergent and a soft cloth or sponge.

With its luxurious and attention-grabbing design, Ambilight Metallic Gloss Blue Gold Vinyl is an excellent choice for car enthusiasts and businesses seeking to enhance the aesthetics of their vehicles. Whether applied to the entire vehicle or used for accenting specific areas, this vinyl wrap can transform the look of cars, trucks, motorcycles, and other vehicles.

In conclusion, Ambilight Metallic Gloss Blue Gold Vinyl is a premium vinyl material specifically designed for car wrapping applications. Its combination of metallic gloss blue and gold accents creates a luxurious and eye-catching finish. With its durability, air release technology, and pressure-sensitive adhesive, it provides an easy-to-install and long-lasting solution for vehicle customization. Whether for personal expression or branding purposes, this vinyl wrap can elevate the appearance of any vehicle while protecting its original paintwork.
---
We Also Recommend
---