CARLIKE CL-AM-08 Ambilight Metallic Gloss Green Gold Vinyl
Series: 3000
Brand: CARLIKE

Color: Ambilight Metallic Gloss Green Gold

Model number: CL-AM-08

Characteristic: Super stretch, incredible restorable

Performance level: Premium+

Film produce technology: High polymeric with double casting

Film thickness: 160micron, 6.4mil (with glue)

Release paper: 160g/m2, silicone coated

Adhesive thickness: 30μm

Air bubble free: Yes

Application: Car wrap

Application temperature: From +80°С to +120°С

Temperature resistance: From -40°С to +120°С

Storing period: 2 years if stored in +10°С to +25°С, relative humidity 50%, in original package, away from direct sunlight, clean and dry place

Package: Full roll width 1.52m, length 17m, weight 13KG

Packing size: 1.55x0.18x0.18m

Remark: the full roll 1.52x17M/5x56FT usually is enough for wrap a full sedan or SUV. If your car is larger, please choose 1.52x23M/5x75FT, we will send 1.52x6M/5x19FT + 1.52x17M/5x56FT.
Quality warranty: 2 Years, during the quality warranty period, the film surface has no obvious fading, no cracking, and no residual glue on the car paint after removable.
Data Sheet
Surface
Opaque
Substrate
material
130Microns
High Polymeric PVC
Pressure
sensitive adhesive
30μm
Solvent-based Removable
Releaser liner
160G double PE coating
High density air channels
Elongation
at break
300%
Tear strength 
37.2 N/10mm
Test Method: ASTM D3759
Glossiness
Gloss 95-110Gu
Matte 5-30Gu
Viscosity
Initial tack:700-800g/25mm
After 24 hours:1800-2000g/25mm
After 3 months: 1500g/25mm
Peel strength
2.5N/25mm
Test Method: ASTM D3330
Temperature resistance
 -40°С to +120°С
Flourescent
ultraviolet test 
Gray Level: 4-5
Test Method: ASTM D4329-13A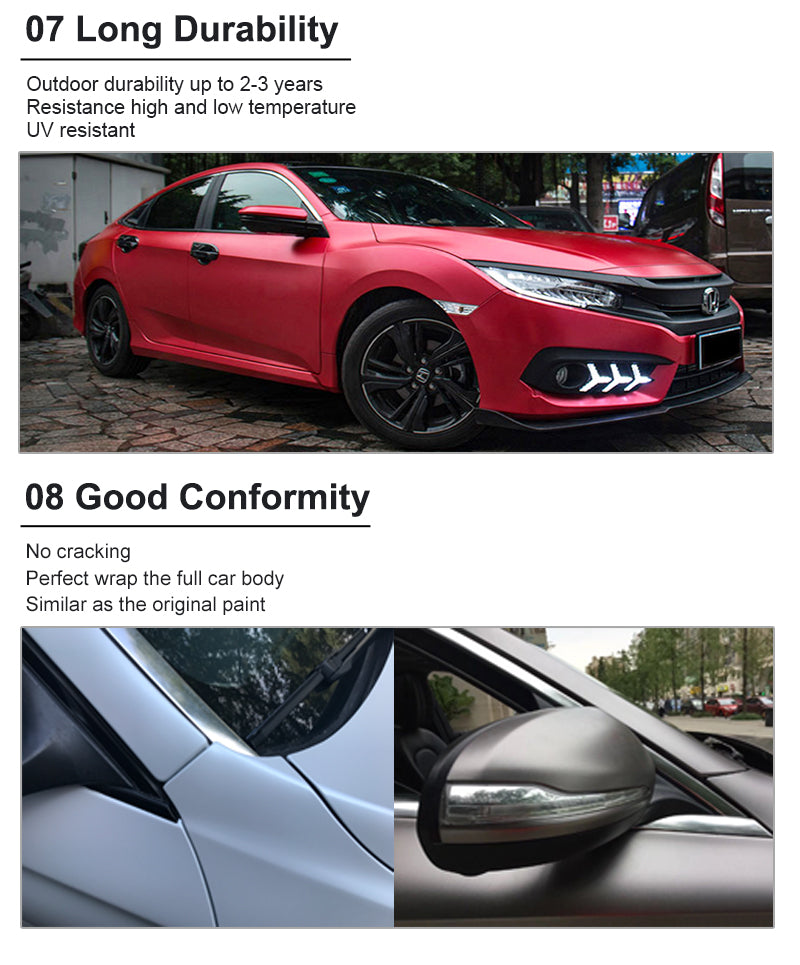 Caution: The product images, colors on the screen are approximate. For the real representation of the product color, please check the color swatch.
"Ambilight Metallic Gloss Green Gold: A Captivating Fusion of Elegance and Opulence on Wheels"
Car customization has become a fascinating art form, allowing car enthusiasts to transform their vehicles into personalized masterpieces. Among the array of options available, the "Ambilight Metallic Gloss Green Gold" car vinyl stands out as a captivating choice that promises to elevate automotive aesthetics with its alluring fusion of elegance and opulence.
The Enchanting Fusion of Blue and Gold:
At the heart of this extraordinary car vinyl lies the captivating fusion of Green and Gold. Inspired by the brilliance of precious metals and the depth of the ocean, this unique blend of hues exudes an aura of sophistication and opulence. The cool and calming essence of Blue intertwines with the rich and luxurious allure of Gold, creating a harmonious fusion that symbolizes the balance between tranquility and grandeur. This color choice celebrates the captivating allure of contrast, making it an ideal choice for car enthusiasts seeking to embrace a combination of elegance and richness on their vehicles.
Ambilight Metallic Satin: Radiating Allure
The term "Ambilight Metallic Satin" in the product name signifies an exceptional level of shine and reflectivity that elevates the Blue Gold fusion to a state of radiant allure. The Ambilight Metallic Satin finish creates a polished surface that enhances the depth and brilliance of the Blue and Gold hues. Under the sun's radiant glow, the Ambilight Metallic Gloss Green Gold car vinyl illuminates the vehicle with a captivating sheen, turning heads and exuding an air of luxurious brilliance.
Unveiling the Crystal Clarity:
To further enhance the allure of opulence, the "Crystal" component adds a touch of clarity to the car vinyl. Embedded light-reflective particles within the vinyl film create a mesmerizing crystal effect that sparkles and glistens with each movement of the vehicle. This prismatic clarity infuses the Blue Gold fusion with an enchanting luminosity, reminiscent of the glimmering reflections on a tranquil sea.
Premium Quality Vinyl: Enduring Splendor
Crafted from premium-grade vinyl material, the Ambilight Metallic Gloss Green Gold car vinyl ensures both durability and splendor. The high-quality vinyl serves as a protective layer, safeguarding the original paintwork from minor scratches and environmental elements. With proper care, the car vinyl maintains its radiant appearance, preserving the captivating allure of the Blue Gold fusion for many journeys ahead.
Embrace the Fusion of Elegance and Opulence:
The Ambilight Metallic Gloss Green Gold car vinyl is not merely a decorative choice; it embodies a fusion of elegance and opulence. It allows car owners to express their appreciation for refined aesthetics and the allure of grandeur. Whether adorning a luxurious sedan or a sleek coupe, this car vinyl stands as a symbol of embracing the captivating fusion of Blue and Gold on wheels.
Professional Installation: A Seamless Grandeur
To fully embrace the captivating allure of Blue Gold, professional installation by skilled experts is essential. Car wrapping specialists ensure meticulous application, achieving a seamless finish that complements the car's inherent charm and the luxurious Blue Gold fusion. This professional touch ensures that the car vinyl becomes a flawless reflection of elegance and opulence on the road.
Conclusion: An Opulent Masterpiece on Wheels
The Ambilight Metallic Gloss Green Gold car vinyl captures the essence of elegance and opulence in automotive artistry. With its captivating Blue Gold fusion, Ambilight Metallic Satin finish, and Crystal clarity, this car vinyl elevates the vehicle's aesthetics to a realm of captivating splendor. Embrace the allure of this extraordinary car vinyl and experience the captivating fusion of elegance and richness, as your vehicle becomes an opulent masterpiece on the open road.
---
We Also Recommend
---