CARLIKE CL-SCM-03 Chrome Mirror Gold Vinyl
Important: The chrome rainbow vinyl can not stretch too much, need good skill to install on car

Color: Chrome Mirror Gold

Model number: CL-SCM-03 

Performance level: Premium+

Film produce technology: Calendered

Film thickness: 150micron, 6mil(with glue)

Release paper: 160g/m², Silicone coated

Adhesive thickness: 30μm

Durability: 1-3 years

Air bubble free: Yes

Application: Car wrap

Application temperature: From +80°С to +120°С

Temperature resistance: From -40°С to +120°С

Storing period: 2 years if stored in +10°С to +25°С, relative humidity 50%, in original package, away from direct sunlight, clean and dry place
Package: Full roll width 1.52m, length 18m, weight 13KG

Packing size: 1.55x0.18x0.18m

Remark: the full roll 1.52x18M/5x59FT usually is enough for wrap a full sedan or SUV. If your car is larger, please choose 1.52x23M/5x75FT, we will send 1.52x5M/5x16FT + 1.52x18M/5x59FT.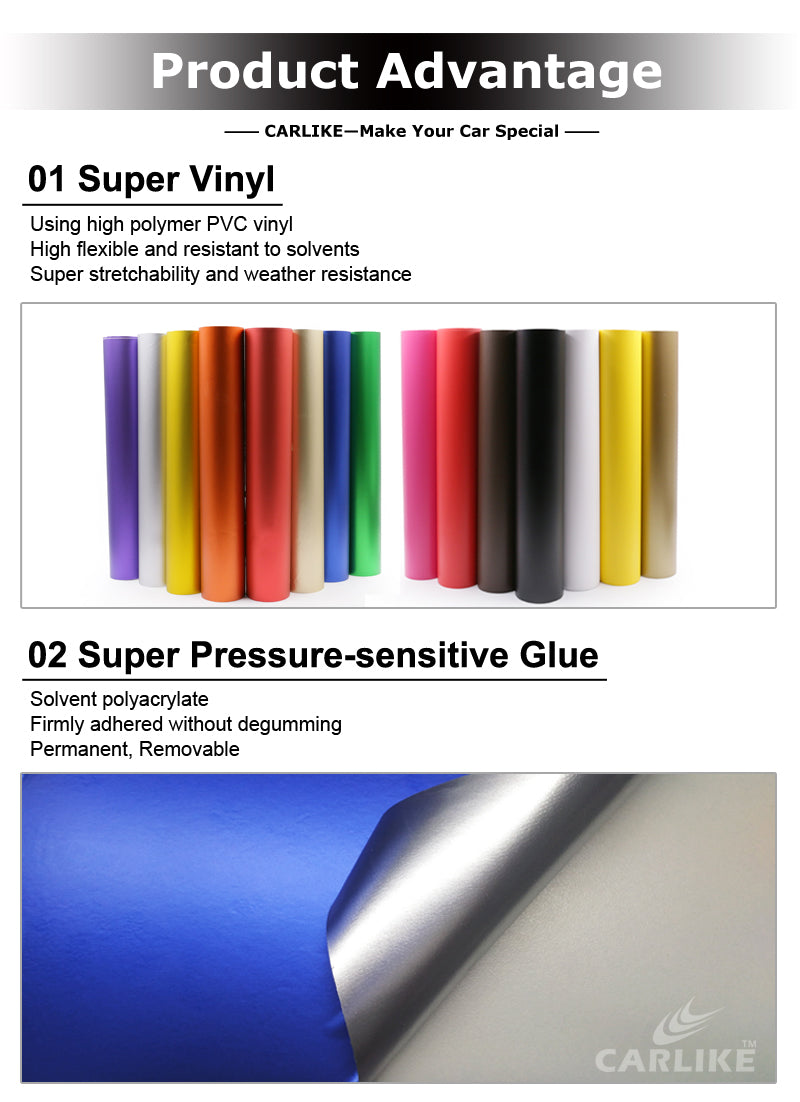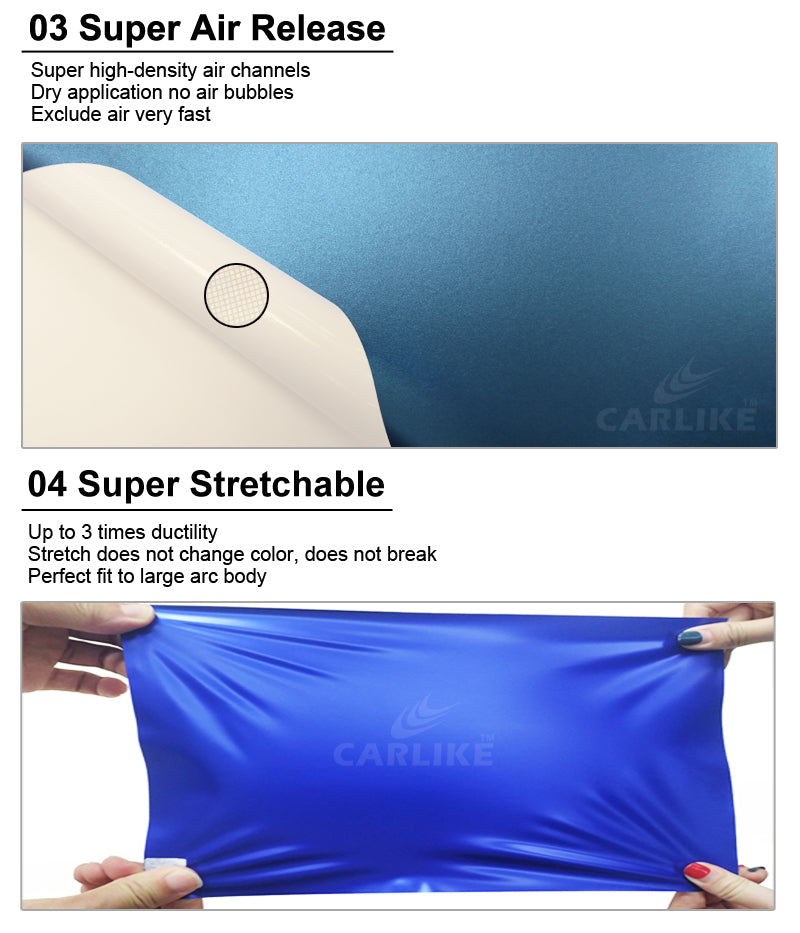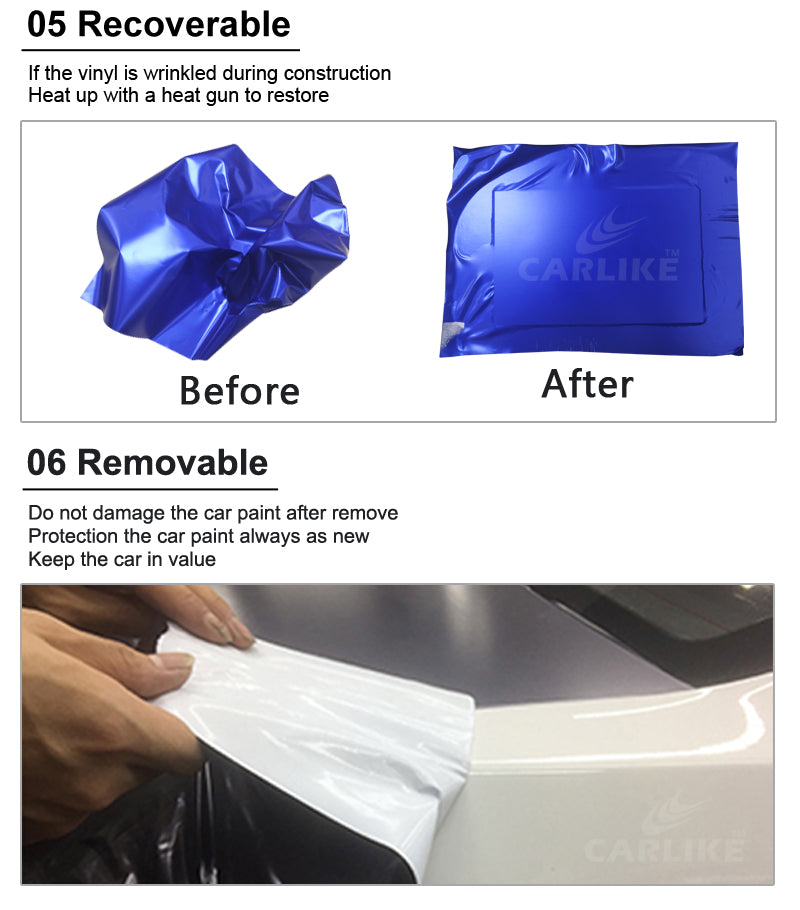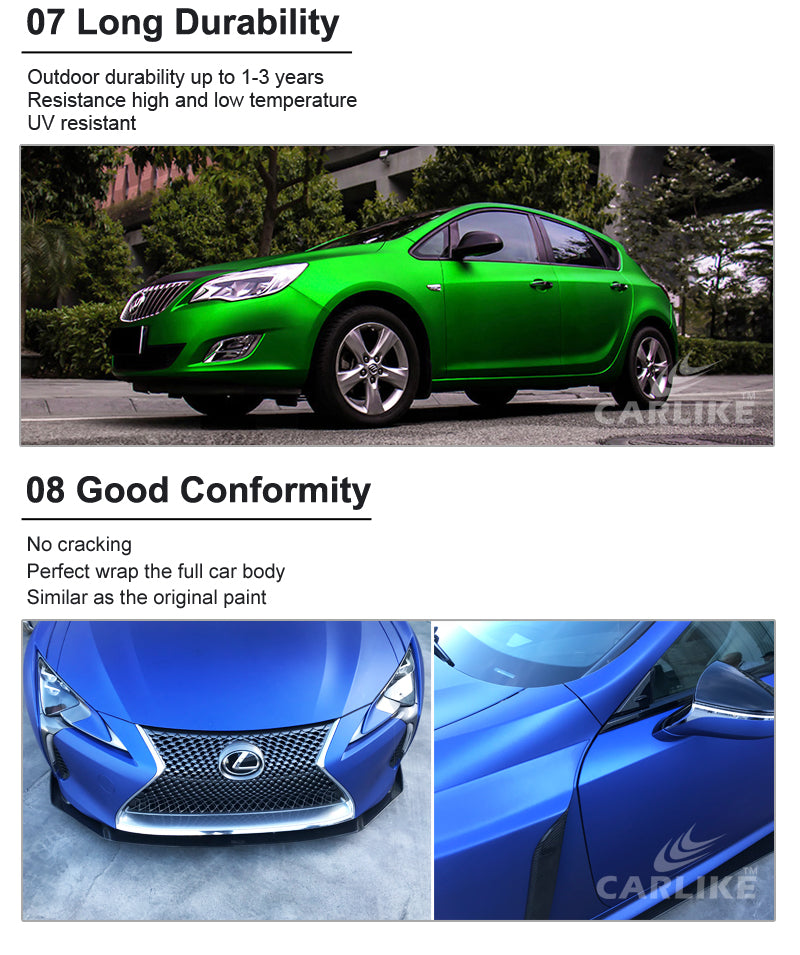 Caution: The product images, colors on the screen are approximate. For the real representation of the product color, please check the color swatch.
Chrome Mirror Black Vinyl Wrapping
Elevate your vehicle's appearance to a whole new level of luxury and opulence with Chrome Mirror Gold Vinyl Car Wrapping. This premium vinyl wrap option features a distinctive chrome mirror effect combined with a rich and captivating gold color, creating a stunning and eye-catching transformation for your car.
The Chrome Mirror Gold Vinyl Car Wrapping boasts a mirror-like finish that adds depth, dimension, and an air of extravagance to your vehicle's exterior. The high-gloss and reflective surface enhance the lustrous gold color, producing a dazzling effect that is sure to turn heads and command attention wherever you go. This wrap is designed to exude a sense of luxury, sophistication, and style.
Versatility is a key advantage of this vinyl wrap. It can be applied to various parts of your vehicle, including body panels, hoods, roofs, mirrors, and accent areas. Whether you choose to wrap the entire vehicle or specific sections, the Chrome Mirror Gold Vinyl Car Wrapping allows for customization and personalization, enabling you to create a truly unique and eye-catching look.
Crafted from high-quality materials, the Chrome Mirror Gold Vinyl Car Wrapping ensures durability and longevity. It is designed to withstand the rigors of daily driving, providing protection against minor scratches, UV damage, and fading. This wrap not only enhances the aesthetics of your car but also helps preserve the underlying paintwork, ensuring that your vehicle maintains its allure for years to come.
For the best results, professional installation is highly recommended. An experienced vinyl wrap installer possesses the expertise and precision necessary to apply the wrap seamlessly, ensuring a flawless and professional finish. Their attention to detail and skill will help bring out the full potential of the Chrome Mirror Gold Vinyl Car Wrapping, elevating your vehicle's appearance to new heights.
Maintenance of the wrap is relatively simple. Regular cleaning with mild soapy water and gentle handling will help preserve its mirror-like shine and protect it from damage. It is important to refrain from using abrasive materials or harsh chemicals that could compromise the wrap's finish.
Before proceeding with the installation of Chrome Mirror Gold Vinyl Car Wrapping, it's essential to check and comply with any local regulations or restrictions governing the use of vinyl wraps on vehicles. Familiarize yourself with any guidelines or permissions required to ensure adherence to local regulations.
In summary, Chrome Mirror Gold Vinyl Car Wrapping offers a luxurious and captivating transformation for your vehicle. Its mirror-like finish, combined with the rich gold color, creates an extraordinary and opulent look that demands attention. With professional installation and proper maintenance, this vinyl wrap can elevate your vehicle's style and make a lasting impression on the road. Consult with a professional vinyl wrap installer or reputable supplier to explore the possibilities of Chrome Mirror Gold Vinyl Car Wrapping and give your vehicle a truly remarkable and prestigious appearance.
---
We Also Recommend
---