CARLIKE CL-SJ-27 Super Gloss Crystal Mist Blue Vinyl
Series: 3000
Brand: CARLIKE

Color: Super Gloss Crystal Mist Blue 

Model number: CL-SJ-27

Characteristic: Super stretch, incredible restorable

Performance level: Premium+

Film produce technology: High polymeric with double casting

Film thickness: 160micron, 6.4mil (with glue)

Release paper: 160g/m2, silicone coated

Adhesive thickness: 30μm

Air bubble free: Yes

Application: Car wrap

Application temperature: From +80°С to +120°С

Temperature resistance: From -40°С to +120°С

Storing period: 2 years if stored in +10°С to +25°С, relative humidity 50%, in original package, away from direct sunlight, clean and dry place

Package: Full roll width 1.52m, length 17m, weight 13KG

Packing size: 1.55x0.18x0.18m

Remark: the full roll 1.52x17M/5x56FT usually is enough for wrap a full sedan or SUV. If your car is larger, please choose 1.52x23M/5x75FT, we will send 1.52x6M/5x19FT + 1.52x17M/5x56FT.
Quality warranty: 2 Years, during the quality warranty period, the film surface has no obvious fading, no cracking, and no residual glue on the car paint after removable.
Data Sheet
Surface
Opaque
Substrate
material
130Microns
High Polymeric PVC
Pressure
sensitive adhesive
30μm
Solvent-based Removable
Releaser liner
160G double PE coating
High density air channels
Elongation
at break
300%
Tear strength 
37.2 N/10mm
Test Method: ASTM D3759
Glossiness
Gloss 95-110Gu
Matte 5-30Gu
Viscosity
Initial tack:700-800g/25mm
After 24 hours:1800-2000g/25mm
After 3 months: 1500g/25mm
Peel strength
2.5N/25mm
Test Method: ASTM D3330
Temperature resistance
 -40°С to +120°С
Flourescent
ultraviolet test 
Gray Level: 4-5
Test Method: ASTM D4329-13A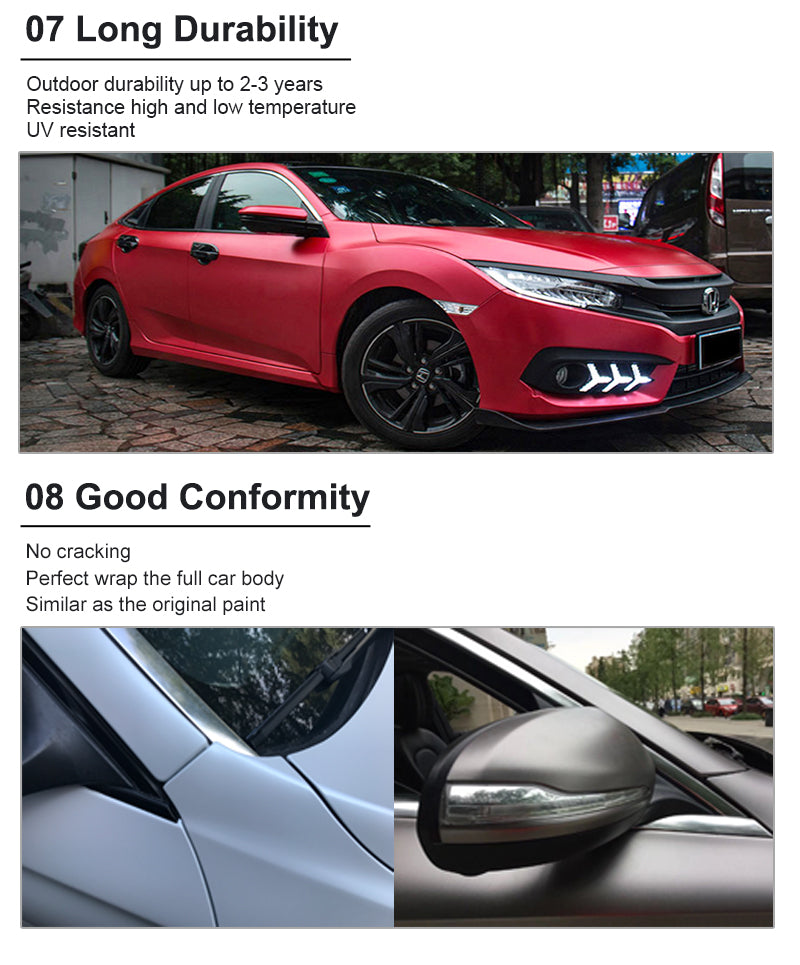 Caution: The product images, colors on the screen are approximate. For the real representation of the product color, please check the color swatch.
Super Gloss Crystal Mist Blue Vinyl Car Wrapping is an impressive and visually captivating vehicle customization method that combines the high-gloss appeal of crystal finishes with the ethereal and refreshing nature of the color mist blue. This cutting-edge technique involves applying a specialized vinyl film with a super gloss crystal coating in a captivating Mist Blue color to the exterior of the car. The result is a remarkable and dynamic appearance that sets the vehicle apart with its extraordinary shine and serene charm.
Super Gloss Crystal Brilliance: The Super Gloss Crystal Mist Blue vinyl car wrap stands out for its dazzling super gloss crystal finish. This unique coating creates a mirror-like appearance, reflecting light in a captivating manner. The super gloss crystal brilliance adds an ethereal and enchanting quality to the vehicle, making it stand out with its exceptional shine and lustrous finish.

The Serenity of Mist Blue: The addition of the mist blue color further enhances the car's allure and charm. Mist blue is a color that evokes a sense of tranquility, calmness, and freshness. It resembles the serene atmosphere of misty mornings and clear skies, adding a touch of serenity and sophistication to the vehicle's aesthetics.

High-Gloss Finish: The high-gloss aspect of the car wrapping complements the super gloss crystal effect and the mist blue color, delivering an exceptional shine and polish. The high-gloss surface elevates the vehicle's overall aesthetics, making it look luxurious and refined.

Unparalleled Customization: Super Gloss Crystal Mist Blue vinyl wrapping offers car owners an unparalleled platform for customization. This unique combination of colors and finishes allows for endless possibilities in design, enabling car enthusiasts to express their individuality and creativity. With the ability to create a bespoke appearance that perfectly represents their style and vision, the vehicle becomes a true reflection of the owner's personality and taste.

Striking Visual Impact: The Super Gloss Crystal Mist Blue vinyl car wrap exudes a striking and captivating visual impact that leaves a lasting impression on anyone who sees the vehicle. The extraordinary combination of super gloss crystal brilliance and mist blue color creates an aura of sophistication and tranquility, making the car a sight to behold on the road.

Protecting the Original Paint: Beyond its stunning appearance, Super Gloss Crystal Mist Blue vinyl car wrapping also acts as a protective layer for the vehicle's original paintwork. The durable vinyl film shields the car from common environmental elements, including UV rays, road debris, minor scratches, and contaminants. This protective layer preserves the car's factory paint, maintaining its pristine condition and value over time.

Professional Installation and Reversibility: Due to the unique nature of Super Gloss Crystal Mist Blue vinyl car wrapping, professional installation is essential to ensure a flawless and bubble-free finish. The installation process is relatively quick and efficient, minimizing the vehicle's downtime. Furthermore, should the car owner wish to return to the original paint or change the vehicle's appearance in the future, the vinyl wrap can be removed without causing damage to the underlying paint.
In conclusion, Super Gloss Crystal Mist Blue Vinyl Car Wrapping offers an extraordinary and visually captivating transformation to vehicles. The unique combination of super gloss crystal brilliance, mist blue color, and high-gloss finish delivers an enchanting and serene appearance that exudes charm and elegance. With its unparalleled customization options, protective benefits, and captivating allure, this car wrapping has become a favored choice among car enthusiasts looking to elevate the aesthetics and individuality of their vehicles with a touch of magical shine and the calming charm of mist blue.
---
We Also Recommend
---