CARLIKE CL-DC-06 Diamond Crystal Tiffany Vinyl
Series: 3000

Brand: CARLIKE

Color: Diamond Crystal Tiffany
Model number: CL-DC-06

Characteristic: Super stretch, incredible restorable

Performance level: Premium+

Film produce technology: High polymeric with double casting

Film thickness: 160micron, 6.4mil (with glue)

Release paper: 160g/m2, silicone coated

Adhesive thickness: 30μm

Air bubble free: Yes

Application: Car wrap

Application temperature: From +80°С to +120°С

Temperature resistance: From -40°С to +120°С

Storing period: 2 years if stored in +10°С to +25°С, relative humidity 50%, in original package, away from direct sunlight, clean and dry place

Package: Full roll width 1.52m, length 17m, weight 13KG

Packing size: 1.55x0.18x0.18m

Remark: the full roll 1.52x17M/5x56FT usually is enough for wrap a full sedan or SUV. If your car is larger, please choose 1.52x23M/5x75FT, we will send 1.52x6M/5x19FT + 1.52x17M/5x56FT.

Quality warranty: 2 Years, during the quality warranty period, the film surface has no obvious fading, no cracking, and no residual glue on the car paint after removable.
Data Sheet
Surface
Opaque
Substrate
material
130Microns
High Polymeric PVC
Pressure
sensitive adhesive
30μm
Solvent-based Removable
Releaser liner
160G double PE coating
High density air channels
Elongation
at break
300%
Tear strength 
37.2 N/10mm
Test Method: ASTM D3759
Glossiness
Gloss 95-110Gu
Matte 5-30Gu
Viscosity
Initial tack:700-800g/25mm
After 24 hours:1800-2000g/25mm
After 3 months: 1500g/25mm
Peel strength
2.5N/25mm
Test Method: ASTM D3330
Temperature resistance
 -40°С to +120°С
Flourescent
ultraviolet test 
Gray Level: 4-5
Test Method: ASTM D4329-13A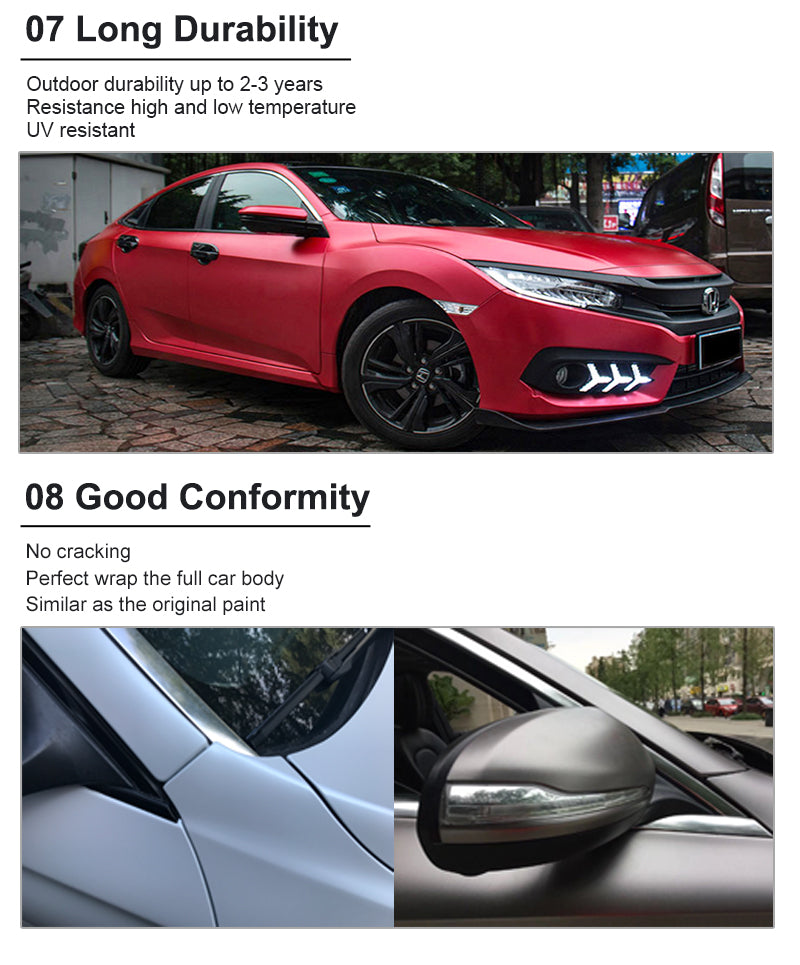 Caution: The product images, colors on the screen are approximate. For the real representation of the product color, please check the color swatch.
Diamond Crystal Tiffany Car Body Wrapping Vinyl 
Diamond Crystal Tiffany Car Body Wrapping Vinyl is a premium and luxurious option for car enthusiasts looking to elevate the appearance of their vehicles. Inspired by the timeless elegance of Tiffany & Co.'s iconic jewelry, this vinyl wrap offers a stunning and captivating diamond crystal design that is bound to turn heads on the road.
The key feature that sets Diamond Crystal Tiffany Car Body Wrapping Vinyl apart is its remarkable resemblance to sparkling diamonds. The vinyl has been meticulously crafted to replicate the brilliance and shine of real diamonds, creating a truly mesmerizing effect when the light hits it at different angles. This unique feature transforms any car into a dazzling gem on wheels, making it stand out from the crowd and making a bold statement of luxury and sophistication.
Not only does this vinyl wrap offer exceptional aesthetics, but it also provides practical benefits. The vinyl is made of high-quality materials, engineered to be durable and long-lasting. It offers protection to the car's original paint from minor scratches, dings, and exposure to the elements. This means that your car's appearance remains intact, preserving its value and overall condition.
Additionally, Diamond Crystal Tiffany Car Body Wrapping Vinyl is designed for easy installation. With the help of a professional car wrapping service, the vinyl can be seamlessly applied to the car's body, ensuring a flawless and smooth finish. The vinyl conforms to the contours of the car, allowing for a perfect fit on various shapes and sizes of vehicles. Furthermore, the vinyl can be removed without leaving any residue or damage to the car's paint, making it a non-permanent solution for those who may want to change their car's appearance in the future.
As with any vinyl wrap, proper maintenance is essential to ensure the longevity of the Diamond Crystal Tiffany Car Body Wrapping Vinyl. Regular cleaning with mild soap and water, avoiding abrasive materials, and keeping the car away from extreme weather conditions will help preserve the vinyl's luster and vibrancy for years to come.
Diamond Crystal Tiffany Car Body Wrapping Vinyl is not only popular among car enthusiasts but also for commercial purposes. Businesses and luxury car rental services often use this premium vinyl wrap to add a touch of opulence to their fleet, making a lasting impression on their clients and customers.
In conclusion, Diamond Crystal Tiffany Car Body Wrapping Vinyl is an exquisite choice for car customization, exuding elegance and sophistication like no other. Its diamond crystal design, durability, easy installation, and non-permanent nature make it a top choice for those seeking to elevate their car's appearance to a whole new level. Whether you own a luxury car or simply desire to make your vehicle a dazzling gem on the road, this vinyl wrap will undoubtedly fulfill your aspirations and turn your car into a true work of art.
---
We Also Recommend
---