CARLIKE CL-EG-01 Electro Metallic Gloss Black Gold Vinyl
Series: 3000

Brand: CARLIKE

Color: Electro Metallic Gloss Black Gold

Model number: CL-EG-01
Characteristic: Super stretch, incredible restorable

Performance level: Premium+

Film produce technology: High polymeric with double casting

Film thickness: 160micron, 6.4mil (with glue)

Release paper: 160g/m2, silicone coated

Adhesive thickness: 30μm

Air bubble free: Yes

Application: Car wrap

Application temperature: From +80°С to +120°С

Temperature resistance: From -40°С to +120°С

Storing period: 2 years if stored in +10°С to +25°С, relative humidity 50%, in original package, away from direct sunlight, clean and dry place

Package: Full roll width 1.52m, length 17m, weight 13KG

Packing size: 1.55x0.18x0.18m

Remark: the full roll 1.52x17M/5x56FT usually is enough for wrap a full sedan or SUV. If your car is larger, please choose 1.52x23M/5x75FT, we will send 1.52x6M/5x19FT + 1.52x17M/5x56FT.

Quality warranty: 2 Years, during the quality warranty period, the film surface has no obvious fading, no cracking, and no residual glue on the car paint after removable.
Data Sheet
Surface
Opaque
Substrate
material
130Microns
High Polymeric PVC
Pressure
sensitive adhesive
30μm
Solvent-based Removable
Releaser liner
160G double PE coating
High density air channels
Elongation
at break
300%
Tear strength 
37.2 N/10mm
Test Method: ASTM D3759
Glossiness
Gloss 95-110Gu
Matte 5-30Gu
Viscosity
Initial tack:700-800g/25mm
After 24 hours:1800-2000g/25mm
After 3 months: 1500g/25mm
Peel strength
2.5N/25mm
Test Method: ASTM D3330
Temperature resistance
 -40°С to +120°С
Flourescent
ultraviolet test 
Gray Level: 4-5
Test Method: ASTM D4329-13A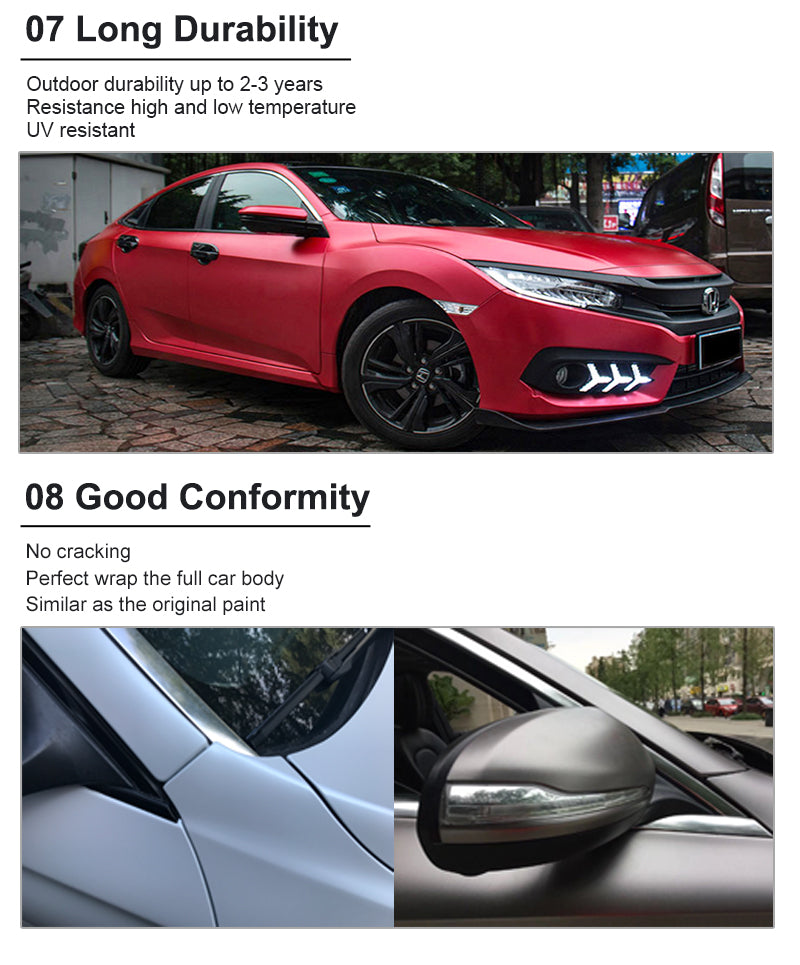 Caution: The product images, colors on the screen are approximate. For the real representation of the product color, please check the color swatch.
Electro Metallic Gloss Black Gold Vinyl Wrap
Electro Metallic Gloss Black Gold vinyl wrapping is a cutting-edge automotive film that exudes luxury and elegance with its mesmerizing electro metallic finish and stunning combination of gloss black and gold colors. This particular vinyl wrap option offers a distinctive and eye-catching look that is sure to make a bold statement on any vehicle.

The Gloss Black Gold color of this vinyl wrap creates a striking contrast and visual impact. The glossy black base provides a sleek and sophisticated backdrop, while the gold metallic accents add a touch of opulence and brilliance. The combination of these two colors enhances the overall appearance, creating a unique and dynamic aesthetic that stands out from traditional solid-color wraps.

The electro metallic finish of this vinyl wrap takes the appearance to another level. It incorporates metallic flakes that give the surface a captivating shimmer and depth. When exposed to light, the metallic particles reflect and refract light, creating a stunning play of colors and a three-dimensional effect that adds an element of luxury and sophistication to the vehicle.

One of the notable advantages of using Electro Metallic Gloss Black Gold vinyl wrapping is its ease of application. The film is designed with air release channels that allow for a smooth and bubble-free installation process. Whether it is being applied by professionals or individuals with DIY experience, achieving a professional-quality result is attainable. The self-adhesive nature of the vinyl ensures a secure and long-lasting bond to the vehicle's surface, ensuring durability and longevity.

Flexibility is another key feature of Electro Metallic Gloss Black Gold vinyl wrapping. It molds easily to the contours and curves of the vehicle, enabling precise application on various parts such as the hood, roof, doors, fenders, mirrors, and interior trims. This flexibility allows for complete customization and endless creative possibilities, allowing individuals to add unique accents and personal touches to their vehicles.

In addition to its stunning appearance, Electro Metallic Gloss Black Gold vinyl wrapping also offers practical benefits. The film acts as a protective layer, guarding the vehicle's original paintwork against minor scratches, chips, and other surface damages. This protection helps to maintain the vehicle's resale value by preserving the condition of the underlying paint. Furthermore, the vinyl wrap offers resistance to UV rays, preventing the paint from fading or discoloring over time.

Maintaining and caring for Electro Metallic Gloss Black Gold vinyl wrapping is relatively simple. Regular cleaning with mild soap and water, along with gentle wiping and drying techniques, helps to keep the surface clean and free from dirt and debris. It is important to avoid using abrasive cleaners or rough materials that could potentially damage the vinyl wrap. By following proper maintenance practices, the vinyl wrap will retain its vibrant appearance and durability for an extended period.

In conclusion, Electro Metallic Gloss Black Gold vinyl wrapping offers a truly luxurious and eye-catching option for individuals looking to enhance the appearance of their vehicles. Its electro metallic finish, ease of application, flexibility, and protective qualities make it a popular choice among car enthusiasts and professionals seeking an elevated and unique look. Whether it is for a complete vehicle makeover or adding personalized accents, Electro Metallic Gloss Black Gold vinyl wrapping adds a touch of glamour, sophistication, and individuality to any vehicle.
---
We Also Recommend
---