CARLIKE CL-EG-14 Electro Metallic Gloss Blueberry Vinyl
Series: 3000

Brand: CARLIKE

Color:  Electro Metallic Gloss Blueberry 

Model number: CL-EG-14

Characteristic: Super stretch, incredible restorable

Performance level: Premium+

Film produce technology: High polymeric with double casting

Film thickness: 160micron, 6.4mil (with glue)

Release paper: 160g/m2, silicone coated

Adhesive thickness: 30μm

Air bubble free: Yes

Application: Car wrap

Application temperature: From +80°С to +120°С

Temperature resistance: From -40°С to +120°С

Storing period: 2 years if stored in +10°С to +25°С, relative humidity 50%, in original package, away from direct sunlight, clean and dry place

Package: Full roll width 1.52m, length 17m, weight 13KG

Packing size: 1.55x0.18x0.18m

Remark: the full roll 1.52x17M/5x56FT usually is enough for wrap a full sedan or SUV. If your car is larger, please choose 1.52x23M/5x75FT, we will send 1.52x6M/5x19FT + 1.52x17M/5x56FT.

Quality warranty: 2 Years, during the quality warranty period, the film surface has no obvious fading, no cracking, and no residual glue on the car paint after removable.
Data Sheet
Surface
Opaque
Substrate
material
130Microns
High Polymeric PVC
Pressure
sensitive adhesive
30μm
Solvent-based Removable
Releaser liner
160G double PE coating
High density air channels
Elongation
at break
300%
Tear strength 
37.2 N/10mm
Test Method: ASTM D3759
Glossiness
Gloss 95-110Gu
Matte 5-30Gu
Viscosity
Initial tack:700-800g/25mm
After 24 hours:1800-2000g/25mm
After 3 months: 1500g/25mm
Peel strength
2.5N/25mm
Test Method: ASTM D3330
Temperature resistance
 -40°С to +120°С
Flourescent
ultraviolet test 
Gray Level: 4-5
Test Method: ASTM D4329-13A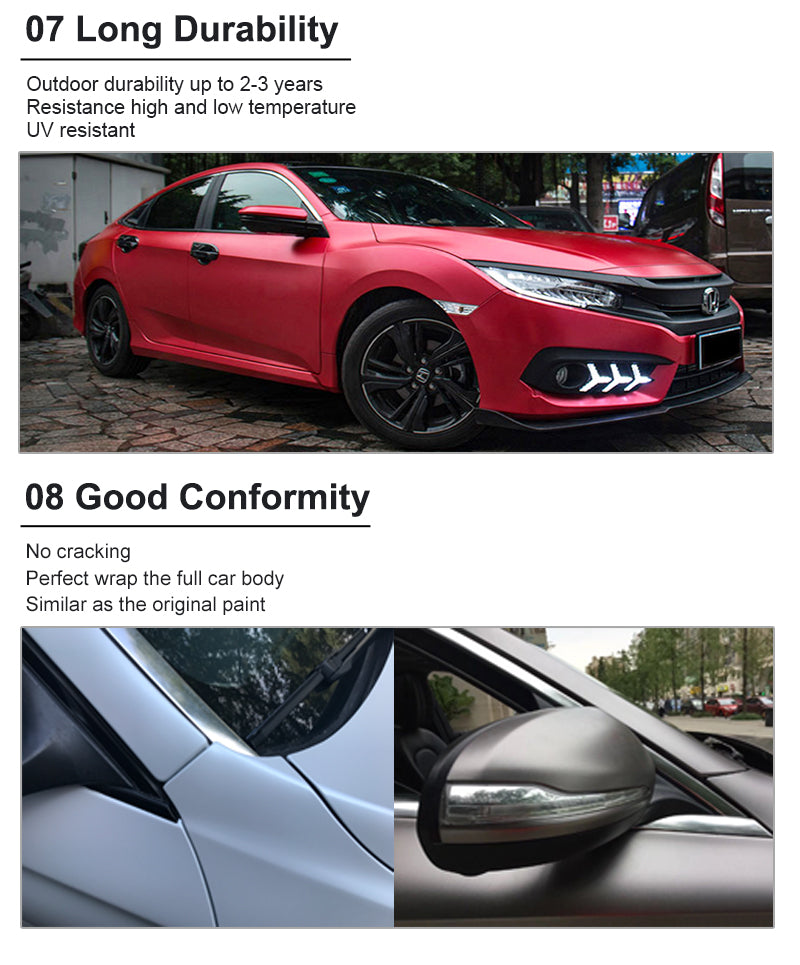 Caution: The product images, colors on the screen are approximate. For the real representation of the product color, please check the color swatch.
Electro Metallic Gloss Blueberry Vinyl Wrap
Electro Metallic Gloss Blueberry Vinyl CAR wrapping is a type of custom automotive vinyl wrapping that provides a stunning and unique appearance to vehicles. It involves the application of a high-quality vinyl film onto the exterior surface of a car, transforming its color and finish. In this case, the specific color being referred to is a vibrant blueberry shade with a metallic gloss finish.

One of the primary reasons car owners choose vinyl wrapping is to enhance the aesthetics of their vehicles. By opting for an Electro Metallic Gloss Blueberry Vinyl wrap, individuals can give their cars a distinct and eye-catching appearance that stands out from the crowd. The glossy finish adds depth and richness to the color, creating a stunning visual effect that can't be achieved with traditional paint.

Aside from its visual appeal, vinyl wrapping also offers several practical benefits. First and foremost, it serves as a protective layer for the car's original paintwork. The vinyl film helps shield the vehicle's exterior from minor scratches, stone chips, and other forms of damage that can occur during day-to-day driving. This is especially beneficial for individuals who want to preserve the resale value of their cars or revert to the original paint color in the future.

Moreover, vinyl wraps are highly customizable and can be applied to various parts of the car, including the body panels, trim pieces, and even the interior. This allows car owners to create a personalized look that reflects their unique style and preferences. The Electro Metallic Gloss Blueberry Vinyl wrap, in particular, adds a touch of elegance and sportiness to any vehicle, making it a popular choice among car enthusiasts.

The vinyl wrapping process typically involves several steps. Firstly, the car's surface is thoroughly cleaned and prepared to ensure good adhesion of the vinyl film. Any imperfections or contaminants are removed to create a smooth and even base. Next, the vinyl is carefully applied using various techniques, such as heat stretching and squeegee smoothing, to ensure a seamless and bubble-free finish. Professional installers with expertise in vinyl wrapping can achieve exceptional results, giving the car a factory-like appearance.

In terms of durability, Electro Metallic Gloss Blueberry Vinyl wraps are designed to withstand normal driving conditions and the elements. They are resistant to fading, cracking, and peeling, and can maintain their vibrant color and glossy finish for several years, provided proper care and maintenance are observed. Routine cleaning with mild soap and water, avoiding harsh chemicals and abrasive materials, can help prolong the life of the vinyl wrap.

It's worth noting that vinyl wrapping is a reversible modification, meaning that it can be removed without causing any damage to the car's original paint. This flexibility allows car owners to change the color or design of their vehicles as desired, offering a cost-effective alternative to repainting.

In summary, Electro Metallic Gloss Blueberry Vinyl CAR wrapping is a popular and visually striking option for car enthusiasts looking to personalize and protect their vehicles. With its unique color and glossy finish, this type of vinyl wrap adds style and distinction to any car, making it stand out on the road. The durability, versatility, and ease of removal make it a practical choice for those seeking a temporary or long-term customization solution.
---
We Also Recommend
---