CARLIKE CL-EG-07 Electro Metallic Gloss Titanium Grey Vinyl
Series: 3000

Brand: CARLIKE

Color: Electro Metallic Gloss Titanium Grey

Model number: CL-EG-07

Characteristic: Super stretch, incredible restorable

Performance level: Premium+

Film produce technology: High polymeric with double casting

Film thickness: 160micron, 6.4mil (with glue)

Release paper: 160g/m2, silicone coated

Adhesive thickness: 30μm

Air bubble free: Yes

Application: Car wrap

Application temperature: From +80°С to +120°С

Temperature resistance: From -40°С to +120°С

Storing period: 2 years if stored in +10°С to +25°С, relative humidity 50%, in original package, away from direct sunlight, clean and dry place

Package: Full roll width 1.52m, length 17m, weight 13KG

Packing size: 1.55x0.18x0.18m

Remark: the full roll 1.52x17M/5x56FT usually is enough for wrap a full sedan or SUV. If your car is larger, please choose 1.52x23M/5x75FT, we will send 1.52x6M/5x19FT + 1.52x17M/5x56FT.

Quality warranty: 2 Years, during the quality warranty period, the film surface has no obvious fading, no cracking, and no residual glue on the car paint after removable.
Data Sheet
Surface
Opaque
Substrate
material
130Microns
High Polymeric PVC
Pressure
sensitive adhesive
30μm
Solvent-based Removable
Releaser liner
160G double PE coating
High density air channels
Elongation
at break
300%
Tear strength 
37.2 N/10mm
Test Method: ASTM D3759
Glossiness
Gloss 95-110Gu
Matte 5-30Gu
Viscosity
Initial tack:700-800g/25mm
After 24 hours:1800-2000g/25mm
After 3 months: 1500g/25mm
Peel strength
2.5N/25mm
Test Method: ASTM D3330
Temperature resistance
 -40°С to +120°С
Flourescent
ultraviolet test 
Gray Level: 4-5
Test Method: ASTM D4329-13A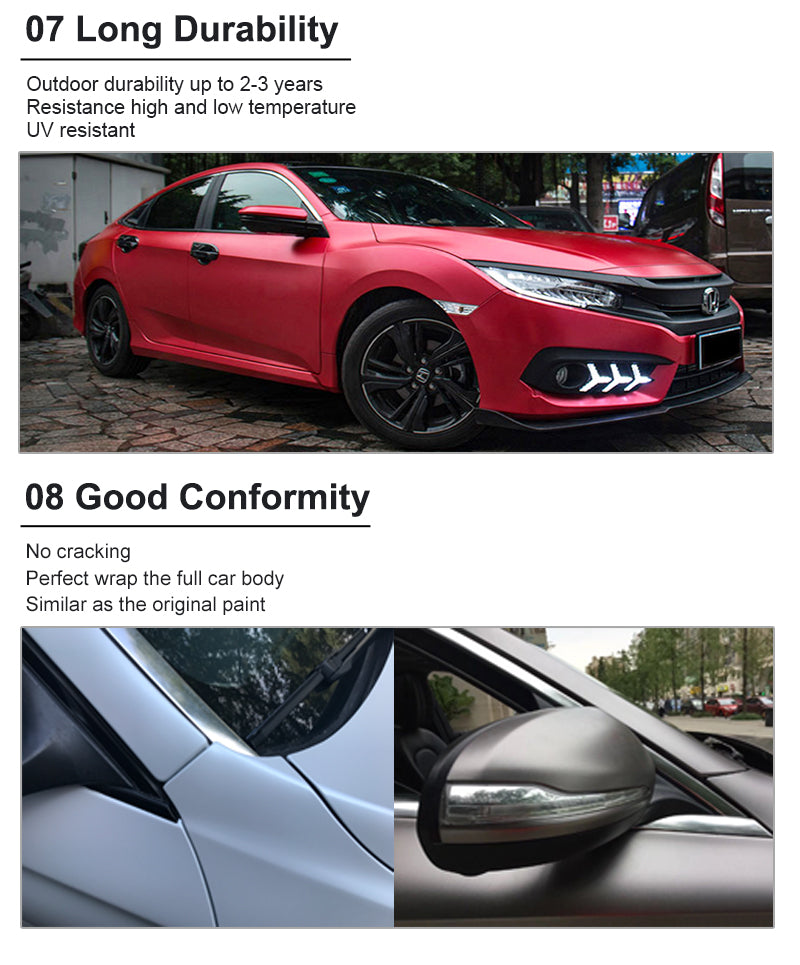 Caution: The product images, colors on the screen are approximate. For the real representation of the product color, please check the color swatch.
Electro Metallic Gloss Titanium Grey Vinyl Wrap
Electro Metallic Gloss Titanium Grey vinyl wrapping for cars is a popular and innovative way to change the appearance of a vehicle. It involves applying a specialized vinyl film onto the exterior surface of the car, giving it a fresh new look and protecting the underlying paintwork at the same time.

The term "Electro Metallic Gloss" refers to the specific type of finish that the vinyl wrap possesses. It combines the characteristics of metallic and gloss finishes, resulting in a striking appearance that catches the eye. The metallic element adds depth and a subtle shimmer, while the gloss finish delivers a reflective, mirror-like surface. This combination creates a visually captivating effect that enhances the overall aesthetics of the vehicle.

The color "Titanium Grey" signifies a sophisticated and modern shade of grey. It is inspired by the color of titanium, a strong and durable metal commonly used in various industries. Titanium Grey is a versatile color choice that complements a wide range of vehicle types and styles, from sports cars to SUVs.

Vinyl wrapping offers several advantages over traditional paint jobs. Firstly, it provides a cost-effective alternative to completely repainting a car. Vinyl wraps are generally more affordable than a professional paint job while still delivering an outstanding visual impact. Additionally, the vinyl film can be easily removed if desired, allowing for a change in color or style without the permanence of paint.

Furthermore, vinyl wraps act as a protective layer for the vehicle's original paintwork. The film shields the surface from minor abrasions, light scratches, and UV rays, preserving the car's value and ensuring it looks newer for longer. This is particularly beneficial for leased vehicles or for those who wish to maintain the resale value of their cars.

The installation process of vinyl wrapping requires skill and expertise to achieve a flawless result. It is recommended to have a professional installer handle the job, ensuring that the vinyl is stretched and applied smoothly without any wrinkles or bubbles. They will also carefully trim the edges and corners for a seamless finish.

Maintenance of a vinyl-wrapped car is relatively simple. Regular washing with a mild soap and water solution, along with gentle wiping or drying, is typically sufficient to keep the wrap clean and free from dirt or grime. It is important to avoid abrasive cleaners or materials that could damage the vinyl.

In summary, Electro Metallic Gloss Titanium Grey vinyl wrapping for cars is an exciting option to transform the appearance of a vehicle. It offers a unique combination of metallic and gloss finishes, resulting in a visually stunning effect. Not only does it provide a cost-effective alternative to painting, but it also acts as a protective layer for the car's original paintwork. With professional installation and proper maintenance, a vinyl-wrapped car can stand out on the road with its sleek, modern, and captivating look.
---
We Also Recommend
---