CARLIKE CL-ES-10 Electro Metallic Satin Rose Gold Vinyl
Series: 3000

Brand: CARLIKE

Color: Electro Metallic Satin Rose Gold

Model number: CL-ES-10

Characteristic: Super stretch, incredible restorable

Performance level: Premium+

Film produce technology: High polymeric with double casting

Film thickness: 160micron, 6.4mil (with glue)

Release paper: 160g/m2, silicone coated

Adhesive thickness: 30μm

Air bubble free: Yes

Application: Car wrap

Application temperature: From +80°С to +120°С

Temperature resistance: From -40°С to +120°С

Storing period: 2 years if stored in +10°С to +25°С, relative humidity 50%, in original package, away from direct sunlight, clean and dry place

Package: Full roll width 1.52m, length 17m, weight 13KG

Packing size: 1.55x0.18x0.18m

Remark: the full roll 1.52x17M/5x56FT usually is enough for wrap a full sedan or SUV. If your car is larger, please choose 1.52x23M/5x75FT, we will send 1.52x6M/5x19FT + 1.52x17M/5x56FT.

Quality warranty: 2 Years, during the quality warranty period, the film surface has no obvious fading, no cracking, and no residual glue on the car paint after removable.
Data Sheet
Surface
Opaque
Substrate
material
130Microns
High Polymeric PVC
Pressure
sensitive adhesive
30μm
Solvent-based Removable
Releaser liner
160G double PE coating
High density air channels
Elongation
at break
300%
Tear strength 
37.2 N/10mm
Test Method: ASTM D3759
Glossiness
Gloss 95-110Gu
Matte 5-30Gu
Viscosity
Initial tack:700-800g/25mm
After 24 hours:1800-2000g/25mm
After 3 months: 1500g/25mm
Peel strength
2.5N/25mm
Test Method: ASTM D3330
Temperature resistance
 -40°С to +120°С
Flourescent
ultraviolet test 
Gray Level: 4-5
Test Method: ASTM D4329-13A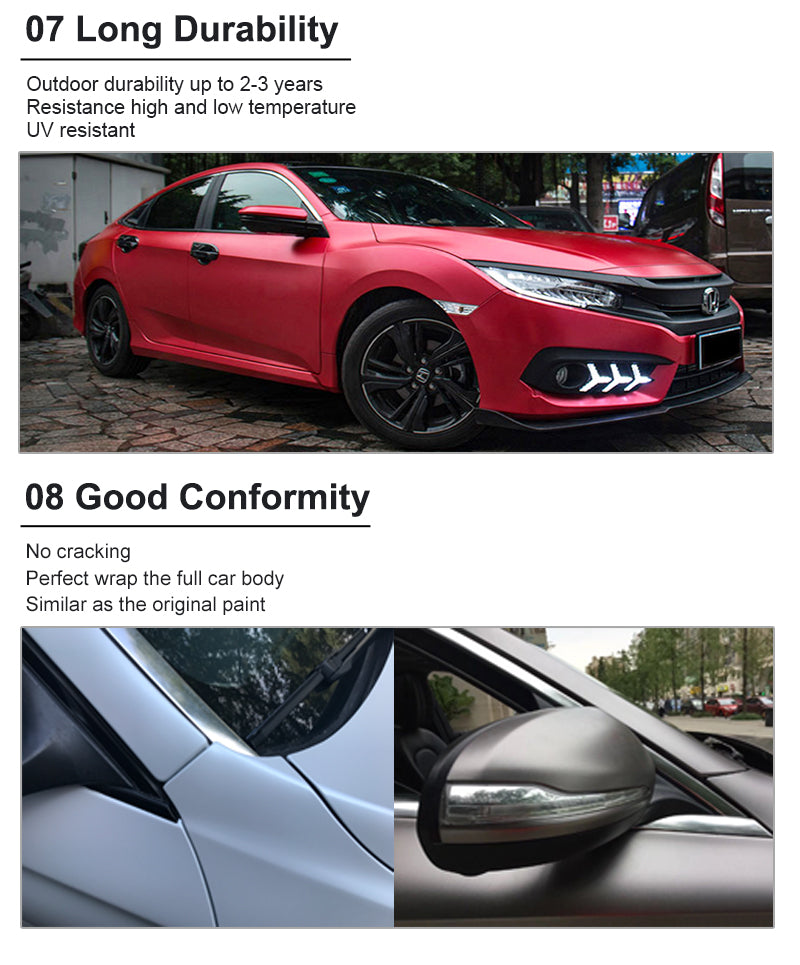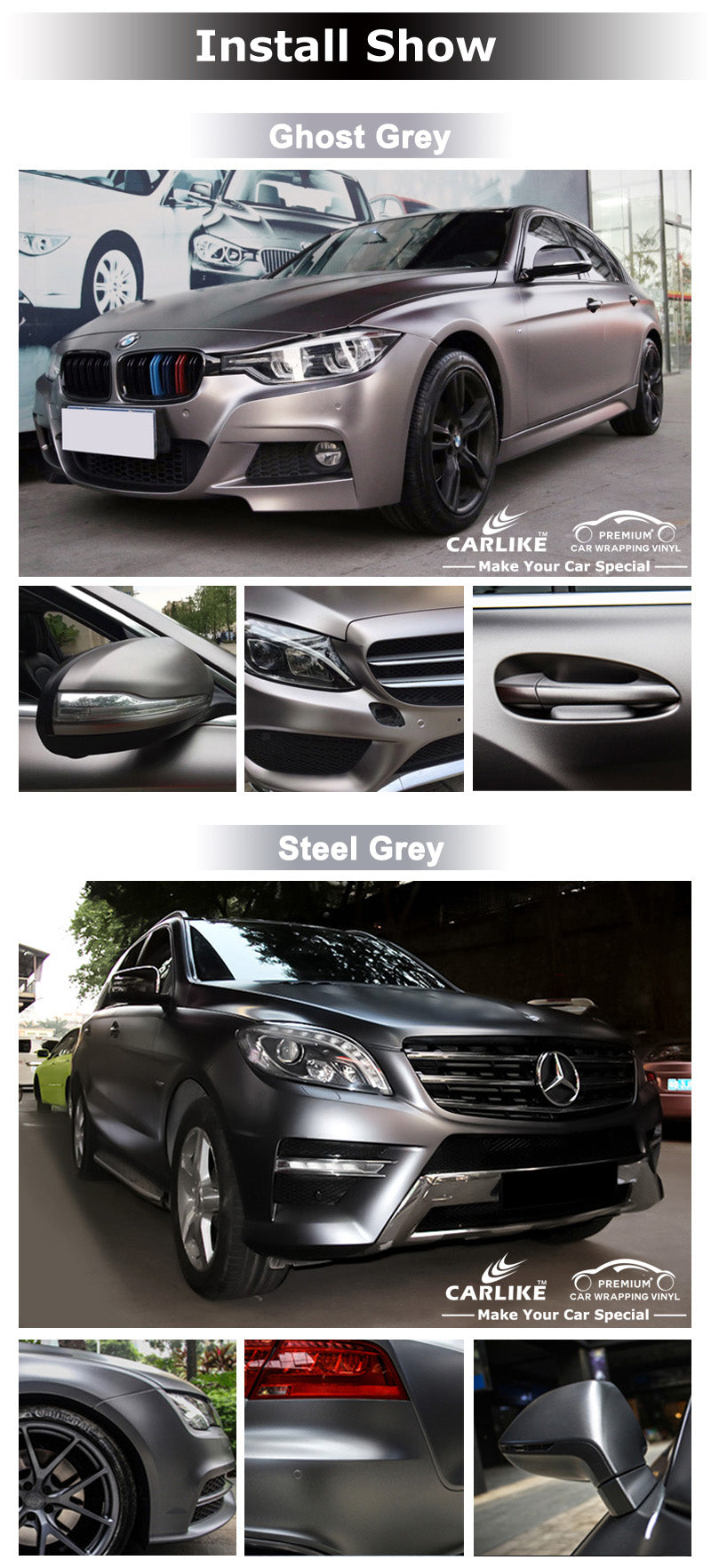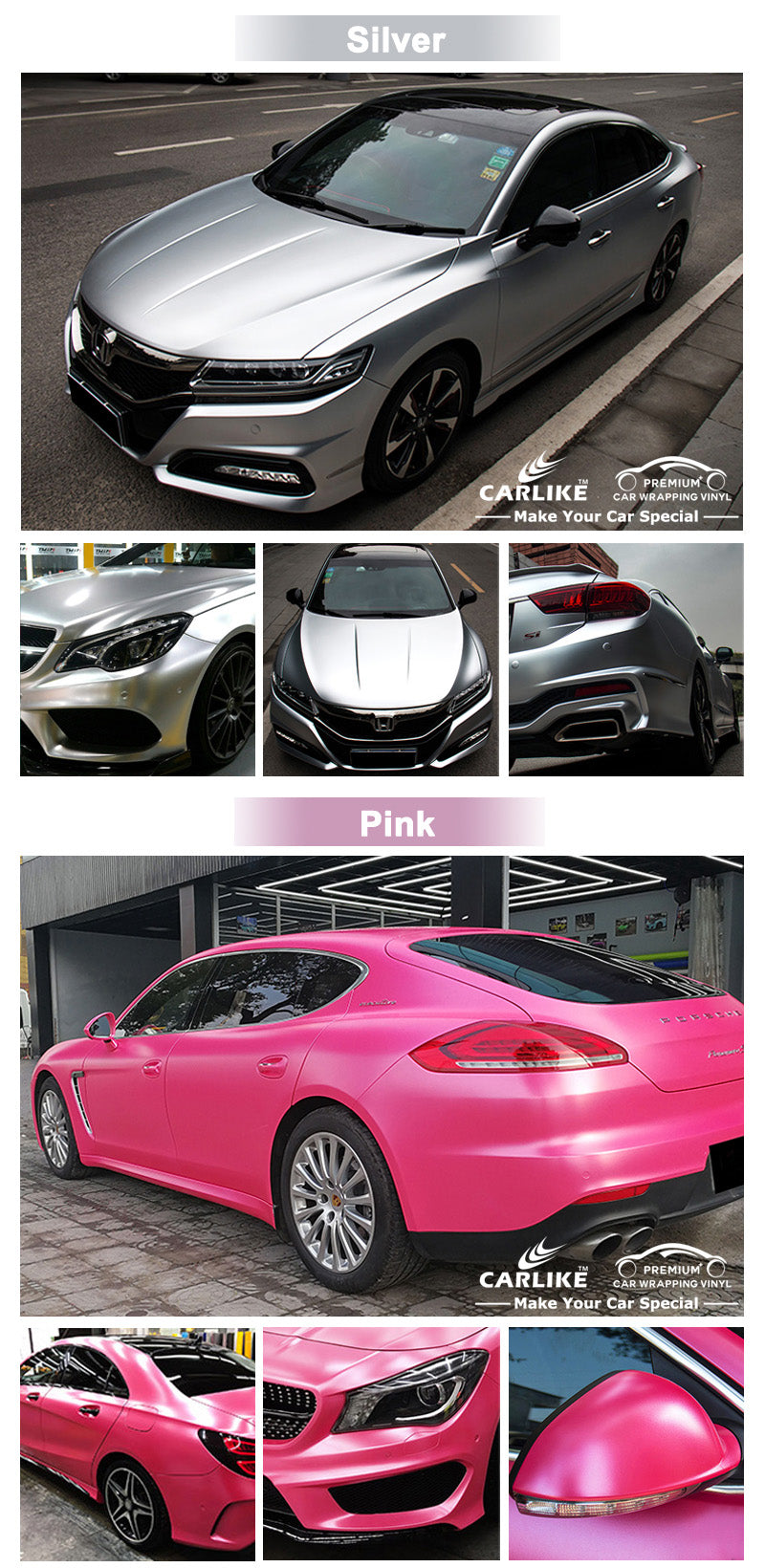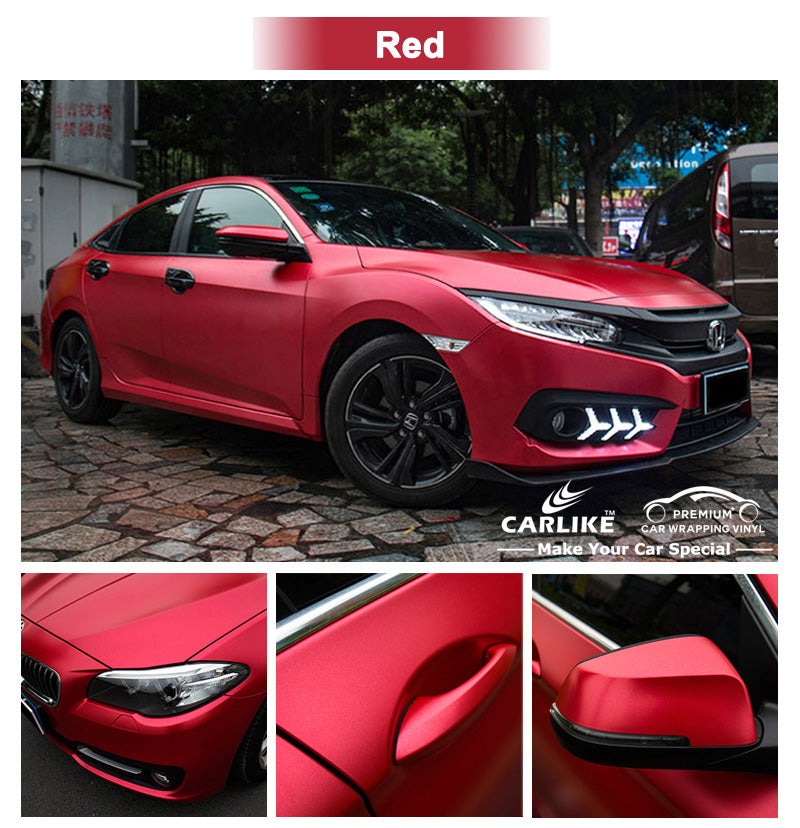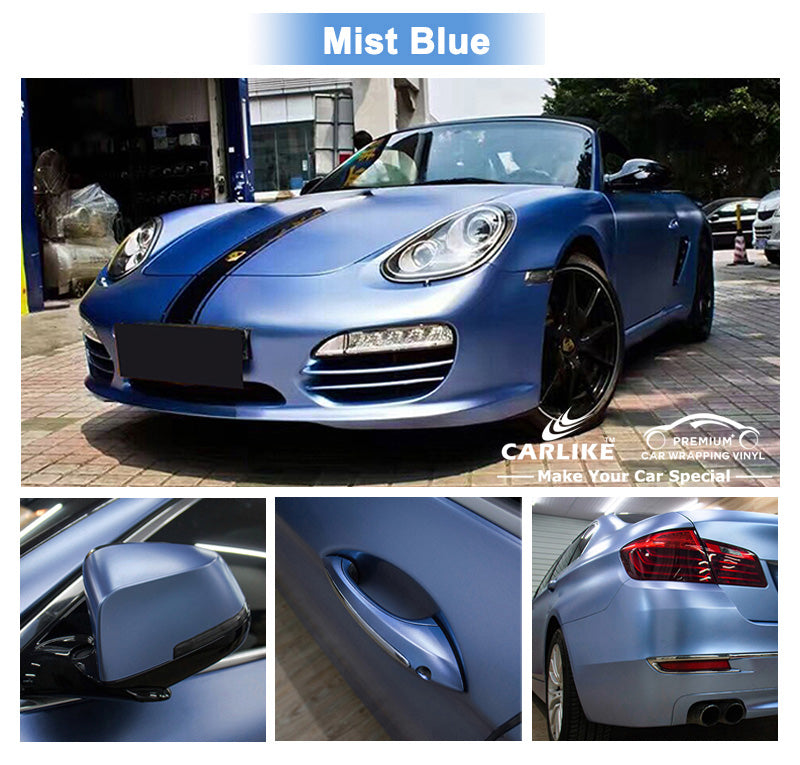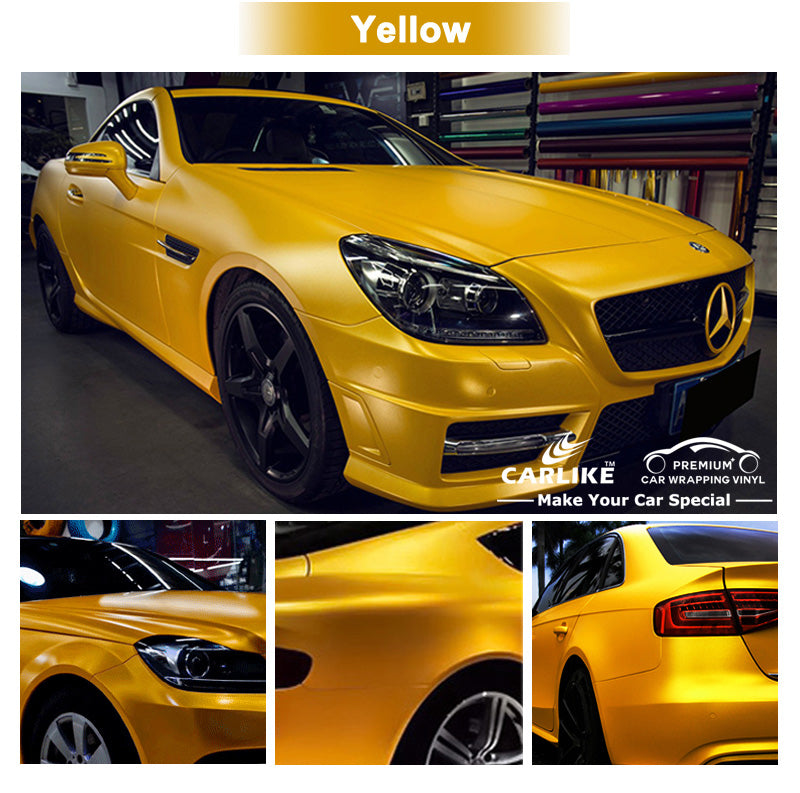 Caution: The product images, colors on the screen are approximate. For the real representation of the product color, please check the color swatch.
Electro Metallic Satin Rose Gold vinyl car wrapping is a specialized technique used to transform the appearance of a vehicle by applying a thin, adhesive vinyl film over its exterior surface. This specific type of car wrapping utilizes a distinctive material called Electro Metallic Satin Rose Gold vinyl, which offers a unique combination of color, texture, and shine.

The process of car wrapping involves several steps. Firstly, the vehicle's surface needs to be thoroughly cleaned and prepared to ensure proper adhesion of the vinyl film. This typically involves washing the car and removing any dirt, dust, or debris that may interfere with the application process. Additionally, any existing wax, polish, or coatings must be removed to create a clean surface for the vinyl to adhere to.

Once the surface is prepared, the Electro Metallic Satin Rose Gold vinyl is carefully applied to the vehicle's exterior panels. Skilled professionals use specialized tools such as squeegees, heat guns, and cutting blades to ensure a precise and seamless application. The vinyl is stretched, molded, and fitted around the curves, contours, and edges of the car to create a smooth and flawless finish.

One of the key advantages of using Electro Metallic Satin Rose Gold vinyl is its visual appeal. The rose gold color offers a luxurious and elegant look, combining warm tones with metallic sheen. This type of vinyl is designed to reflect light in a way that enhances the car's appearance, giving it a distinct and eye-catching finish. The satin texture adds a subtle touch of sophistication, providing a balance between matte and gloss finishes.

In addition to the aesthetic benefits, Electro Metallic Satin Rose Gold vinyl car wrapping also provides a layer of protection for the vehicle's original paintwork. The vinyl acts as a shield against minor scratches, stone chips, and other forms of damage that can occur during everyday driving. It can help preserve the car's resale value by keeping the paintwork in pristine condition.

Furthermore, vinyl car wrapping is a reversible modification. Unlike traditional automotive painting, vinyl wraps can be safely removed without damaging the original paint. This makes it a popular choice for car enthusiasts who like to change the appearance of their vehicles periodically or those who want to maintain the original factory finish.

Another advantage of Electro Metallic Satin Rose Gold vinyl car wrapping is its versatility. The vinyl can be applied to various parts of the vehicle, including the hood, roof, trunk, doors, and even smaller details like mirrors and spoilers. This allows for customization options, as different sections of the car can be wrapped to achieve a unique look or to accentuate specific features.

When properly applied and maintained, Electro Metallic Satin Rose Gold vinyl car wrapping can last for several years. However, its durability depends on various factors, such as the quality of the vinyl used, the installation technique, and how well the vehicle is cared for. Regular maintenance, including gentle hand washing and avoiding abrasive cleaners or high-pressure car washes, can help prolong the lifespan of the vinyl wrap.

Overall, Electro Metallic Satin Rose Gold vinyl car wrapping offers a visually striking and customizable option for transforming the appearance of a vehicle. With its combination of color, texture, and shine, it can provide a luxurious and distinctive look while also offering protection and preserving the car's original paintwork.
---
We Also Recommend
---