CARLIKE CL-IL-02P Iridescence Laser Diamond White Vinyl PET Liner
Series: 3000P

Brand: CARLIKE

Color: Iridescence Laser Diamond White PET

Model number: CL-IL-02P

Characteristic: Super stretch, incredible restorable

Performance level: Premium+

Film produce technology: High polymeric with double casting

Film thickness: 160micron, 6.4mil (with glue)

Release paper: 100G PET

Adhesive thickness: 30μm

Air bubble free: Yes

Application: Car wrap

Application temperature: From +80°С to +120°С

Temperature resistance: From -40°С to +120°С

Storing period: 2 years if stored in +10°С to +25°С, relative humidity 50%, in original package, away from direct sunlight, clean and dry place

Package: Full roll width 1.52m, length 17m, weight 13KG

Packing size: 1.55x0.18x0.18m

Remark: the full roll 1.52x17M/5x56FT usually is enough for wrap a full sedan or SUV. If your car is larger, please choose 1.52x23M/5x75FT, we will send 1.52x6M/5x19FT + 1.52x17M/5x56FT.

Quality warranty: 2 Years, during the quality warranty period, the film surface has no obvious fading, no cracking, and no residual glue on the car paint after removable.
Data Sheet
Surface
Opaque
Substrate
material
130Microns
High Polymeric PVC
Pressure
sensitive adhesive
30μm
Solvent-based Removable
Releaser liner
100G PET
High density air channels
Elongation
at break
300%
Tear strength 
37.2 N/10mm
Test Method: ASTM D3759
Glossiness
Gloss 95-110Gu
Matte 5-30Gu
Viscosity
Initial tack:700-800g/25mm
After 24 hours:1800-2000g/25mm
After 3 months: 1500g/25mm
Peel strength
2.5N/25mm
Test Method: ASTM D3330
Temperature resistance
 -40°С to +120°С
Flourescent
ultraviolet test 
Gray Level: 4-5
Test Method: ASTM D4329-13A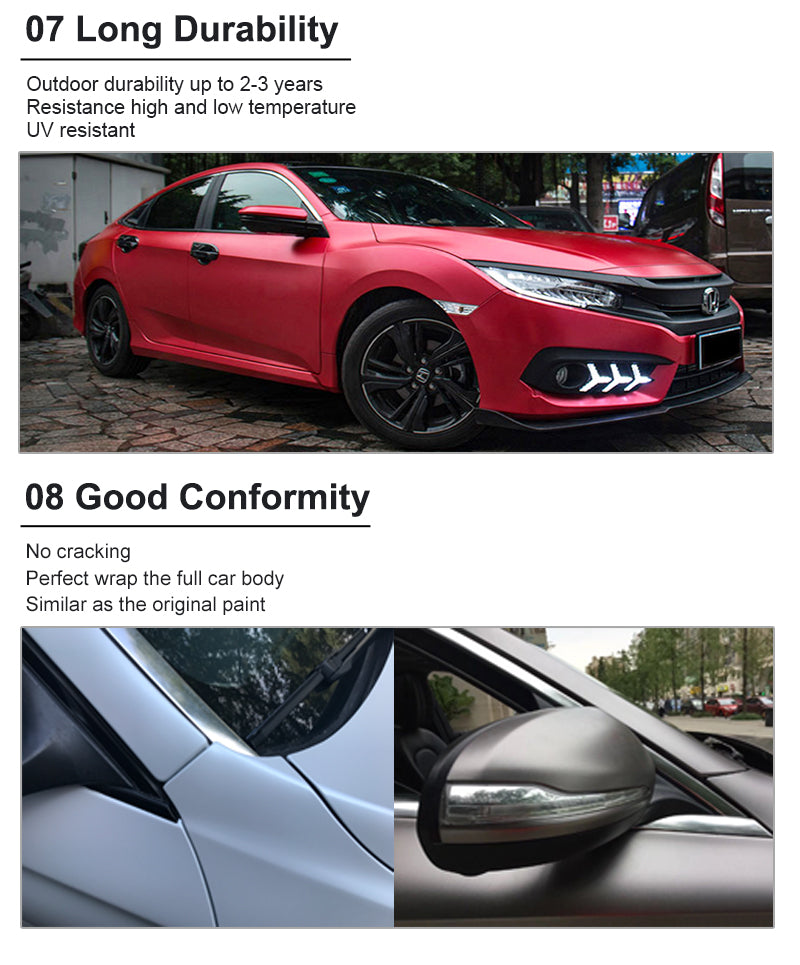 Caution: The product images, colors on the screen are approximate. For the real representation of the product color, please check the color swatch.
Iridescence Laser Diamond White PET Vinyl Wrap
Iridescence Laser Diamond White PET Vinyl Car Wrap is a premium automotive accessory that offers a stunning and luxurious appearance for your vehicle. Designed to mimic the beauty of iridescent and laser diamond patterns, this vinyl wrap is a popular choice among car enthusiasts and professionals alike.

PET, or polyethylene terephthalate, is a durable and flexible thermoplastic polymer resin that is widely used in various industries. In the case of car wraps, PET vinyl is known for its exceptional performance and longevity. It is highly resistant to impacts, chemicals, and UV radiation, making it suitable for both indoor and outdoor applications. The white base color of this vinyl car wrap serves as a blank canvas, allowing the iridescence and laser diamond patterns to truly shine.

The iridescent effect of this vinyl wrap creates a mesmerizing visual display, as it reflects and refracts light at different angles. This creates a dynamic and ever-changing array of colors, giving your car a captivating and head-turning appearance. The iridescence effect is achieved through a special coating or layer applied to the vinyl, which interacts with incoming light to produce a stunning display of colors.

The laser diamond pattern adds an extra level of sophistication and dimension to the wrap. It creates a textured surface that plays with light, enhancing the visual effect even further. The combination of the iridescence and laser diamond pattern gives your car a unique and high-end look that is sure to stand out from the crowd.

Applying the Iridescence Laser Diamond White PET Vinyl Car Wrap to your vehicle not only enhances its aesthetic appeal but also provides practical benefits. The wrap acts as a protective layer, safeguarding the original paintwork from scratches, UV damage, and minor abrasions. It also adds a level of insulation, protecting the underlying surface from heat and cold. In addition, the vinyl wrap is easy to clean and maintain, requiring only regular washing with mild soap and water.

Moreover, the Iridescence Laser Diamond White PET Vinyl Car Wrap is highly customizable and versatile. It can be easily trimmed and manipulated to fit various contours and shapes of your car. Whether you want a full-body wrap or specific accents and details, this vinyl allows for endless creative possibilities. Professional installers can ensure a seamless and smooth application, giving your vehicle a flawless and professional finish.

In summary, the Iridescence Laser Diamond White PET Vinyl Car Wrap is a top-of-the-line automotive accessory that delivers a visually striking and luxurious appearance. Its iridescent effect, combined with the laser diamond pattern, creates a mesmerizing and ever-changing display of colors that will surely make your car stand out. With its durable PET construction and easy maintenance, this vinyl wrap not only enhances the aesthetics but also offers protection for your vehicle. Whether you're a car enthusiast looking to personalize your ride or a business owner wanting to advertise your brand, this vinyl wrap is an excellent choice.
---
We Also Recommend
---