CARLIKE CL-OP-17 Original Paint Endless Mountain Green Vinyl
Series: 3000

Brand: CARLIKE

Color: Original Paint Endless Mountain Green

Model number: CL-OP-17
Characteristic: Super stretch, incredible restorable

Performance level: Premium+

Film produce technology: High polymeric with double casting

Film thickness: 160micron, 6.4mil (with glue)

Release paper: 160g/m2, silicone coated

Adhesive thickness: 30μm

Air bubble free: Yes

Application: Car wrap

Application temperature: From +80°С to +120°С

Temperature resistance: From -40°С to +120°С

Storing period: 2 years if stored in +10°С to +25°С, relative humidity 50%, in original package, away from direct sunlight, clean and dry place

Package: Full roll width 1.52m, length 17m, weight 13KG

Packing size: 1.55x0.18x0.18m

Remark: the full roll 1.52x17M/5x56FT usually is enough for wrap a full sedan or SUV. If your car is larger, please choose 1.52x23M/5x75FT, we will send 1.52x6M/5x19FT + 1.52x17M/5x56FT.

Quality warranty: 2 Years, during the quality warranty period, the film surface has no obvious fading, no cracking, and no residual glue on the car paint after removable.
Data Sheet
Surface
Opaque
Substrate
material
130Microns
High Polymeric PVC
Pressure
sensitive adhesive
30μm
Solvent-based Removable
Releaser liner
160G double PE coating
High density air channels
Elongation
at break
300%
Tear strength 
37.2 N/10mm
Test Method: ASTM D3759
Glossiness
Gloss 95-110Gu
Matte 5-30Gu
Viscosity
Initial tack:700-800g/25mm
After 24 hours:1800-2000g/25mm
After 3 months: 1500g/25mm
Peel strength
2.5N/25mm
Test Method: ASTM D3330
Temperature resistance
 -40°С to +120°С
Flourescent
ultraviolet test 
Gray Level: 4-5
Test Method: ASTM D4329-13A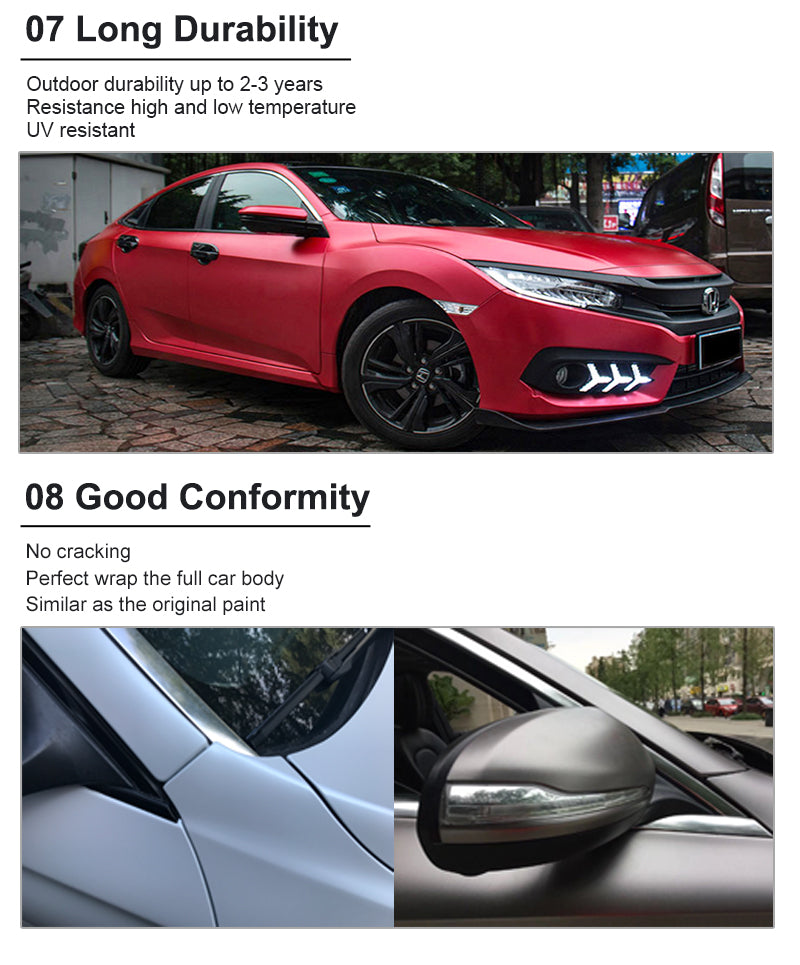 Caution: The product images, colors on the screen are approximate. For the real representation of the product color, please check the color swatch.
Original Paint Endless Mountain Green Vinyl Wrap
Car wrap vinyls are specialized adhesive-backed films designed to be applied to the exterior surfaces of vehicles. These vinyl wraps offer a wide range of colors, finishes, and designs, serving as an alternative to traditional automotive paint jobs. They have become increasingly popular among car enthusiasts, businesses, and individuals seeking to personalize their vehicles, promote brands, or protect the original paint from minor damage.
"Original Paint" in the context of "Original Paint Endless Mountain Green Vinyl" might imply that the vinyl wrap is designed to replicate the appearance of the vehicle's original paint, specifically in a color called "Endless Mountain Green." This suggests that the vinyl film aims to closely match the original paint color of a specific vehicle model, providing a factory-fresh appearance while allowing for customization and protection.
"Endless Mountain Green" would be a specific color variant of the vinyl wrap, described as a green hue with a unique and eye-catching tone. The name "Endless Mountain Green" might evoke images of lush green landscapes or natural beauty, contributing to the allure of the color choice.
When considering a car wrap vinyl, some essential factors to keep in mind are:
Color and Finish: Car wrap vinyls come in a wide array of colors, including standard hues, metallics, gloss, matte, satin, chrome, and more. "Endless Mountain Green" would be a specific shade of green with a finish that could vary depending on the manufacturer's product line.

Durability: High-quality car wrap vinyls are designed to be durable and resistant to environmental elements such as UV rays, weather conditions, and minor abrasions. A durable vinyl wrap will help protect the underlying paint and maintain its appearance for several years.

Removability: Most vinyl wraps are intended to be removable without causing damage to the vehicle's original paint. This feature allows for temporary changes, personalization, or easy restoration of the vehicle's appearance when desired.

Brand and Product Quality: Opting for a reputable brand ensures you are getting a high-quality car wrap vinyl with reliable adhesion and longevity. Reading customer reviews and seeking expert opinions can help gauge the product's quality.

Professional Installation: While some experienced enthusiasts might attempt DIY installations, professional installation is recommended to achieve the best results, particularly for complex surfaces and intricate designs. Proper installation ensures a seamless finish without bubbles or imperfections.
If "Original Paint Endless Mountain Green Vinyl" is a specific product, I recommend conducting an online search to find up-to-date information and reviews about it. Look for customer feedback, expert opinions, and comparisons with other car wrap vinyl options to determine if it meets your requirements.
---
We Also Recommend
---