CARLIKE CL-OP-21P Original Paint Morganite Gem Red Vinyl PET Liner
Series: 3000P
Brand: CARLIKE

Color: Original Paint Morganite Gem Red PET

Model number: CL-OP-21P

Characteristic: Super stretch, incredible restorable

Performance level: Premium+

Film produce technology: High polymeric with double casting

Film thickness: 160micron, 6.4mil (with glue)

Release paper: 100G PET

Adhesive thickness: 30μm

Air bubble free: Yes

Application: Car wrap

Application temperature: From +80°С to +120°С

Temperature resistance: From -40°С to +120°С

Storing period: 2 years if stored in +10°С to +25°С, relative humidity 50%, in original package, away from direct sunlight, clean and dry place

Package: Full roll width 1.52m, length 17m, weight 13KG

Packing size: 1.55x0.18x0.18m

Remark: the full roll 1.52x17M/5x56FT usually is enough for wrap a full sedan or SUV. If your car is larger, please choose 1.52x23M/5x75FT, we will send 1.52x6M/5x19FT + 1.52x17M/5x56FT.

Quality warranty: 2 Years, during the quality warranty period, the film surface has no obvious fading, no cracking, and no residual glue on the car paint after removable.
Data Sheet
Surface
Opaque
Substrate
material
130Microns
High Polymeric PVC
Pressure
sensitive adhesive
30μm
Solvent-based Removable
Releaser liner
100G PET
High density air channels
Elongation
at break
300%
Tear strength 
37.2 N/10mm
Test Method: ASTM D3759
Glossiness
Gloss 95-110Gu
Matte 5-30Gu
Viscosity
Initial tack:700-800g/25mm
After 24 hours:1800-2000g/25mm
After 3 months: 1500g/25mm
Peel strength
2.5N/25mm
Test Method: ASTM D3330
Temperature resistance
 -40°С to +120°С
Flourescent
ultraviolet test 
Gray Level: 4-5
Test Method: ASTM D4329-13A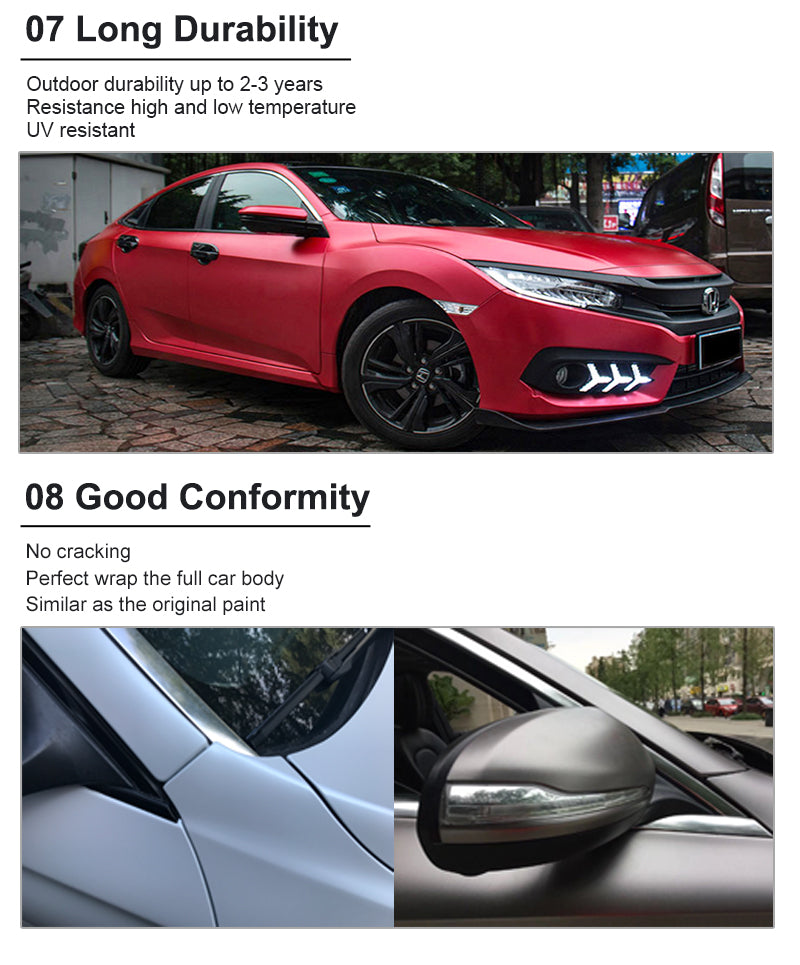 Caution: The product images, colors on the screen are approximate. For the real representation of the product color, please check the color swatch.
Original Paint Morganite Gem Red Vinyl PET Liner is an exquisite automotive product that offers a seamless and luxurious way to protect and enhance a vehicle's original paintwork. This specialized vinyl wrap showcases a captivating Morganite Gem Red color with a PET liner, providing a durable and stylish solution for preserving the car's factory finish. Let's explore the unique features and benefits of this remarkable product:
Captivating Morganite Gem Red Shade: The vinyl wrap boasts a captivating Morganite Gem Red color that exudes opulence and sophistication. This deep and rich hue enhances the vehicle's appearance, giving it a refined and elegant edge that stands out on the road.

PET Liner Protection: The vinyl wrap comes with a PET liner, acting as a protective layer during storage and transportation. The PET liner ensures the wrap remains in optimal condition, free from scratches or damage, until it is ready for installation.

Preserves Original Paintwork: The primary purpose of the Morganite Gem Red Vinyl PET Liner is to safeguard the car's original paintwork. It serves as a barrier against minor scratches, stone chips, and harmful UV rays, preserving the vehicle's factory finish and maintaining its resale value.

User-Friendly Application: The Original Paint Morganite Gem Red Vinyl PET Liner is designed for easy and seamless application, making it accessible for both professionals and DIY enthusiasts. The vinyl adheres smoothly to the vehicle's surface, resulting in a flawless and professional-looking finish.

Customization Options: While protecting the original paint is the main focus, the Morganite Gem Red Vinyl PET Liner also offers customization possibilities. Car owners can choose to wrap the entire vehicle or specific areas, giving them the freedom to add their personal touch to the car's appearance.

Reversible Transformation: An advantage of using the Morganite Gem Red Vinyl PET Liner is its reversibility. If desired, the vinyl wrap can be removed without causing damage to the original paint, allowing the car to return to its factory look.

Durable and Long-Lasting: The Morganite Gem Red Vinyl PET Liner is crafted from high-quality materials, ensuring durability and longevity. It can withstand various weather conditions, maintaining its luxurious appearance for an extended period.
In conclusion, the Original Paint Morganite Gem Red Vinyl PET Liner is an exceptional automotive product that provides a seamless and luxurious solution for protecting and enhancing a vehicle's original paintwork. With its captivating Morganite Gem Red color and durable PET liner, this vinyl wrap not only preserves the car's factory finish but also adds a touch of opulence and sophistication to the vehicle. Whether professionally installed or taken on as a DIY project, the Original Paint Morganite Gem Red Vinyl PET Liner transforms the vehicle into a head-turning masterpiece on the road, capturing attention with its deep and refined appearance.
---
We Also Recommend
---