CARLIKE CL-PM-12P Paint Metallic Solar Eclipse Gold PET
Series: 3000P

Brand: CARLIKE

Color: Paint Metallic Solar Eclipse Gold PET

Model number: CL-PM-12P

Characteristic: Super stretch, incredible restorable

Performance level: Premium+

Film produce technology: High polymeric with double casting

Film thickness: 160micron, 6.4mil (with glue)

Release paper: 100G PET

Adhesive thickness: 30μm

Air bubble free: Yes

Application: Car wrap

Application temperature: From +80°С to +120°С

Temperature resistance: From -40°С to +120°С

Storing period: 2 years if stored in +10°С to +25°С, relative humidity 50%, in original package, away from direct sunlight, clean and dry place

Package: Full roll width 1.52m, length 17m, weight 13KG

Packing size: 1.55x0.18x0.18m

Remark: the full roll 1.52x17M/5x56FT usually is enough for wrap a full sedan or SUV. If your car is larger, please choose 1.52x23M/5x75FT, we will send 1.52x6M/5x19FT + 1.52x17M/5x56FT.

Quality warranty: 2 Years, during the quality warranty period, the film surface has no obvious fading, no cracking, and no residual glue on the car paint after removable.
Data Sheet
Surface
Opaque
Substrate
material
130Microns
High Polymeric PVC
Pressure
sensitive adhesive
30μm
Solvent-based Removable
Releaser liner
100G PET
High density air channels
Elongation
at break
300%
Tear strength 
37.2 N/10mm
Test Method: ASTM D3759
Glossiness
Gloss 95-110Gu
Matte 5-30Gu
Viscosity
Initial tack:700-800g/25mm
After 24 hours:1800-2000g/25mm
After 3 months: 1500g/25mm
Peel strength
2.5N/25mm
Test Method: ASTM D3330
Temperature resistance
 -40°С to +120°С
Flourescent
ultraviolet test 
Gray Level: 4-5
Test Method: ASTM D4329-13A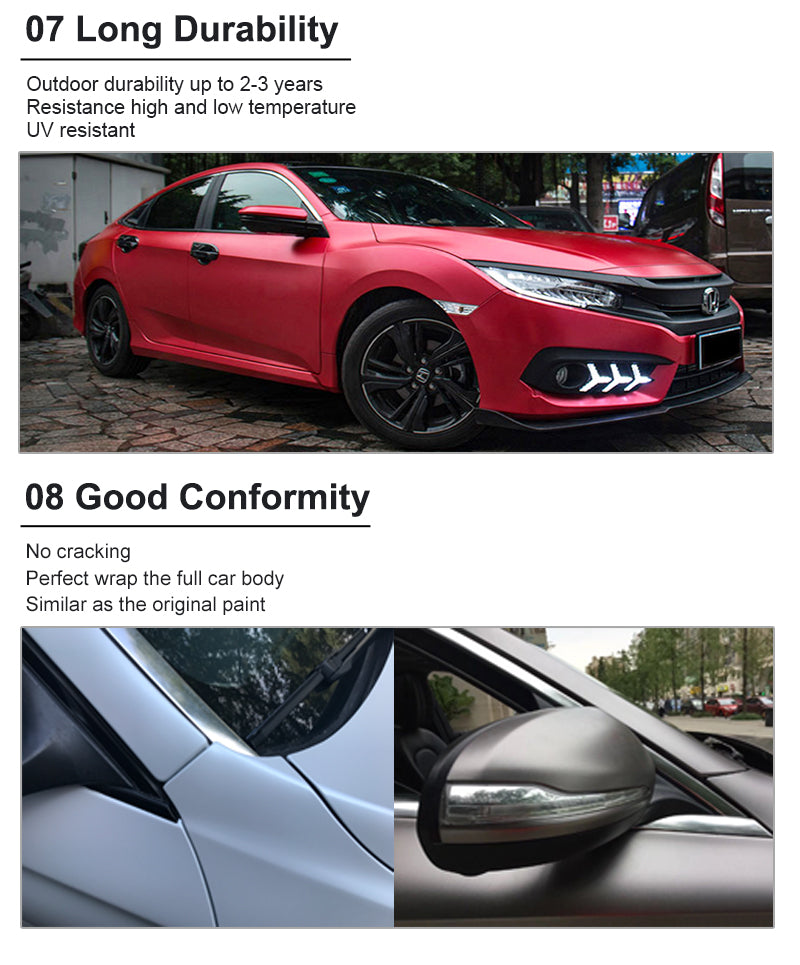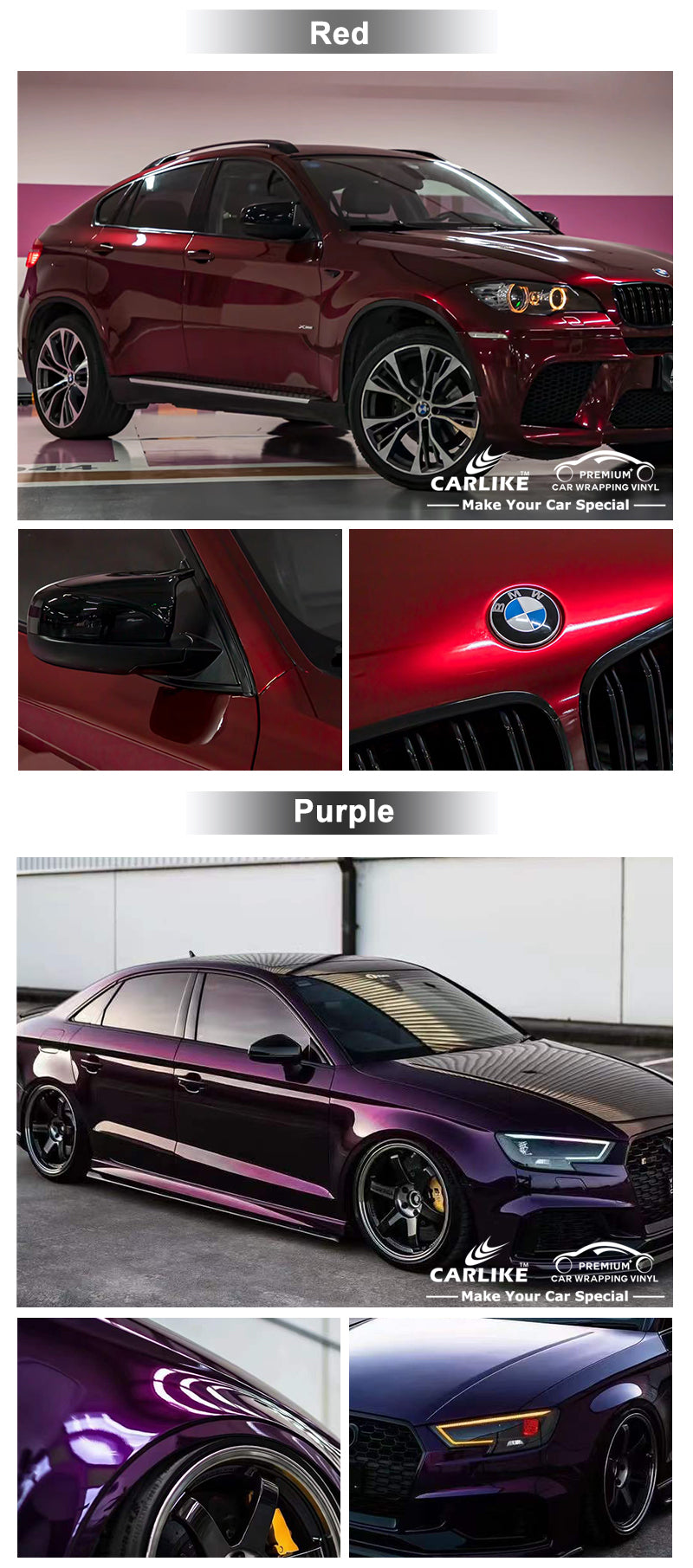 Caution: The product images, colors on the screen are approximate. For the real representation of the product color, please check the color swatch.
Paint Metallic Solar Eclipse Gold Car Wrap Vinyl PET Release Paper


Paint Metallic Solar Eclipse Gold Car Wrap Vinyl PET Release Paper is a comprehensive automotive customization concept that combines innovative materials and techniques to create a stunning and attention-grabbing appearance for vehicles. This unique car wrap involves the use of high-quality vinyl with a metallic Solar Eclipse Gold finish, along with a PET release paper, which plays a crucial role in the application process.
Car wrapping has become increasingly popular as an alternative to traditional automotive paint jobs. Wraps are made from vinyl, a versatile material that can be applied to the vehicle's exterior surfaces. The advantage of car wraps lies in their ability to completely transform a car's appearance without the permanence of a traditional paint job. Vinyl wraps are available in various colors, finishes, and patterns, allowing car owners to personalize their vehicles to match their tastes and preferences.
The "Metallic Solar Eclipse Gold" color is a particular shade of gold with a metallic finish that creates a sense of depth and brilliance. This unique hue often features a mix of gold and black tones, reminiscent of the striking visual effect seen during a solar eclipse. This color choice is especially popular among car enthusiasts who want their vehicles to exude luxury, elegance, and a touch of mystery.
The key components involved in the Paint Metallic Solar Eclipse Gold Car Wrap are as follows:
Metallic Solar Eclipse Gold Vinyl: The vinyl used in this car wrap is a high-quality material with a metallic finish. The metallic particles embedded in the vinyl create a shimmering effect that enhances the appearance of the gold color, giving the car a luxurious and premium look.

PET Release Paper: PET stands for Polyethylene Terephthalate, which is a type of polyester material. In the context of car wrapping, a PET release paper acts as a protective layer on the adhesive side of the vinyl. It prevents the adhesive from sticking prematurely and allows for easy application when the car wrap is being installed. The release paper is removed during the application process, revealing the adhesive side of the vinyl, which is then applied to the car's surface.
The process of applying a Paint Metallic Solar Eclipse Gold Car Wrap involves the following steps:
Surface Preparation: Before the car wrap installation begins, the vehicle's surface must be thoroughly cleaned and free from any dirt, grease, or contaminants. This preparation ensures optimal adhesion and longevity of the wrap.

Custom Cutting: The metallic gold vinyl is custom-cut to fit the specific dimensions and contours of the car's body panels. Skilled technicians use specialized software and cutting tools to create precise templates, ensuring a seamless and professional finish.

Application: Once the vinyl is cut to size, the PET release paper is carefully removed from the adhesive side of the vinyl, revealing the sticky surface. The wrap is then applied to the car's surface, starting from one end and gradually smoothing it out to eliminate any air bubbles or wrinkles. Heat is often used during this process to help the vinyl conform to the curves and contours of the vehicle.

Trimming and Finishing: After the vinyl is applied to the car's body, excess material is trimmed away, leaving clean edges and a polished appearance. Careful attention is paid to detail to ensure that seams are well-hidden and the overall look is seamless.
The advantages of using a Paint Metallic Solar Eclipse Gold Car Wrap Vinyl PET Release Paper include:
Aesthetic Appeal: The metallic Solar Eclipse Gold finish creates a striking and luxurious appearance that sets the vehicle apart from standard paint colors. The color's depth and brilliance add a sense of elegance and sophistication to the car's overall look.

Versatility: Vinyl car wraps come in a wide range of colors, finishes, and textures, allowing car owners to choose from numerous options to achieve the desired visual effect for their vehicles.

Protectiveness: In addition to providing a captivating appearance, vinyl wraps also act as a protective layer for the car's original paint. The vinyl helps shield the paint from minor scratches, stone chips, and harmful UV rays, preserving the car's resale value.

Reversibility: A significant advantage of vinyl wraps is that they are not permanent. Car owners can have the wrap professionally removed without damaging the underlying paint, making it an ideal option for those who may want to change the vehicle's appearance or return it to its original state in the future.
However, it is essential to consider some factors when choosing a Paint Metallic Solar Eclipse Gold Car Wrap Vinyl PET Release Paper:
Professional Installation: Achieving a flawless and long-lasting car wrap requires the expertise of skilled professionals. Improper installation can lead to premature wear, bubbling, or peeling of the vinyl.

Maintenance: While vinyl wraps are durable and resistant to various environmental elements, regular maintenance is necessary to ensure their longevity. Proper cleaning and care will help the wrap maintain its appearance for an extended period.

Cost: While car wraps are often more cost-effective than a high-quality custom paint job, they still require a significant investment. However, the ability to change the vehicle's appearance without repainting makes the cost worthwhile for many car enthusiasts.
In conclusion, Paint Metallic Solar Eclipse Gold Car Wrap Vinyl PET Release Paper offers a remarkable and distinctive way to customize the appearance of a vehicle. The combination of the metallic Solar Eclipse Gold color and the high-quality vinyl wrap with a PET release paper makes for a luxurious and eye-catching finish. With the ability to protect the car's original paint and the option for future changes or reversibility, vinyl car wraps have become a popular choice for car owners who seek a unique and personalized look for their vehicles. It is important to entrust the installation process to professionals to ensure the best results and a long-lasting, seamless finish that enhances the overall aesthetics of the car.
---
We Also Recommend
---