CARLIKE CL-SS-05 Satin Shadow Midnight Gold Vinyl
Series: 3000
Brand: CARLIKE

Color: Satin Shadow Midnight Gold

Model number: CL-SS-05

Characteristic: Super stretch, incredible restorable

Performance level: Premium+

Film produce technology: High polymeric with double casting

Film thickness: 160micron, 6.4mil (with glue)

Release paper: 160g/m2, silicone coated

Adhesive thickness: 30μm

Air bubble free: Yes

Application: Car wrap

Application temperature: From +80°С to +120°С

Temperature resistance: From -40°С to +120°С

Storing period: 2 years if stored in +10°С to +25°С, relative humidity 50%, in original package, away from direct sunlight, clean and dry place

Package: Full roll width 1.52m, length 17m, weight 13KG

Packing size: 1.55x0.18x0.18m

Remark: the full roll 1.52x17M/5x56FT usually is enough for wrap a full sedan or SUV. If your car is larger, please choose 1.52x23M/5x75FT, we will send 1.52x6M/5x19FT + 1.52x17M/5x56FT.

Quality warranty: 2 Years, during the quality warranty period, the film surface has no obvious fading, no cracking, and no residual glue on the car paint after removable.
Data Sheet
Surface
Opaque
Substrate
material
130Microns
High Polymeric PVC
Pressure
sensitive adhesive
30μm
Solvent-based Removable
Releaser liner
160G double PE coating
High density air channels
Elongation
at break
300%
Tear strength 
37.2 N/10mm
Test Method: ASTM D3759
Glossiness
Gloss 95-110Gu
Matte 5-30Gu
Viscosity
Initial tack:700-800g/25mm
After 24 hours:1800-2000g/25mm
After 3 months: 1500g/25mm
Peel strength
2.5N/25mm
Test Method: ASTM D3330
Temperature resistance
 -40°С to +120°С
Flourescent
ultraviolet test 
Gray Level: 4-5
Test Method: ASTM D4329-13A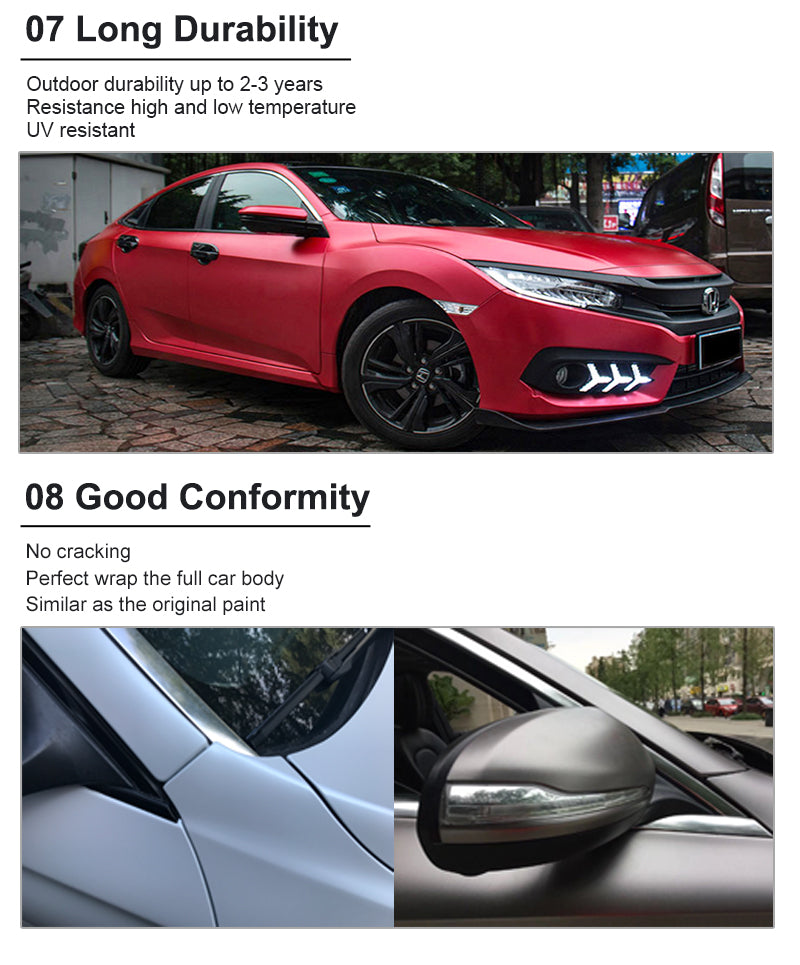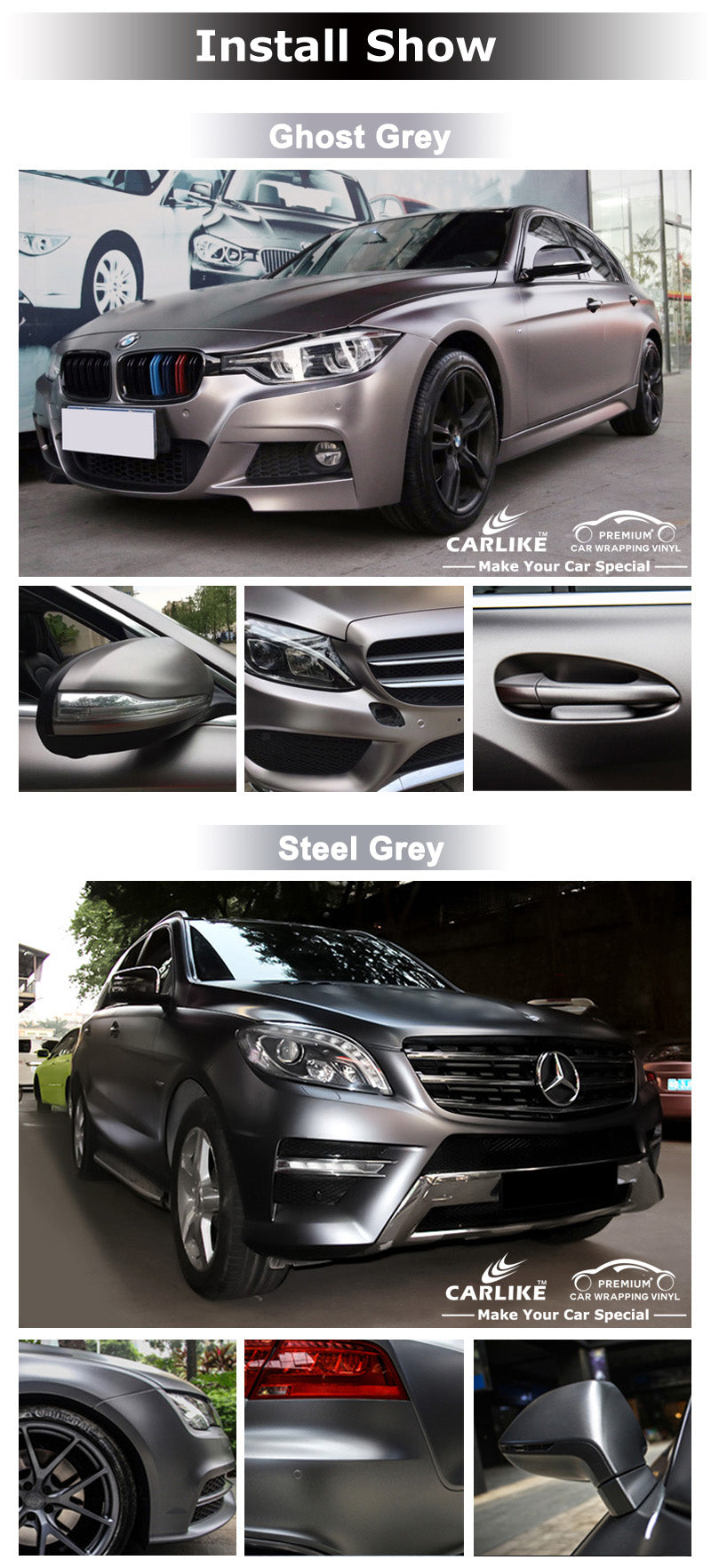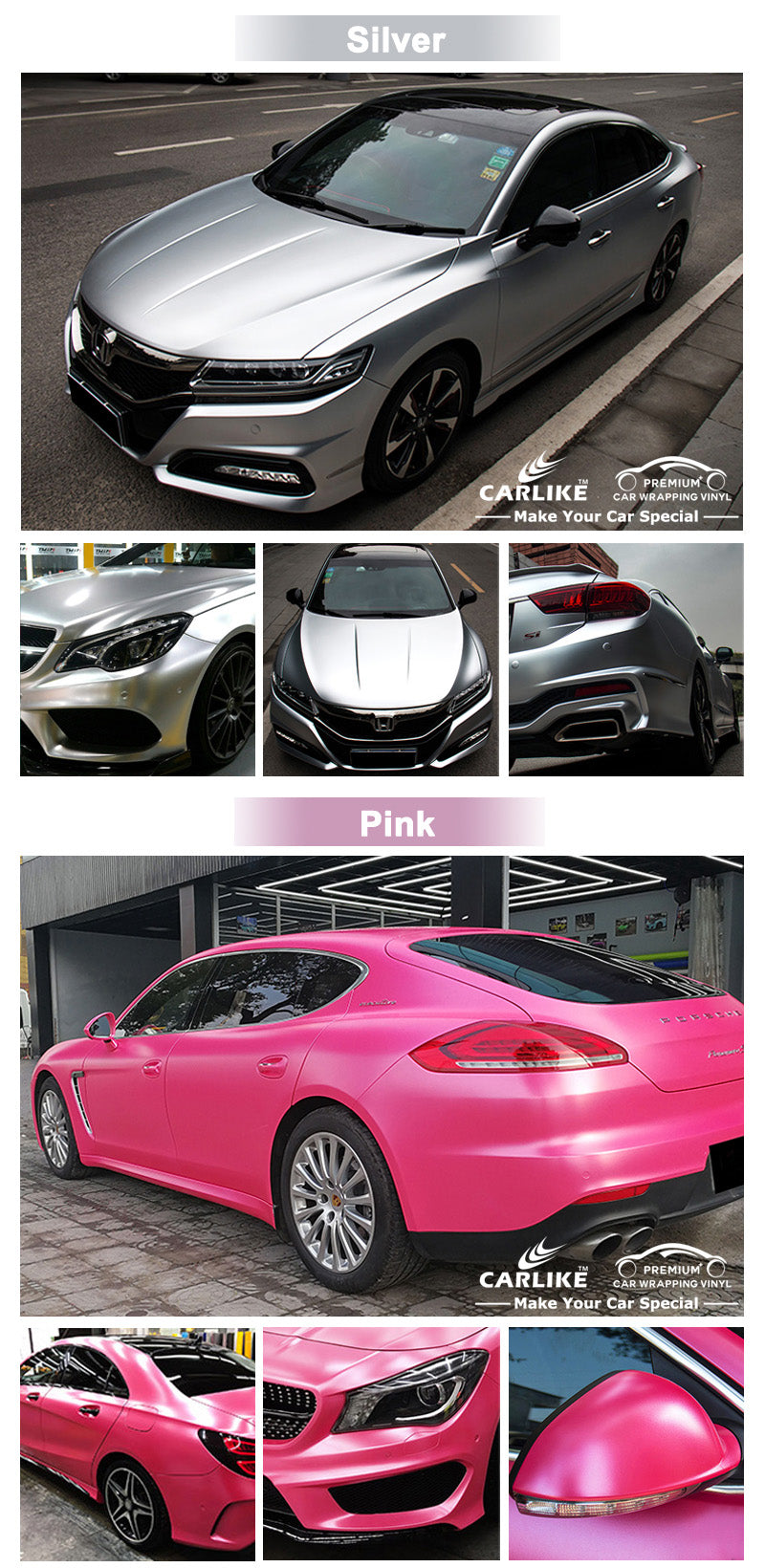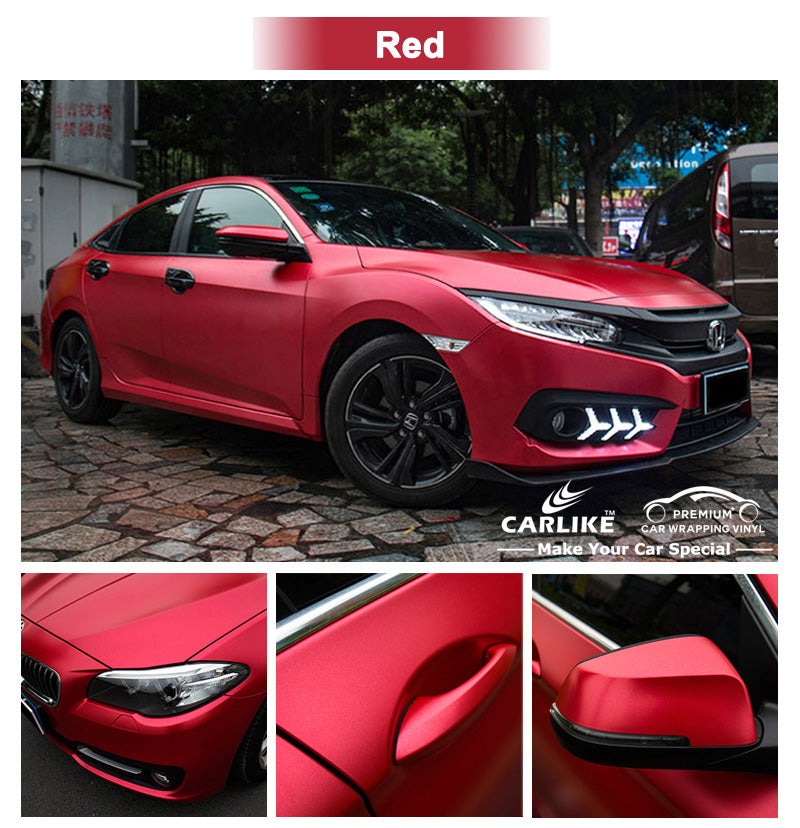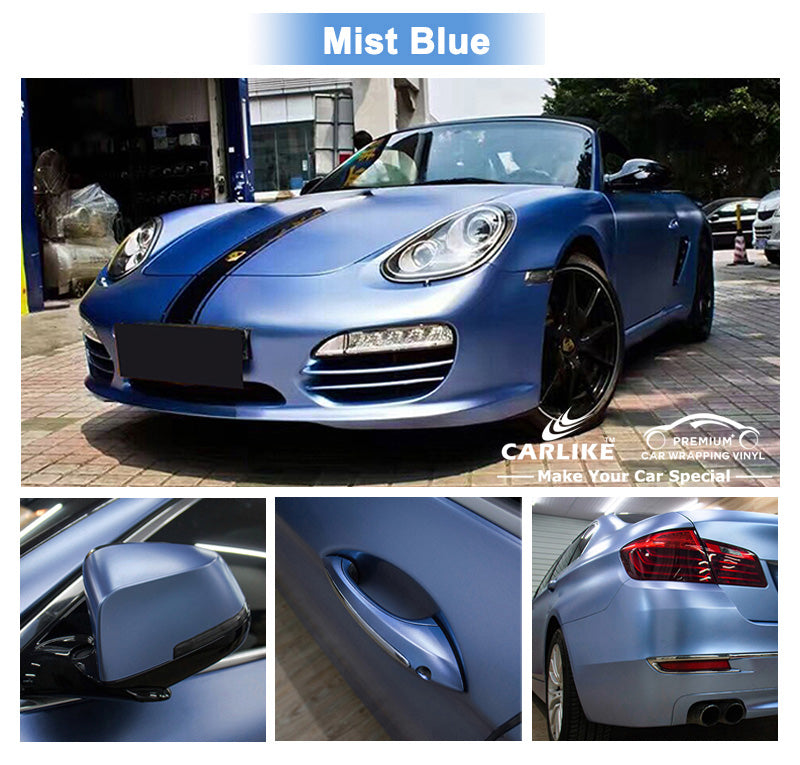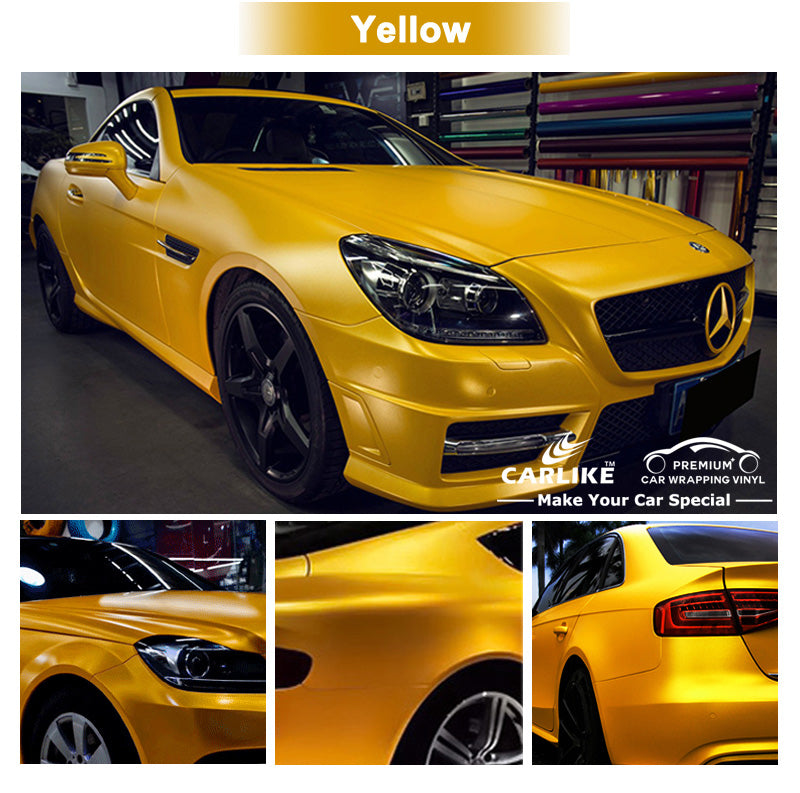 Caution: The product images, colors on the screen are approximate. For the real representation of the product color, please check the color swatch.
Satin Shadow Midnight Gold vinyl car wrapping is a specific type of automotive customization technique that involves applying a vinyl film to the exterior surface of a vehicle to change its color and appearance. This particular variant, known as "Satin Shadow Midnight Gold," is a unique and eye-catching color option that combines elements of satin, shadow, midnight, and gold to create a distinctive visual effect.

Vinyl car wrapping has gained popularity in recent years as a cost-effective alternative to traditional paint jobs. It offers numerous advantages such as protecting the original paintwork from scratches, chips, and fading, while also allowing for easy removal without causing any damage to the underlying surface. Moreover, vinyl wraps offer a wide range of color options and finishes, allowing car owners to achieve a customized look that suits their preferences.

The term "Satin Shadow" refers to the finish of the vinyl wrap. Satin finishes are characterized by a subtle sheen that falls between the high gloss of traditional paints and the matte appearance of flat colors. This unique texture gives the vehicle a luxurious and sophisticated look while reducing the visibility of surface imperfections, such as minor scratches and swirl marks. Satin finishes also tend to be easier to maintain compared to high gloss finishes, as they are less prone to showing dirt and fingerprints.

"MIdnight Gold" describes the color combination of the vinyl wrap. The term "midnight" typically refers to a deep, dark shade of blue or black that is reminiscent of the night sky. In this case, it implies a rich, intense color base for the wrap. "Gold" refers to a warm, metallic hue that adds a touch of opulence and elegance to the overall appearance. The combination of midnight and gold creates a visually striking contrast that catches the eye and sets the vehicle apart from the crowd.

Satin Shadow Midnight Gold vinyl car wrapping is an excellent choice for those seeking a unique and attention-grabbing aesthetic for their vehicle. It offers a balance between a sleek, understated finish and a touch of glamour through its dark base color and metallic accents. Whether applied to a sports car, luxury sedan, or any other vehicle, this vinyl wrap option can transform the appearance and make a bold statement on the road.

When opting for a vinyl car wrap, it is essential to consult with a professional installer or a reputable car customization shop. They have the expertise, tools, and materials necessary to ensure a proper installation, resulting in a seamless and long-lasting finish. A correctly installed vinyl wrap will adhere securely to the vehicle's surface, maintain its color vibrancy over time, and provide the desired visual effect.

In summary, Satin Shadow Midnight Gold vinyl car wrapping is a custom automotive enhancement technique that utilizes a high-quality vinyl film to change the color and texture of a vehicle's exterior. Its satin finish provides a luxurious appearance while reducing the visibility of imperfections, and the combination of midnight and gold creates a captivating contrast. With its unique aesthetic appeal, vinyl car wrapping allows car owners to personalize their vehicles and make a distinctive statement on the road.
Satin Shadow Midnight Gold vinyl car wrapping is a specialized technique used to transform the appearance of a vehicle by applying a layer of vinyl film onto its exterior surface. This particular type of car wrapping utilizes a satin finish with a unique color combination known as "Midnight Gold." The result is a striking aesthetic that combines a deep, dark shade with golden undertones, creating a luxurious and distinctive look for the vehicle.

Vinyl car wrapping has gained significant popularity in recent years as an alternative to traditional automotive painting. It offers several advantages, including customization options, protection for the original paintwork, and the ability to remove the vinyl without damaging the underlying surface. Satin Shadow Midnight Gold vinyl car wrapping is an excellent choice for individuals seeking to enhance the appearance of their vehicle while maintaining its resale value.

The term "satin finish" refers to a semi-gloss texture that falls between matte and glossy. It offers a subtle sheen that is neither too dull nor too reflective, resulting in an elegant and sophisticated appearance. This finish is known for its ability to accentuate the contours and lines of a vehicle, giving it a more refined and refined look.

The color combination of "Midnight Gold" adds a touch of luxury and exclusivity to the satin finish. The deep, dark shade resembles a rich black or charcoal tone, while the golden undertones provide warmth and depth. The resulting effect is a blend of elegance, mystery, and opulence, making the vehicle stand out from the crowd.

Applying a satin shadow Midnight Gold vinyl wrap to a car requires a high level of skill and expertise. The process typically involves the following steps:

1. Surface Preparation: The vehicle's exterior is thoroughly cleaned and inspected to ensure that it is free from dirt, debris, and imperfections. This step is crucial as any contaminants can affect the adhesion of the vinyl wrap.

2. Vinyl Film Selection: A high-quality satin finish vinyl film in Midnight Gold is chosen for the wrapping process. It is essential to select a reputable brand that offers durability, UV resistance, and a long lifespan to ensure a satisfactory result.

3. Precise Measurement and Cutting: The vinyl film is carefully measured and cut to fit the specific contours of the vehicle's body panels. Skilled installers utilize specialized software and cutting tools to achieve precise and seamless edges, ensuring a professional finish.

4. Application: The vinyl film is applied to the vehicle's surface using a combination of heat, pressure, and skillful techniques. Installers use heat guns or torches to soften the vinyl, making it pliable and allowing it to conform to the curves and shapes of the car. They then use squeegees and other tools to eliminate air bubbles and ensure smooth adhesion.

5. Finishing Touches: Once the vinyl wrap is applied, installers carefully trim excess material and wrap edges, ensuring a seamless integration with the vehicle's body. They pay close attention to details such as handles, mirrors, and contours to achieve a flawless and professional appearance.

Satin Shadow Midnight Gold vinyl car wrapping offers numerous benefits beyond its aesthetic appeal. It serves as a protective layer for the original paintwork, shielding it from minor scratches, stone chips, and UV rays. The vinyl film also preserves the vehicle's resale value, as it can be easily removed, revealing the well-maintained factory finish underneath.

Furthermore, vinyl car wraps are an excellent choice for those seeking to explore their creativity and express their individuality. The customization options are virtually limitless, ranging from unique color combinations to personalized graphics and designs. This versatility allows owners to create a one-of-a-kind look for their vehicles, whether they desire a subtle enhancement or a bold statement.

In conclusion, Satin Shadow Midnight Gold vinyl car wrapping combines the elegance of a satin finish with a captivating color combination. This technique offers a transformative solution for those seeking to enhance the appearance of their vehicle while maintaining its original paintwork. With its durability, protection, and customization options, satin shadow Midnight Gold vinyl car wrapping is a popular choice among car enthusiasts and those seeking to make a lasting impression on the road.
---
We Also Recommend
---