CARLIKE CL-CS-07P Super Chameleon Ambilight Sunset Vinyl PET Liner
Series: 3000P
Brand: CARLIKE

Color: Super Chameleon Ambilight Sunset PET
Model number: CL-CS-07P

Characteristic: Super stretch, incredible restorable

Performance level: Premium+

Film produce technology: High polymeric with double casting

Film thickness: 160micron, 6.4mil (with glue)

Release paper: 100G PET

Adhesive thickness: 30μm

Air bubble free: Yes

Application: Car wrap

Application temperature: From +80°С to +120°С

Temperature resistance: From -40°С to +120°С

Storing period: 2 years if stored in +10°С to +25°С, relative humidity 50%, in original package, away from direct sunlight, clean and dry place

Package: Full roll width 1.52m, length 17m, weight 13KG

Packing size: 1.55x0.18x0.18m

Remark: the full roll 1.52x17M/5x56FT usually is enough for wrap a full sedan or SUV. If your car is larger, please choose 1.52x23M/5x75FT, we will send 1.52x6M/5x19FT + 1.52x17M/5x56FT.

Quality warranty: 2 Years, during the quality warranty period, the film surface has no obvious fading, no cracking, and no residual glue on the car paint after removable.
Data Sheet
Surface
Opaque
Substrate
material
130Microns
High Polymeric PVC
Pressure
sensitive adhesive
30μm
Solvent-based Removable
Releaser liner
100G PET
High density air channels
Elongation
at break
300%
Tear strength 
37.2 N/10mm
Test Method: ASTM D3759
Glossiness
Gloss 95-110Gu
Matte 5-30Gu
Viscosity
Initial tack:700-800g/25mm
After 24 hours:1800-2000g/25mm
After 3 months: 1500g/25mm
Peel strength
2.5N/25mm
Test Method: ASTM D3330
Temperature resistance
 -40°С to +120°С
Flourescent
ultraviolet test 
Gray Level: 4-5
Test Method: ASTM D4329-13A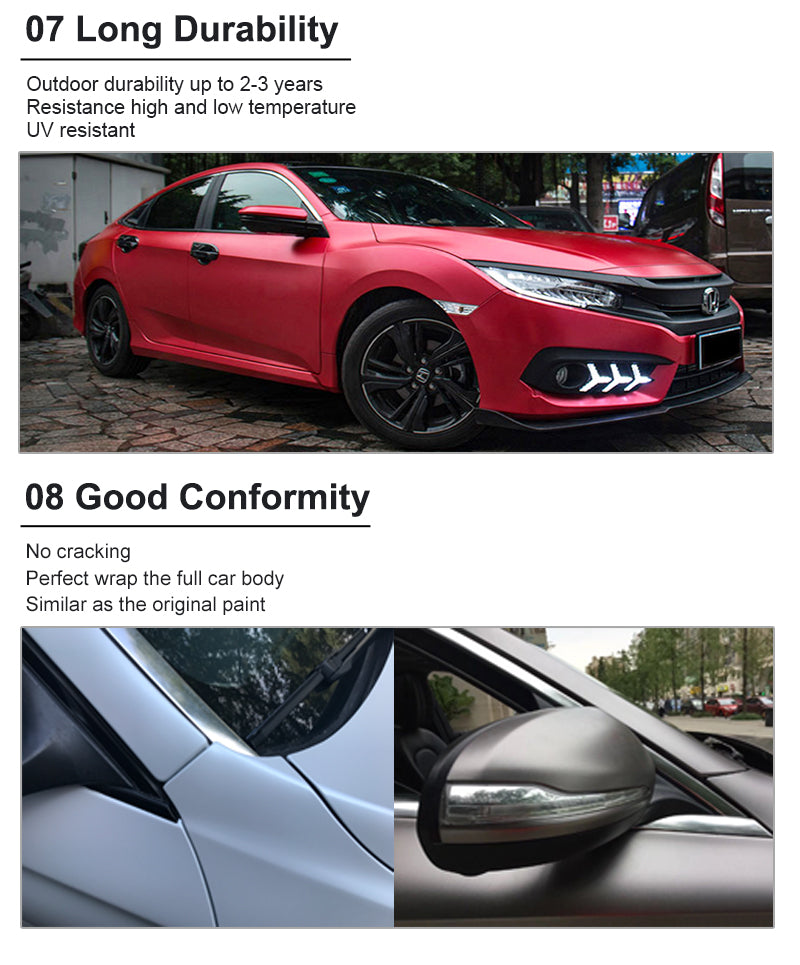 Caution: The product images, colors on the screen are approximate. For the real representation of the product color, please check the color swatch.
Super Chameleon Ambilight Sunset Vinyl for Car Wrapping 
"Super Chameleon Ambilight Sunset Vinyl" sounds like a unique and eye-catching concept for car wrapping. Let's break down the elements involved:
Super Chameleon: As mentioned earlier, "Chameleon" typically refers to a color-changing effect when viewed from different angles. In this case, "Super Chameleon" likely indicates a more intense or vivid version of this effect, possibly showcasing a wider range of colors.

Ambilight: As previously explained, "Ambilight" suggests the incorporation of ambient lighting or illumination on the vehicle's exterior. This could involve using LED lights strategically placed to enhance the visual appeal and create an eye-catching display.

Sunset Vinyl: "Sunset Vinyl" likely refers to a vinyl film with colors inspired by the warm and vibrant hues of a sunset. This could include shades of orange, red, purple, and other colors found in a typical sunset.

Car Wrapping: Car wrapping involves applying a specialized vinyl film to cover and protect the vehicle's original paint. It allows for customization without permanently altering the car's appearance, making it a popular choice among car enthusiasts who want a fresh look or a temporary change.
In summary, "Super Chameleon Ambilight Sunset Vinyl for Car Wrapping" describes a car customization project that combines a color-shifting effect ("Super Chameleon") with ambient lighting ("Ambilight") using a vinyl film with colors inspired by a sunset theme ("Sunset Vinyl"). This unique combination is likely to create a visually stunning and attention-grabbing result, giving your car a one-of-a-kind appearance.
Keep in mind that car wrapping and customizations require the expertise of professionals to ensure a high-quality and precise installation. If you're considering such a project, consult with experienced car wrapping specialists to discuss your ideas and bring your vision to life.
---
We Also Recommend
---