CARLIKE CL-CO-03P Super Chrome Oxide Ghost Venom Green Vinyl PET Liner
Series: 3000P
Brand: CARLIKE

Color: Super Chrome Oxide Ghost Venom Green PET

Model number: CL-CO-03P

Characteristic: Super stretch, incredible restorable

Performance level: Premium+

Film produce technology: High polymeric with double casting

Film thickness: 160micron, 6.4mil (with glue)

Release paper: 100G PET

Adhesive thickness: 30μm

Air bubble free: Yes

Application: Car wrap

Application temperature: From +80°С to +120°С

Temperature resistance: From -40°С to +120°С

Storing period: 2 years if stored in +10°С to +25°С, relative humidity 50%, in original package, away from direct sunlight, clean and dry place

Package: Full roll width 1.52m, length 17m, weight 13KG

Packing size: 1.55x0.18x0.18m

Remark: the full roll 1.52x17M/5x56FT usually is enough for wrap a full sedan or SUV. If your car is larger, please choose 1.52x23M/5x75FT, we will send 1.52x6M/5x19FT + 1.52x17M/5x56FT.

Quality warranty: 2 Years, during the quality warranty period, the film surface has no obvious fading, no cracking, and no residual glue on the car paint after removable.
Data Sheet
Surface
Opaque
Substrate
material
130Microns
High Polymeric PVC
Pressure
sensitive adhesive
30μm
Solvent-based Removable
Releaser liner
100G PET
High density air channels
Elongation
at break
300%
Tear strength 
37.2 N/10mm
Test Method: ASTM D3759
Glossiness
Gloss 95-110Gu
Matte 5-30Gu
Viscosity
Initial tack:700-800g/25mm
After 24 hours:1800-2000g/25mm
After 3 months: 1500g/25mm
Peel strength
2.5N/25mm
Test Method: ASTM D3330
Temperature resistance
 -40°С to +120°С
Flourescent
ultraviolet test 
Gray Level: 4-5
Test Method: ASTM D4329-13A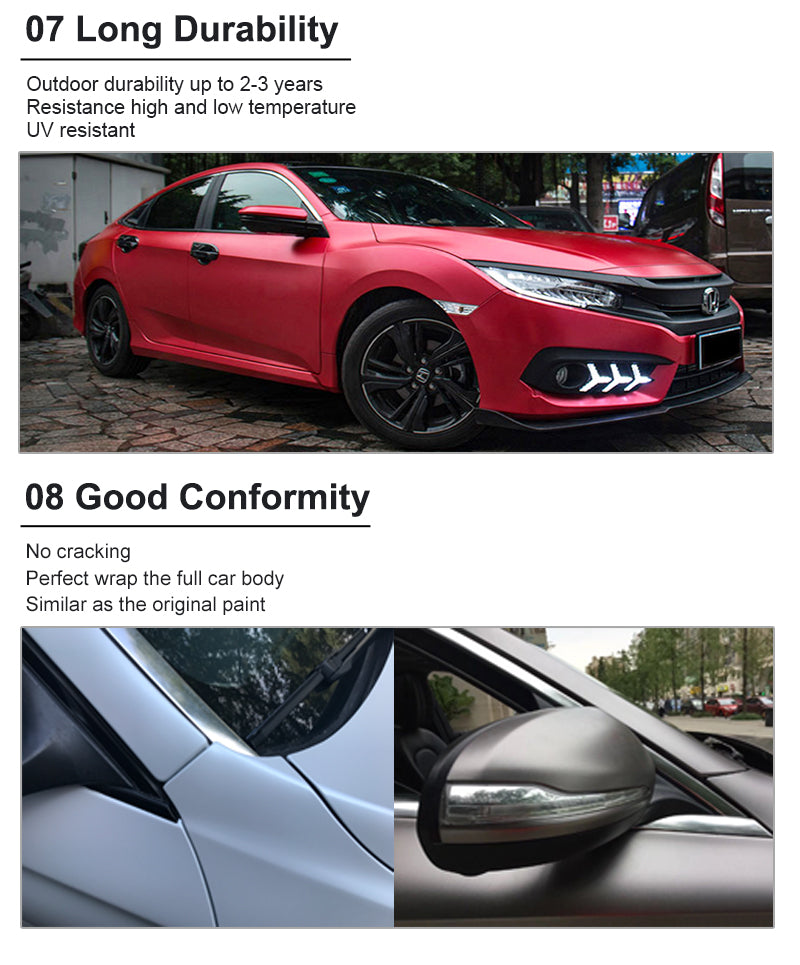 Caution: The product images, colors on the screen are approximate. For the real representation of the product color, please check the color swatch.
Super Chrome Oxide Ghost Venom Green Vinyl Auto Wrap
Super Chrome Oxide Ghost Venom Green Vinyl Auto Wrap is an extraordinary and visually captivating automotive customization technique that involves applying a specialized vinyl film to a vehicle's exterior. This unique car wrap combines the features of a super chrome finish, a mesmerizing ghost venom green color, and an eye-catching appearance, resulting in an unparalleled and attention-grabbing look for the car.
Super Chrome Finish: The term "Super Chrome" indicates an exceptionally reflective and mirror-like finish that sets it apart from traditional chrome wraps. The vinyl film used in this car wrap boasts a level of brilliance that creates a near-mirror effect on the vehicle's surface. The Super Chrome finish elevates the car's appearance, reflecting its surroundings with incredible clarity and providing a striking and sophisticated look.

Ghost Venom Green Color: The Ghost Venom Green color is a unique and thrilling hue that combines elements of green with subtle ghost-like and venomous undertones. This color choice creates a captivating and mysterious appearance, as it seems to shimmer and shift depending on the viewing angle and lighting conditions. The Ghost Venom Green color is not only visually appealing but also evokes a sense of excitement and adventure, making the car stand out from the crowd.

Vinyl Auto Wrap: Vinyl auto wrapping is a popular and non-permanent method used to customize a vehicle's appearance. A high-quality and adhesive-backed vinyl film is applied meticulously to the car's exterior surfaces. This vinyl wrap serves to protect the original paintwork from minor scratches, UV rays, and environmental damage, while also allowing for easy removal or changes to the vehicle's appearance. Auto wrapping provides car owners with versatility and flexibility in personalizing their vehicles without the need for a permanent paint job.
In summary, Super Chrome Oxide Ghost Venom Green Vinyl Auto Wrap is a striking and attention-demanding automotive customization option. The Super Chrome finish, combined with the captivating Ghost Venom Green color, creates a unique and visually captivating appearance that sets the car apart from others on the road. This car wrap is perfect for individuals seeking to make a bold and unforgettable statement, as well as businesses looking to create a distinctive and eye-catching branding presence on their fleet of vehicles.
For those considering this car wrap, it is crucial to work with experienced professionals who can ensure precise application and meticulous attention to detail. The result will be a flawless and stunning transformation that turns heads, sparks conversations, and leaves a lasting impression on anyone who encounters the car. Whether cruising during the day or making a grand entrance under the city lights at night, the Super Chrome Oxide Ghost Venom Green Vinyl Auto Wrap guarantees an extraordinary and show-stopping appearance for any vehicle lucky enough to undergo this exceptional customization.
---
We Also Recommend
---