CARLIKE CL-SJ-56 Super Gloss Crystal Caramel Brown Vinyl
Series: 3000
Brand: CARLIKE

Color: Super Gloss Crystal Caramel Brown

Model number: CL-SJ-56 

Characteristic: Super stretch, incredible restorable

Performance level: Premium+

Film produce technology: High polymeric with double casting

Film thickness: 160micron, 6.4mil (with glue)

Release paper: 160g/m2, silicone coated

Adhesive thickness: 30μm

Air bubble free: Yes

Application: Car wrap

Application temperature: From +80°С to +120°С

Temperature resistance: From -40°С to +120°С

Storing period: 2 years if stored in +10°С to +25°С, relative humidity 50%, in original package, away from direct sunlight, clean and dry place

Package: Full roll width 1.52m, length 17m, weight 13KG

Packing size: 1.55x0.18x0.18m

Remark: the full roll 1.52x17M/5x56FT usually is enough for wrap a full sedan or SUV. If your car is larger, please choose 1.52x23M/5x75FT, we will send 1.52x6M/5x19FT + 1.52x17M/5x56FT.
Quality warranty: 2 Years, during the quality warranty period, the film surface has no obvious fading, no cracking, and no residual glue on the car paint after removable.
Data Sheet
Surface
Opaque
Substrate
material
130Microns
High Polymeric PVC
Pressure
sensitive adhesive
30μm
Solvent-based Removable
Releaser liner
160G double PE coating
High density air channels
Elongation
at break
300%
Tear strength 
37.2 N/10mm
Test Method: ASTM D3759
Glossiness
Gloss 95-110Gu
Matte 5-30Gu
Viscosity
Initial tack:700-800g/25mm
After 24 hours:1800-2000g/25mm
After 3 months: 1500g/25mm
Peel strength
2.5N/25mm
Test Method: ASTM D3330
Temperature resistance
 -40°С to +120°С
Flourescent
ultraviolet test 
Gray Level: 4-5
Test Method: ASTM D4329-13A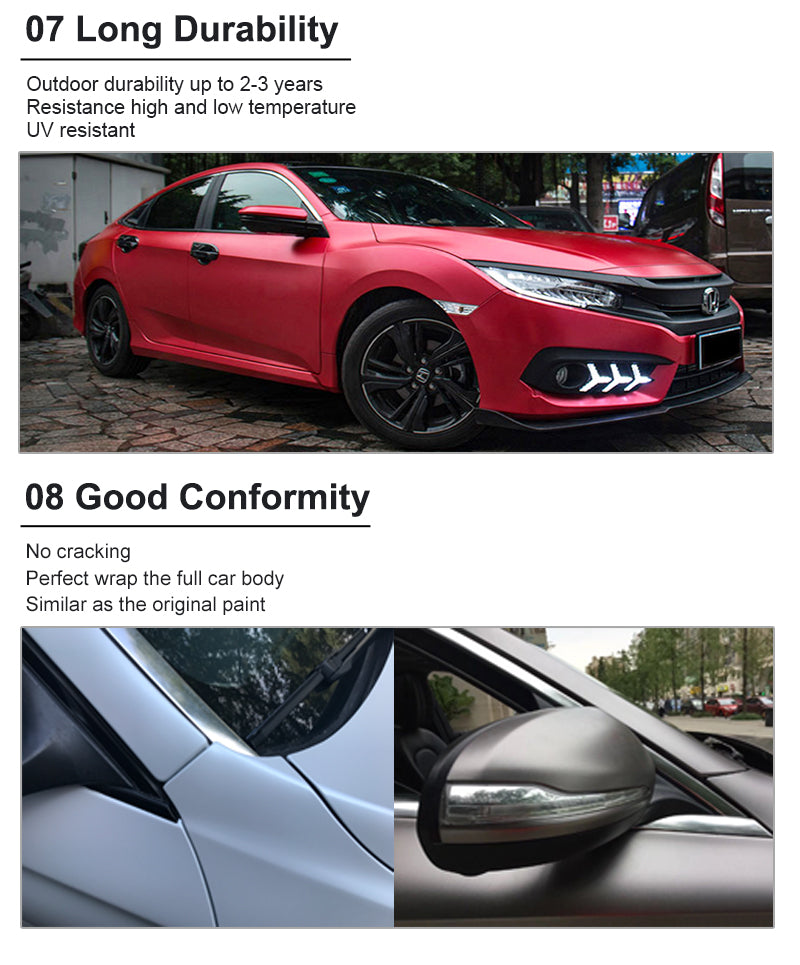 Caution: The product images, colors on the screen are approximate. For the real representation of the product color, please check the color swatch.
"Super Gloss Crystal Caramel Brown: Exuding Elegance and Warmth in Automotive Artistry"
Car wrapping has become a popular form of automotive customization, offering car enthusiasts a creative and versatile way to elevate the appearance of their vehicles. Among the plethora of options available, the "Super Gloss Crystal Caramel Brown" car wrap stands out as a sophisticated and inviting choice that promises to bring elegance and warmth to automotive artistry.
The Warmth of Caramel Brown:
At the core of this captivating car wrap is the rich and inviting hue of Caramel Brown. Inspired by the delectable sweetness of caramel, this warm and earthy shade exudes an aura of comfort and sophistication. Caramel Brown embodies the essence of coziness and familiarity, reminiscent of a steaming cup of caramel latte on a chilly day. This inviting color exudes a sense of refined warmth, making it a natural choice for car enthusiasts seeking to embrace elegance and timeless charm.
Super Gloss Finish: A Lustrous Brilliance
The term "Super Gloss" in the product name signifies an exceptional level of shine and reflectivity that elevates the Caramel Brown color to a state of lustrous brilliance. The Super Gloss finish creates a polished surface that intensifies the depth and radiance of the Caramel Brown hue. As light plays upon the car's surface, the Super Gloss Crystal Caramel Brown car wrap emanates an aura of opulence, capturing attention with its luxurious gleam.
Crystal Clarity: A Glimpse of Refinement
To further enhance the allure of sophistication, the "Crystal" element adds a touch of refinement to the car wrap. Light-reflective particles within the vinyl film create a captivating crystal effect that sparkles and shimmers with every movement of the vehicle. This prismatic clarity infuses the Caramel Brown hue with an enchanting luminance, reminiscent of the glimmering allure of fine crystals.
Premium Quality Vinyl: Enduring Elegance
Crafted from premium-grade vinyl material, the Super Gloss Crystal Caramel Brown car wrap ensures both durability and elegance. The high-quality vinyl serves as a protective layer, safeguarding the original paintwork from minor abrasions and environmental elements. With proper care, the car wrap maintains its immaculate appearance, preserving the Caramel Brown allure and radiating timeless elegance.
A Timeless Statement of Class:
The Super Gloss Crystal Caramel Brown car wrap is more than just a color change; it embodies a timeless statement of class and sophistication. It allows car owners to express their refined taste and appreciation for tasteful aesthetics. Whether adorning a classic luxury sedan or a modern executive vehicle, this car wrap exudes an air of refinement and elegance that leaves a lasting impression.
Professional Installation: A Seamless Elegance
To fully embody the essence of sophistication and warmth, professional installation by skilled experts is essential. Car wrapping specialists ensure meticulous application, achieving a seamless finish that complements the car's inherent elegance and the inviting Caramel Brown hue. This professional touch ensures that the car wrap exudes a flawless and refined elegance on the road.
Conclusion: A Refined Masterpiece on Wheels
The Super Gloss Crystal Caramel Brown car wrap captures the allure of elegance and the warmth of familiarity. With its captivating Caramel Brown hue, Super Gloss finish, and Crystal clarity, this car wrap elevates the vehicle's appearance to a realm of sophistication and refined beauty. Embrace the allure of this extraordinary car wrap and experience the timeless charm and elegance of Caramel Brown as your vehicle becomes a luxurious and inviting masterpiece on wheels.
---
We Also Recommend
---