CARLIKE CL-SJ-09 Super Gloss Crystal Cement Grey Vinyl
Series: 3000
Brand: CARLIKE

Color: Super Gloss Crystal Cement Grey

Model number: CL-SJ-09

Characteristic: Super stretch, incredible restorable

Performance level: Premium+

Film produce technology: High polymeric with double casting

Film thickness: 160micron, 6.4mil (with glue)

Release paper: 160g/m2, silicone coated

Adhesive thickness: 30μm

Air bubble free: Yes

Application: Car wrap

Application temperature: From +80°С to +120°С

Temperature resistance: From -40°С to +120°С

Storing period: 2 years if stored in +10°С to +25°С, relative humidity 50%, in original package, away from direct sunlight, clean and dry place

Package: Full roll width 1.52m, length 17m, weight 13KG

Packing size: 1.55x0.18x0.18m

Remark: the full roll 1.52x17M/5x56FT usually is enough for wrap a full sedan or SUV. If your car is larger, please choose 1.52x23M/5x75FT, we will send 1.52x6M/5x19FT + 1.52x17M/5x56FT.
Quality warranty: 2 Years, during the quality warranty period, the film surface has no obvious fading, no cracking, and no residual glue on the car paint after removable.
Data Sheet
Surface
Opaque
Substrate
material
130Microns
High Polymeric PVC
Pressure
sensitive adhesive
30μm
Solvent-based Removable
Releaser liner
160G double PE coating
High density air channels
Elongation
at break
300%
Tear strength 
37.2 N/10mm
Test Method: ASTM D3759
Glossiness
Gloss 95-110Gu
Matte 5-30Gu
Viscosity
Initial tack:700-800g/25mm
After 24 hours:1800-2000g/25mm
After 3 months: 1500g/25mm
Peel strength
2.5N/25mm
Test Method: ASTM D3330
Temperature resistance
 -40°С to +120°С
Flourescent
ultraviolet test 
Gray Level: 4-5
Test Method: ASTM D4329-13A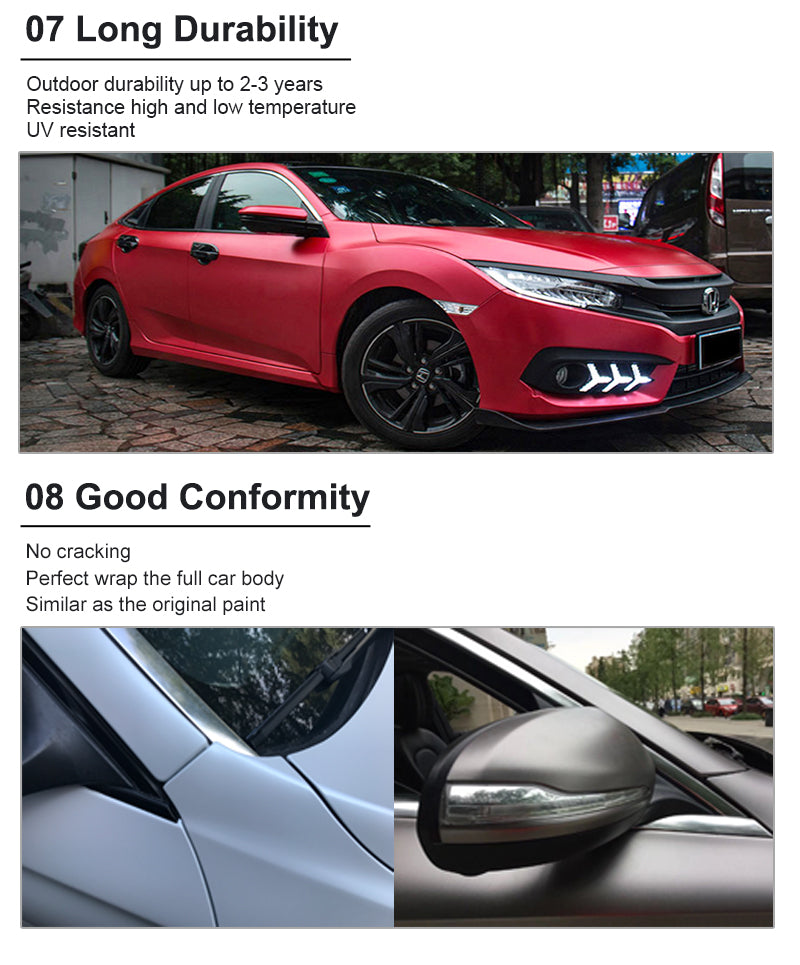 Caution: The product images, colors on the screen are approximate. For the real representation of the product color, please check the color swatch.
Super Gloss Crystal Cement Grey Vinyl Auto Wrap
Immerse yourself in the world of car customization with the Super Gloss Crystal Cement Grey Vinyl Auto Wrap. This top-tier product blends aesthetics and performance, offering a sleek facelift to your vehicle while providing a protective layer against the elements.
Product Highlights:
Superior Quality Material: The auto wrap is made from high-grade polyvinic materials, ensuring resilience and durability. Its robust structure protects your vehicle from scratches, chips, and harmful UV radiation, thus preserving the original paintwork for a longer period.

Stunning Finish: The Super Gloss Crystal Cement Grey color presents a high-gloss, crystal finish that exudes sophistication and class. The unique cement grey tone, coupled with the glossy finish, lends your vehicle a premium, modern look, guaranteed to make a statement on the road.

Easy Application: The auto wrap comes with an air-release adhesive backing, simplifying the installation process. It is designed to be stretched and repositioned during application for a perfect, bubble-free finish, greatly reducing any chances of error or wastage.

Removable and Non-Damaging: Should you wish to restore the original color or upgrade to a new look, the Super Gloss Crystal Cement Grey Vinyl Auto Wrap can be conveniently removed without leaving any residue or causing any damage to the original paint, giving you the freedom to frequently refresh your vehicle's aesthetics.

Broad Coverage: Each roll measures 5 x 56 ft., offering ample material to cover a standard-sized car. For larger vehicles, we offer customization options to ensure a precise fit and flawless appearance.

Eco-Conscious: Manufactured using non-toxic, environmentally friendly materials, this auto wrap is safe for both the user and the environment.

Cost-Effective: Apart from enhancing your car's look, this vinyl auto wrap helps maintain the original paintwork, thereby preserving your vehicle's resale value. It is an affordable solution for keeping your vehicle in top-notch condition while adding a touch of personal style.
The Super Gloss Crystal Cement Grey Vinyl Auto Wrap is more than just an aesthetic upgrade; it's an investment in your vehicle's longevity and appeal. Embrace the perfect fusion of style, durability, and affordability with this premier product. Transform your ride and make a statement on the road today.
---
We Also Recommend
---