CARLIKE CL-SJ-08 Super Gloss Crystal Cement Light Grey Vinyl
Series: 3000
Brand: CARLIKE

Color: Super Gloss Crystal Cement Light Grey

Model number: CL-SJ-08

Characteristic: Super stretch, incredible restorable

Performance level: Premium+

Film produce technology: High polymeric with double casting

Film thickness: 160micron, 6.4mil (with glue)

Release paper: 160g/m2, silicone coated

Adhesive thickness: 30μm

Air bubble free: Yes

Application: Car wrap

Application temperature: From +80°С to +120°С

Temperature resistance: From -40°С to +120°С

Storing period: 2 years if stored in +10°С to +25°С, relative humidity 50%, in original package, away from direct sunlight, clean and dry place

Package: Full roll width 1.52m, length 17m, weight 13KG

Packing size: 1.55x0.18x0.18m

Remark: the full roll 1.52x17M/5x56FT usually is enough for wrap a full sedan or SUV. If your car is larger, please choose 1.52x23M/5x75FT, we will send 1.52x6M/5x19FT + 1.52x17M/5x56FT.
Quality warranty: 2 Years, during the quality warranty period, the film surface has no obvious fading, no cracking, and no residual glue on the car paint after removable.
Data Sheet
Surface
Opaque
Substrate
material
130Microns
High Polymeric PVC
Pressure
sensitive adhesive
30μm
Solvent-based Removable
Releaser liner
160G double PE coating
High density air channels
Elongation
at break
300%
Tear strength 
37.2 N/10mm
Test Method: ASTM D3759
Glossiness
Gloss 95-110Gu
Matte 5-30Gu
Viscosity
Initial tack:700-800g/25mm
After 24 hours:1800-2000g/25mm
After 3 months: 1500g/25mm
Peel strength
2.5N/25mm
Test Method: ASTM D3330
Temperature resistance
 -40°С to +120°С
Flourescent
ultraviolet test 
Gray Level: 4-5
Test Method: ASTM D4329-13A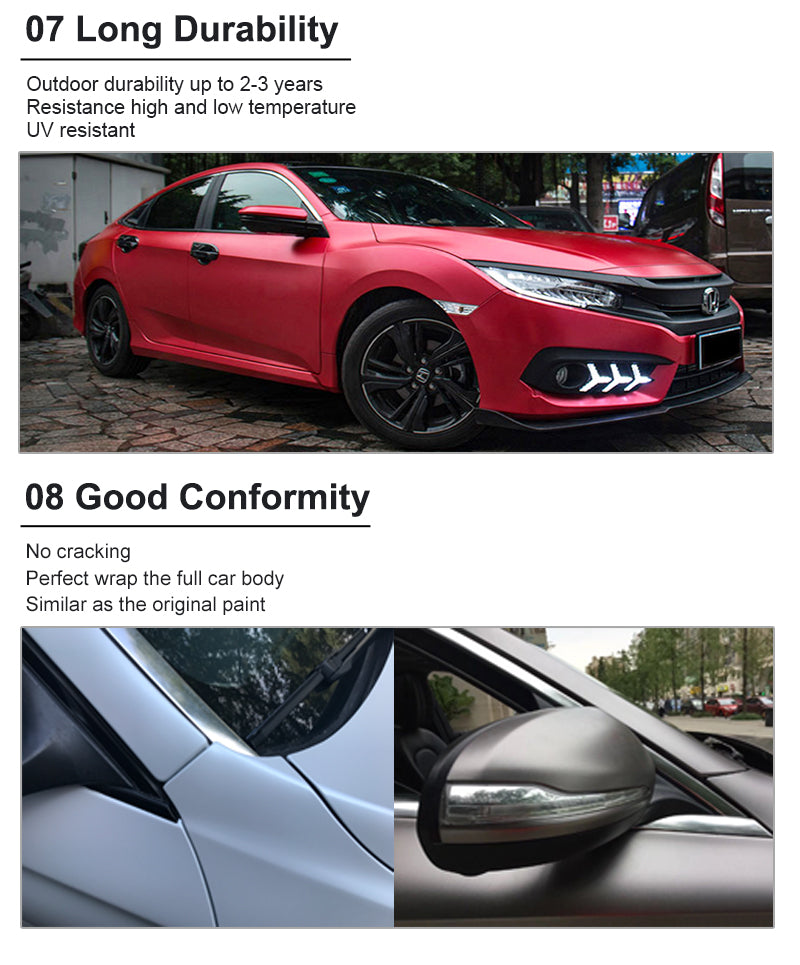 Super Gloss Crystal Cement Light Grey Vinyl Wrapping Film
Discover the latest in automotive enhancement with the Super Gloss Crystal Cement Light Grey Vinyl Wrapping Film. This cutting-edge product combines a sophisticated design with exceptional durability, transforming your vehicle's appearance while offering protection against the elements.
Product Highlights:
Premium Quality Material: Fabricated from top-tier polyvinic materials, this vinyl wrapping film is robust and resilient. It is designed to endure various environmental conditions, safeguarding your vehicle's original paint from scratches, chips, and harmful UV rays, ensuring its lasting beauty.

Elegant Finish: The Super Gloss Crystal Cement Light Grey finish is nothing short of stunning. This high-gloss, crystal finish imparts a refined, modern look to your vehicle, accentuating its features and contours. The light grey tone adds a touch of subtlety and sophistication, turning heads wherever you go.

Ease of Application: The vinyl wrap features an air-release adhesive backing, making the installation process smooth and hassle-free. It can be stretched and repositioned during application, resulting in a flawless, bubble-free finish, minimizing the chances of errors and material wastage.

Removable and Non-Damaging: If you ever want to revert to the original paint or update to a new color, the Super Gloss Crystal Cement Light Grey Vinyl Wrap can be removed effortlessly, leaving no residue behind. It doesn't harm the underlying paint, thus offering the freedom to frequently update your vehicle's appearance.

Generous Coverage: With dimensions of 5 x 20 ft. per roll, the wrap provides enough material to cover a standard-sized car. For larger vehicles, customization options are available to ensure a perfect, seamless fit.

Environmentally Friendly: Manufactured with non-toxic, eco-friendly materials, this product is as kind to the environment as it is to your vehicle.

Cost-Effective: This vinyl wrap not only revitalizes the look of your car but also protects the original paintwork, preserving your vehicle's resale value. It's an economical solution for maintaining your car's aesthetics and integrity.
The Super Gloss Crystal Cement Light Grey Vinyl Wrapping Film offers an unbeatable blend of style, protection, and value. It's a smart choice for automobile enthusiasts looking to elevate their ride to the next level. Experience the perfect blend of class, durability, and affordability with this top-tier product.
---
We Also Recommend
---