CARLIKE CL-SJ-51 Super Gloss Crystal Fir Green Vinyl
Series: 3000
Brand: CARLIKE

Color: Super Gloss Crystal Fir Green

Model number: CL-SJ-51

Characteristic: Super stretch, incredible restorable

Performance level: Premium+

Film produce technology: High polymeric with double casting

Film thickness: 160micron, 6.4mil (with glue)

Release paper: 160g/m2, silicone coated

Adhesive thickness: 30μm

Air bubble free: Yes

Application: Car wrap

Application temperature: From +80°С to +120°С

Temperature resistance: From -40°С to +120°С

Storing period: 2 years if stored in +10°С to +25°С, relative humidity 50%, in original package, away from direct sunlight, clean and dry place

Package: Full roll width 1.52m, length 17m, weight 13KG

Packing size: 1.55x0.18x0.18m

Remark: the full roll 1.52x17M/5x56FT usually is enough for wrap a full sedan or SUV. If your car is larger, please choose 1.52x23M/5x75FT, we will send 1.52x6M/5x19FT + 1.52x17M/5x56FT.
Quality warranty: 2 Years, during the quality warranty period, the film surface has no obvious fading, no cracking, and no residual glue on the car paint after removable.
Data Sheet
Surface
Opaque
Substrate
material
130Microns
High Polymeric PVC
Pressure
sensitive adhesive
30μm
Solvent-based Removable
Releaser liner
160G double PE coating
High density air channels
Elongation
at break
300%
Tear strength 
37.2 N/10mm
Test Method: ASTM D3759
Glossiness
Gloss 95-110Gu
Matte 5-30Gu
Viscosity
Initial tack:700-800g/25mm
After 24 hours:1800-2000g/25mm
After 3 months: 1500g/25mm
Peel strength
2.5N/25mm
Test Method: ASTM D3330
Temperature resistance
 -40°С to +120°С
Flourescent
ultraviolet test 
Gray Level: 4-5
Test Method: ASTM D4329-13A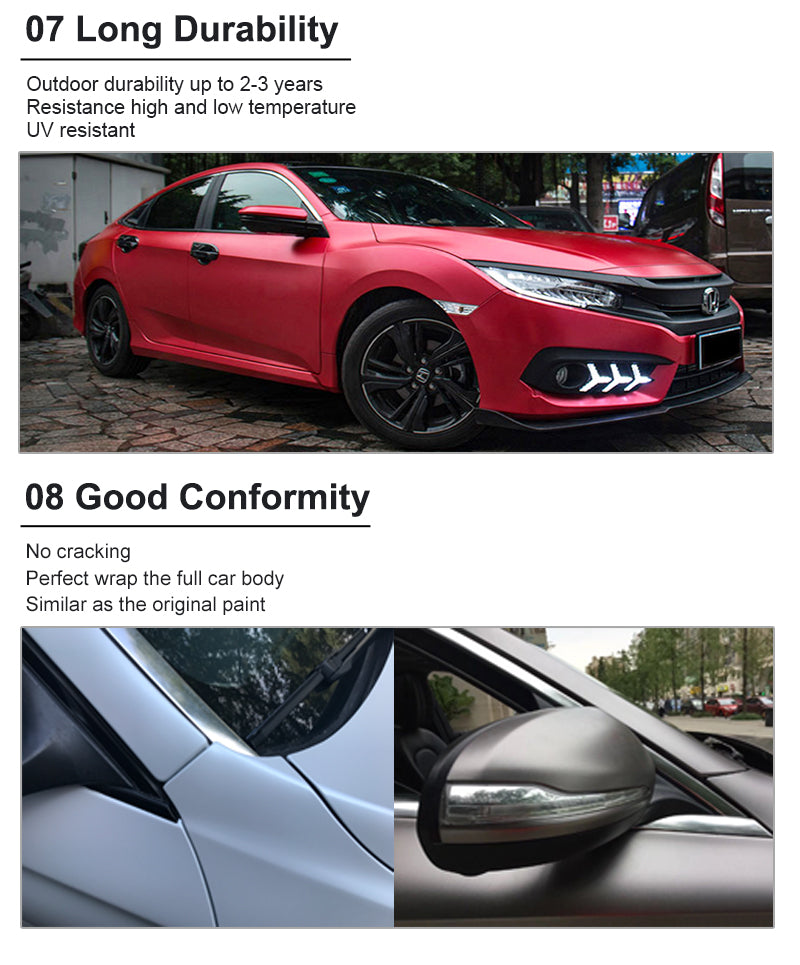 Caution: The product images, colors on the screen are approximate. For the real representation of the product color, please check the color swatch.
Super Gloss Crystal Fir Green Vinyl Wrap
Premium Quality Vinyl: Nature's Endurance
Crafted from premium-grade vinyl material, the Super Gloss Crystal Fir Green car wrap ensures both durability and elegance. The high-quality vinyl provides protection for the original paintwork, shielding it from minor abrasions and environmental elements. With proper care, the car wrap retains its exquisite appearance, allowing the allure of Fir Green to endure and enchant over time.
Embrace Nature's Beauty:
The Super Gloss Crystal Fir Green car wrap goes beyond being a mere decorative element; it celebrates the beauty of nature and allows car owners to embrace the spirit of the great outdoors. Whether adorning a modern urban car or a rugged adventure vehicle, this car wrap serves as a symbol of appreciation for the wonders of the natural world.
Professional Installation: For a Seamless Connection
To fully embrace nature's beauty, professional installation by skilled experts is essential. Car wrapping specialists ensure precise application, achieving a seamless finish that complements the car's inherent elegance and the enchanting Fir Green hue. This professional touch ensures that the car wrap becomes an embodiment of nature's allure on wheels.
Conclusion: Captivating Nature's Elegance
The Super Gloss Crystal Fir Green car wrap captures the captivating elegance of nature and reflects it on the roads. With its enchanting Fir Green hue, Super Gloss finish, and Crystal clarity, this car wrap celebrates the timeless beauty of the natural world. Embrace the allure of this extraordinary car wrap and immerse yourself in the splendor of Fir Green, turning your vehicle into a mesmerizing ode to nature's enchantment.
---
We Also Recommend
---