CARLIKE CL-SJ-38 Super Gloss Crystal Neptune Blue Vinyl
 Series: 3000
Brand: CARLIKE

Color: Super Gloss Crystal Neptune Blue

Model number: CL-SJ-38

Characteristic: Super stretch, incredible restorable

Performance level: Premium+

Film produce technology: High polymeric with double casting

Film thickness: 160micron, 6.4mil (with glue)

Release paper: 160g/m2, silicone coated

Adhesive thickness: 30μm

Air bubble free: Yes

Application: Car wrap

Application temperature: From +80°С to +120°С

Temperature resistance: From -40°С to +120°С

Storing period: 2 years if stored in +10°С to +25°С, relative humidity 50%, in original package, away from direct sunlight, clean and dry place

Package: Full roll width 1.52m, length 17m, weight 13KG

Packing size: 1.55x0.18x0.18m

Remark: the full roll 1.52x17M/5x56FT usually is enough for wrap a full sedan or SUV. If your car is larger, please choose 1.52x23M/5x75FT, we will send 1.52x6M/5x19FT + 1.52x17M/5x56FT.
Quality warranty: 2 Years, during the quality warranty period, the film surface has no obvious fading, no cracking, and no residual glue on the car paint after removable.
Data Sheet
Surface
Opaque
Substrate
material
130Microns
High Polymeric PVC
Pressure
sensitive adhesive
30μm
Solvent-based Removable
Releaser liner
160G double PE coating
High density air channels
Elongation
at break
300%
Tear strength 
37.2 N/10mm
Test Method: ASTM D3759
Glossiness
Gloss 95-110Gu
Matte 5-30Gu
Viscosity
Initial tack:700-800g/25mm
After 24 hours:1800-2000g/25mm
After 3 months: 1500g/25mm
Peel strength
2.5N/25mm
Test Method: ASTM D3330
Temperature resistance
 -40°С to +120°С
Flourescent
ultraviolet test 
Gray Level: 4-5
Test Method: ASTM D4329-13A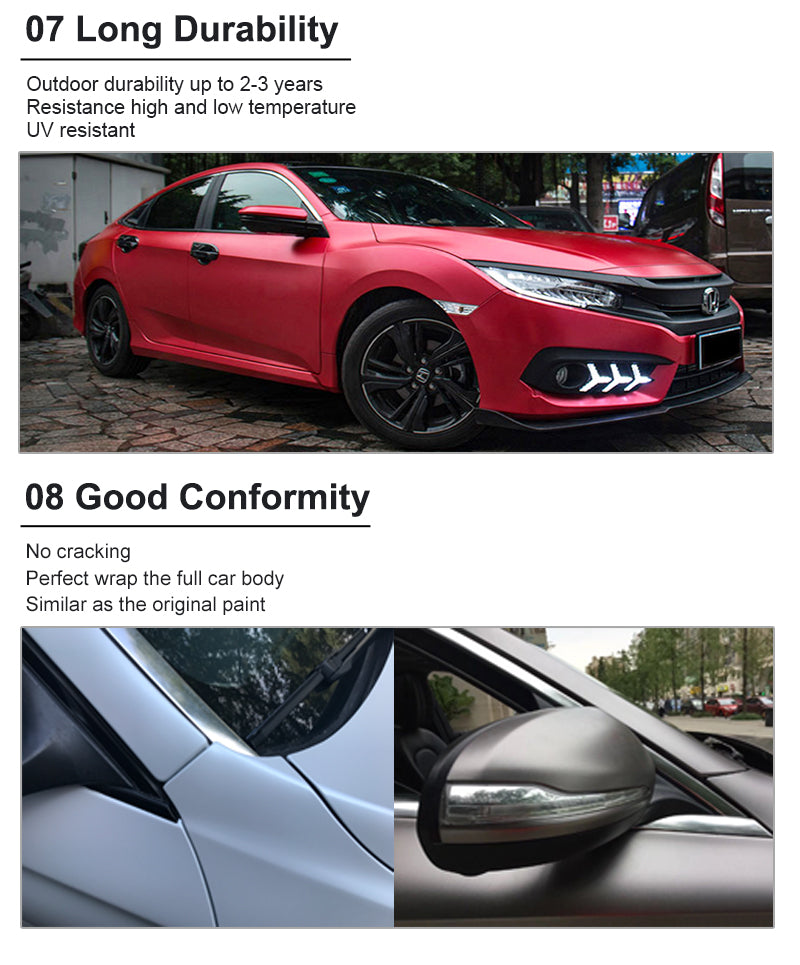 Caution: The product images, colors on the screen are approximate. For the real representation of the product color, please check the color swatch.
"Super Gloss Crystal Neptune Blue Vinyl Car Wrapping" is a hypothetical car wrapping product that showcases various characteristics, each contributing to its unique appeal. While this specific product might not exist as of my last update in September 2021, I can provide a detailed explanation of its potential features based on general knowledge about car wrapping and the components mentioned in the product name.
Car Wrapping: An Introduction Car wrapping, also known as vehicle wrapping, is a popular method of customizing automobiles by applying a thin, adhesive vinyl film to the vehicle's exterior. The vinyl can come in a variety of colors, textures, and finishes, allowing car owners to transform the appearance of their vehicles without the need for a costly and permanent paint job. Car wrapping is not only used for aesthetic purposes but also as a means of protecting the original paintwork from scratches, UV rays, and other environmental factors.
Now, let's delve into the specifics of the hypothetical product "Super Gloss Crystal Neptune Blue Vinyl Car Wrapping":
Super Gloss Finish: The term "super gloss" suggests an exceptionally high level of shine and reflectivity on the car's surface. This implies that the vinyl film used for the car wrapping has an advanced gloss coating, creating a mirror-like finish. A super gloss surface enhances the depth and intensity of the color, making the vehicle appear more vibrant and luxurious.

Crystal Effect: The inclusion of the term "crystal" in the product name implies a unique visual effect on the car's surface. This effect could be characterized by small, light-reflective particles present within the vinyl film. These particles create a dazzling and prismatic appearance when exposed to light, producing an eye-catching sparkle that sets the car apart from others on the road.

Neptune Blue: "Neptune Blue" likely refers to a specific shade of blue inspired by the rich and deep hues associated with the planet Neptune, which is often portrayed with a blue color due to its atmosphere. The Neptune Blue vinyl car wrap would embody the allure of deep, mesmerizing blues, reminiscent of the ocean depths or the vastness of the cosmos.

High-Quality Material: A product carrying the "Super Gloss Crystal" name would likely be made from high-quality, premium-grade vinyl material. This ensures durability, longevity, and resistance to fading, ensuring that the car wrap maintains its brilliance over time. The vinyl should be designed to withstand various weather conditions, including the sun's UV rays, which can cause color fading and deterioration.

Professional Installation: To achieve a flawless and seamless car wrap, professional installation is crucial. Reputable car wrapping companies or skilled installers would be responsible for applying the vinyl film to the vehicle's surface. This process involves meticulous attention to detail, ensuring that the vinyl adheres smoothly and evenly without any visible imperfections like bubbles or wrinkles.

Removability and Residue-Free: Like most high-quality car wrapping products, "Super Gloss Crystal Neptune Blue Vinyl Car Wrapping" should be removable without causing damage to the original paintwork. The vinyl film should not leave any adhesive residue on the surface upon removal, allowing the car owner to revert to the original paint or opt for a new car wrap without any complications.

Maintenance and Care: Car wraps, including "Super Gloss Crystal Neptune Blue Vinyl Car Wrapping," require regular maintenance to preserve their appearance. While the product is designed to be durable and resistant to minor scratches, proper care is necessary to ensure its longevity. This includes handwashing with mild soap, avoiding abrasive chemicals, and protecting the car from harsh environmental elements.
It's essential to emphasize that my response is purely speculative based on general knowledge about car wrapping and the components mentioned in the product name. As of my last update, there might not have been any specific product with this exact name or features. However, the car wrapping industry continues to evolve, and new products with innovative features may have emerged since then. If this product has indeed become available, I recommend conducting further research or reaching out to reputable car wrapping companies for more information.
---
We Also Recommend
---