CARLIKE CL-TPU-5022 TPU Metallic Midnight Purple Vinyl Heat Repair

Series: 5000

Brand: CARLIKE
Color: TPU Metallic Midnight Purple

Model number: CL-TPU-5022

Characteristic: Heat repair

Performance level: Premium+

Film thickness: 190micron, 7.5mil with glue
Release paper: White PET

Adhesive thickness: 30μm
Repair coating: 10μm

Application: Car paint protection
Application temperature: From +80°С to +120°С

Temperature resistance: From -40°С to +120°С

Storing period: 3 years if stored in +10°С to +25°С, relative humidity 50%, in original package, away from direct sunlight, clean and dry place

Package: Full roll width 1.52m, length 16.5m, weight 13KG

Packing size: 1.55x0.18x0.18m

Remark: the full roll 1.52x16.5M/5x54FT usually is enough for wrap a full sedan or SUV. 

Quality warranty: 5 Years, during the quality warranty period, the film surface has no obvious fading, no cracking, and no residual glue on the car paint after removable.
Data Sheet
Surface
Opaque
Substrate
material
6Mil
TPU
Pressure
sensitive adhesive
30μm
Solvent-based Removable
Releaser liner
75Mic White PET

Elongation
at break
350%
Tear strength 
60KN/m
Test Method: ASTM D3759
Glossiness
Gloss 105Gu
Viscosity
449.0N/m
Peel strength
16N/25mm
Test Method: ASTM D3330
Temperature resistance
 -40°С to +120°С
Flourescent
ultraviolet test 
Gray Level: 4-5
Test Method: ASTM D4329-13A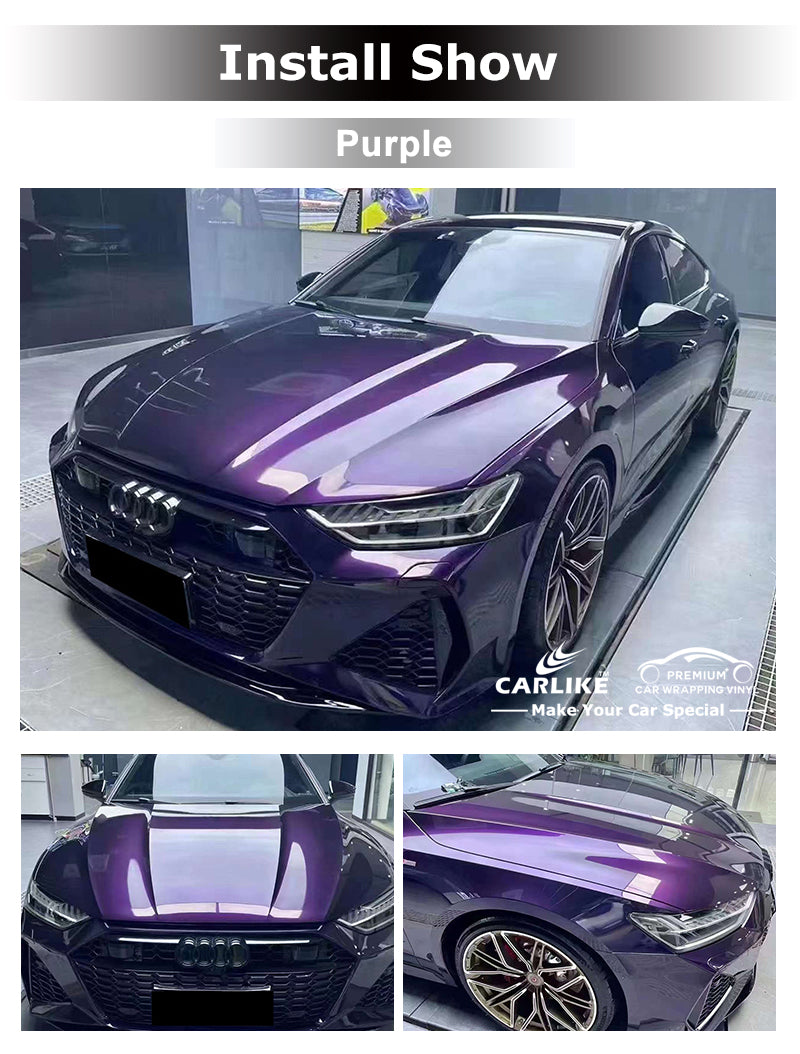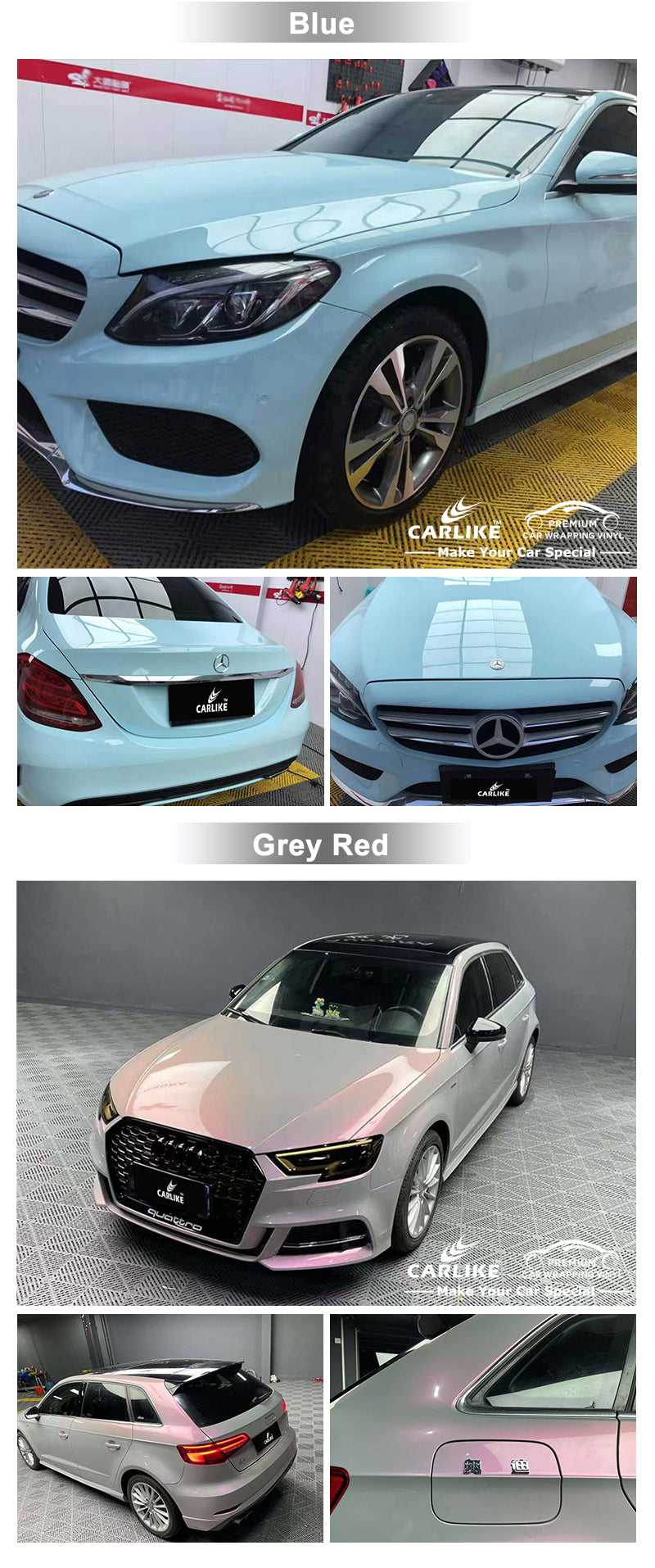 TPU Metallic Midnight Purple Vinyl Heat Repair Car Wrap is a remarkable and alluring automotive vinyl wrap that infuses the depth of Midnight Purple with a mesmerizing metallic finish. This unique vinyl wrap offers the additional advantage of heat repair capabilities, making it an ideal choice for car enthusiasts seeking both visual appeal and practicality. Let's explore the distinct features and benefits of this exceptional product:
TPU Metallic Midnight Purple Vinyl Car Wrap:
Midnight Purple Elegance:
The Metallic Midnight Purple vinyl car wrap embodies the mysterious allure of Midnight Purple, a captivating hue that hovers between deep violet and rich indigo.
This shade of purple invokes a sense of enigma and sophistication, resembling the captivating colors of a starlit night sky.
The deep and complex tones of Midnight Purple, coupled with the metallic finish, create a visually stunning appearance that transitions beautifully under varying light conditions.
Metallic Brilliance:
The vinyl wrap's metallic finish introduces an intriguing play of light, accentuating the richness of the Midnight Purple color.
As light interacts with the metallic particles within the vinyl film, it produces a captivating shimmer that elevates the car's aesthetics to a new level of elegance.
The metallic brilliance adds a contemporary touch to the overall look, making the vehicle stand out on the road with its eye-catching and unique appearance.
Heat Repair Capabilities:
The inclusion of heat repair capabilities in the TPU Metallic Midnight Purple Vinyl Car Wrap provides significant advantages during the installation process and beyond.
The ability to use heat during installation allows for effortless adjustments and repositioning of the vinyl, ensuring a seamless and flawless application.
Should any imperfections or air bubbles arise during the installation, the application of heat helps to release trapped air, resulting in a smooth and polished final finish.
The heat also reactivates the adhesive properties of the vinyl, enhancing its bond with the vehicle's surface and contributing to the longevity and durability of the wrap.
Customization and Paint Protection:
One of the primary benefits of using a vinyl car wrap is its ability to customize a vehicle's appearance without the permanence of traditional paint.
TPU Metallic Midnight Purple Vinyl Heat Repair Car Wrap offers car owners the opportunity to transform their vehicles with a unique and captivating color, setting them apart from the crowd.
Beyond aesthetics, the vinyl wrap serves as a protective layer, shielding the original paint from minor abrasions, road debris, and UV rays.
Preserving the vehicle's paintwork helps maintain its resale value and keeps the car looking fresh and pristine for a more extended period.
Installation and Professional Expertise:
While some car enthusiasts may attempt a DIY installation, professional expertise is strongly recommended to achieve the best results.
Skilled installers possess the knowledge and experience to adequately prepare the vehicle's surface, ensuring the vinyl adheres smoothly and securely.
Using specialized tools and techniques, such as heat guns and squeegees, professionals can achieve a seamless and immaculate finish, devoid of bubbles or wrinkles.
Professional installation guarantees that the vinyl wrap fully realizes its potential in transforming the vehicle's appearance.
In conclusion, TPU Metallic Midnight Purple Vinyl Heat Repair Car Wrap is an exceptional automotive vinyl wrap that captures the captivating essence of Midnight Purple while adding a captivating metallic finish. The enigmatic and sophisticated shade, paired with the radiant brilliance of the metallic particles, creates a visually stunning appearance. With the added benefit of heat repair capabilities, this vinyl wrap offers both exceptional aesthetics and practicality, making it a preferred choice for car enthusiasts seeking a distinct and elegant transformation for their vehicles. For a flawless installation and optimal results, professional expertise is highly recommended, ensuring the vinyl car wrap attains its full potential and transforms the vehicle into a true automotive masterpiece.
---
We Also Recommend
---