CARLIKE CL-UM-04 Ultra Matte Cement Grey Vinyl
Series: 3000

Brand: CARLIKE

Color:  Ultra Matte Cement Grey
Model number: CL-UM-04

Characteristic: Super stretch, incredible restorable

Performance level: Premium+

Film produce technology: High polymeric with double casting

Film thickness: 160micron, 6.4mil (with glue)

Release paper: 160g/m2, silicone coated

Adhesive thickness: 30μm

Air bubble free: Yes

Application: Car wrap

Application temperature: From +80°С to +120°С

Temperature resistance: From -40°С to +120°С

Storing period: 2 years if stored in +10°С to +25°С, relative humidity 50%, in original package, away from direct sunlight, clean and dry place

Package: Full roll width 1.52m, length 17m, weight 13KG

Packing size: 1.55x0.18x0.18m

Remark: the full roll 1.52x17M/5x56FT usually is enough for wrap a full sedan or SUV. If your car is larger, please choose 1.52x23M/5x75FT, we will send 1.52x6M/5x19FT + 1.52x17M/5x56FT.

Quality warranty: 2 Years, during the quality warranty period, the film surface has no obvious fading, no cracking, and no residual glue on the car paint after removable.
Data Sheet
Surface
Opaque
Substrate
material
130Microns
High Polymeric PVC
Pressure
sensitive adhesive
30μm
Solvent-based Removable
Releaser liner
160G double PE coating
High density air channels
Elongation
at break
300%
Tear strength 
37.2 N/10mm
Test Method: ASTM D3759
Glossiness
Gloss 95-110Gu
Matte 5-30Gu
Viscosity
Initial tack:700-800g/25mm
After 24 hours:1800-2000g/25mm
After 3 months: 1500g/25mm
Peel strength
2.5N/25mm
Test Method: ASTM D3330
Temperature resistance
 -40°С to +120°С
Flourescent
ultraviolet test 
Gray Level: 4-5
Test Method: ASTM D4329-13A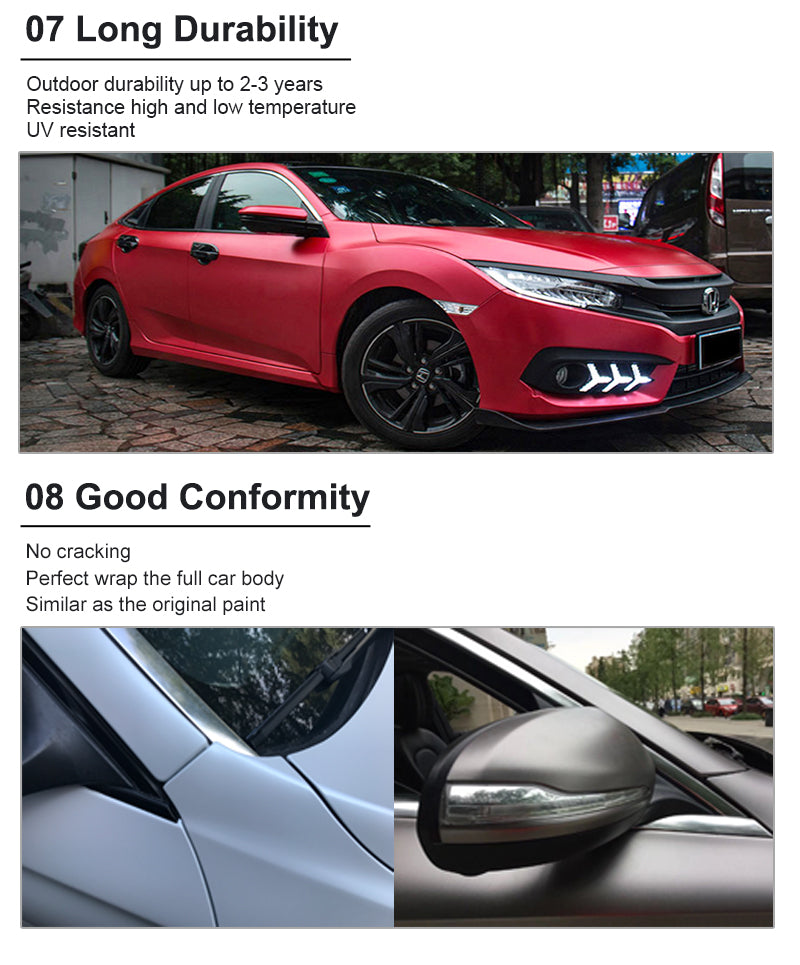 Caution: The product images, colors on the screen are approximate. For the real representation of the product color, please check the color swatch.
The "Ultra Matte Cement Grey Car Wrapping Vinyl" appears to be a product designed for car enthusiasts seeking a sleek, modern, and understated aesthetic for their vehicles. Let's delve into the details of this hypothetical car wrap:
Ultra Matte:

The term "Ultra Matte" suggests an exceptionally flat and non-reflective finish. Matte finishes are known for providing a sophisticated and subdued look to surfaces. This characteristic minimizes glare and highlights the contours of the vehicle without the shine associated with glossy finishes.

Cement Grey:

"Cement Grey" specifies the color of the vinyl. This implies a shade of grey reminiscent of cement or concrete, typically a neutral and versatile color that complements various styles and design preferences. The use of "grey" indicates a subdued tone, aligning with the contemporary trend of muted and industrial-inspired color schemes.

Car Wrapping Vinyl:

As with any car wrapping vinyl, this product is designed for the purpose of altering the appearance of a vehicle without permanently changing its paint. Car wraps are typically made of durable, weather-resistant materials with an adhesive backing for easy application. They serve as a protective layer for the original paint and are available in various finishes, including matte, glossy, and metallic.

Benefits of Ultra Matte Cement Grey Car Wrap:

Modern Aesthetics: The ultra-matte finish contributes to a modern and sophisticated appearance, aligning with contemporary design trends.
Versatility: Cement grey is a neutral color that pairs well with a variety of accent colors, allowing for versatility in customization.
Subtle Elegance: The subdued tone and matte finish provide an understated elegance, making it suitable for both casual and upscale vehicle designs.
Surface Protection: The vinyl wrap not only enhances the visual appeal but also serves as a protective layer against minor scratches, stone chips, and environmental elements.

Installation and Maintenance:

Professional installation is recommended for achieving a seamless and flawless finish. Maintenance typically involves regular cleaning using non-abrasive materials to preserve the matte appearance.
In summary, the "Ultra Matte Cement Grey Car Wrapping Vinyl" is a product designed to offer a contemporary and refined look for vehicles. With its ultra-matte finish and cement grey color, it provides a sleek and versatile canvas for car customization, appealing to those who appreciate a modern and understated aesthetic for their vehicles. As always, for accurate and up-to-date information, it's advisable to consult with manufacturers or suppliers of car wrapping vinyl.
---
We Also Recommend
---