CARLIKE CL-UM-03 Ultra Matte Nardo Grey Vinyl
Series: 3000

Brand: CARLIKE

Color:  Ultra Matte Nardo Grey

Model number: CL-UM-03

Characteristic: Super stretch, incredible restorable

Performance level: Premium+

Film produce technology: High polymeric with double casting

Film thickness: 160micron, 6.4mil (with glue)

Release paper: 160g/m2, silicone coated

Adhesive thickness: 30μm

Air bubble free: Yes

Application: Car wrap

Application temperature: From +80°С to +120°С

Temperature resistance: From -40°С to +120°С

Storing period: 2 years if stored in +10°С to +25°С, relative humidity 50%, in original package, away from direct sunlight, clean and dry place

Package: Full roll width 1.52m, length 17m, weight 13KG

Packing size: 1.55x0.18x0.18m

Remark: the full roll 1.52x17M/5x56FT usually is enough for wrap a full sedan or SUV. If your car is larger, please choose 1.52x23M/5x75FT, we will send 1.52x6M/5x19FT + 1.52x17M/5x56FT.

Quality warranty: 2 Years, during the quality warranty period, the film surface has no obvious fading, no cracking, and no residual glue on the car paint after removable.
Data Sheet
Surface
Opaque
Substrate
material
130Microns
High Polymeric PVC
Pressure
sensitive adhesive
30μm
Solvent-based Removable
Releaser liner
160G double PE coating
High density air channels
Elongation
at break
300%
Tear strength 
37.2 N/10mm
Test Method: ASTM D3759
Glossiness
Gloss 95-110Gu
Matte 5-30Gu
Viscosity
Initial tack:700-800g/25mm
After 24 hours:1800-2000g/25mm
After 3 months: 1500g/25mm
Peel strength
2.5N/25mm
Test Method: ASTM D3330
Temperature resistance
 -40°С to +120°С
Flourescent
ultraviolet test 
Gray Level: 4-5
Test Method: ASTM D4329-13A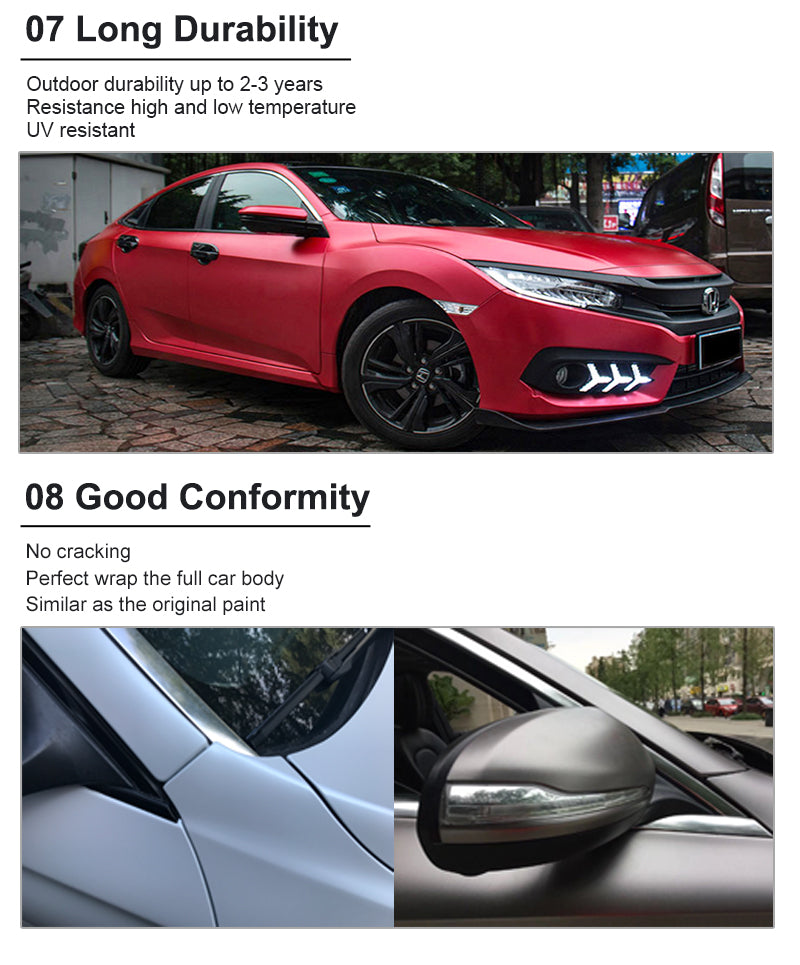 Caution: The product images, colors on the screen are approximate. For the real representation of the product color, please check the color swatch.
Ultra Matte Vinyl Car Body Wrap Wholesale Supplier
Are you in search of a reliable wholesale supplier for Ultra Matte Vinyl Car Body Wrap? Look no further! We offer high-quality Ultra Matte Vinyl Wraps at competitive prices, making us your go-to wholesale supplier for all your car wrapping needs.
Ultra Matte Finish
Our Ultra Matte Vinyl Car Body Wrap features a smooth and non-reflective ultra matte finish. This finish adds a sleek and modern look to your vehicle, eliminating any gloss or shine. The ultra matte texture enhances the contours of your car, creating a sophisticated and understated appearance.
Premium Quality Material
Quality is our top priority, and our Ultra Matte Vinyl Car Body Wrap is made from premium-grade materials specifically designed for automotive applications. This ensures exceptional durability and longevity, making the wrap resistant to UV rays, minor scratches, and fading. Your vehicle will maintain its stunning matte finish even in challenging weather conditions.
Wholesale Pricing
As a wholesale supplier, we offer competitive pricing for our Ultra Matte Vinyl Car Body Wraps. Buying in bulk allows you to take advantage of cost savings without compromising on quality. Whether you're an automotive professional or a business owner, our wholesale pricing options make it more affordable to stock up on high-quality vinyl wraps.
Easy Application
Our Ultra Matte Vinyl Car Body Wrap is designed for easy application, making the installation process hassle-free. With proper surface preparation and application techniques, you can achieve a seamless and professional-looking finish. The wrap features an adhesive backing that ensures a secure bond to your vehicle's surface, providing long-lasting adhesion.
Versatility and Customization
Our Ultra Matte Vinyl Car Body Wrap offers versatility in customization options. It can be applied to various parts of your vehicle, including body panels, hoods, roofs, mirrors, and accent areas. Whether you opt for a full car wrap or specific sections, the wrap conforms well to curves and contours, allowing for a seamless and tailored fit to your vehicle's design.
Reliable Wholesale Supplier
As a wholesale supplier, we take pride in delivering reliable and high-quality Ultra Matte Vinyl Car Body Wraps to our customers. Our products undergo strict quality control processes to ensure consistency and customer satisfaction. With our wholesale supply, you can trust in the quality and availability of our vinyl wraps to meet your business needs.
Summary
Choose us as your wholesale supplier for Ultra Matte Vinyl Car Body Wrap. With our high-quality products, competitive pricing, easy application, and versatility, you can enhance the appearance of your customers' vehicles while enjoying cost savings. Count on our reliable supply and excellent customer service to meet your car wrapping requirements. Elevate your business and provide your customers with premium Ultra Matte Vinyl Car Body Wraps that deliver a sleek and modern look.
---
We Also Recommend
---